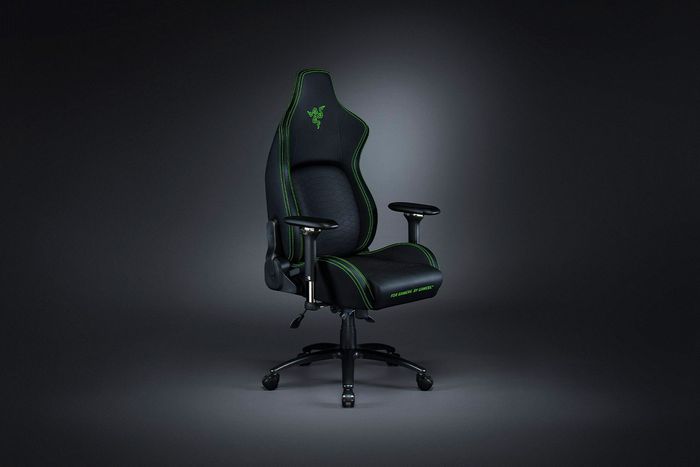 The Razer Iskur.
Photo: Retailer
It has been a long time since the world found a new chair. But in the apartments and dens of mostly young men and women, across from the soon-to-be-upgraded PC and multiple screens, there is one, introduced in the past decade and a half: the gaming chair, built for stress-free full-body support when the keyboard and heavy-duty mouse come out. It's wheeled like an office chair, but it's also something else. Although both types support the spine, with seats and armrests intended to keep knees and elbows at the optimal ergonomic 90-degree angle when playing or working at a desk, gaming chairs generally accommodate a greater range of movement. Many of the seatbacks can recline to 135 degrees, for cockpit-like play, while the armrests can be adjusted front to back, side to side and angled toward or awry from the body. They also typically come with adjustable pillows to support the lumbar and neck. Is a gaming chair sports equipment? Is it an office chair? Is it personal billboard? The answer is all of the above, and the boundaries are collapsing.
The pandemic has rewritten the rules of work space vs. play space, and that changes where we spend our time and where we spend our furniture money. The New York Times reported that Amazon saw a 300 percent increase in the sales of gaming chairs during the early months of the pandemic, and a market analysis by Technavio estimates 12 percent year-over-year growth for 2020. It's also spurred major growth in the video-game industry itself, with an estimated $159.3 billion in global revenue this year and double-digit growth in time spent playing. The $1500 that a gaming chair can cost is a reasonable amount to spend on a sofa. When socializing means logging into Discord, or Twitch, or Counter-Strike, why not get comfortable as you face the screen? To invest in what you are actually doing — where you are actually sitting — might seem like capitulation but is also self-care.
These chairs first appeared in public view with the rise of professional video gaming, via streamed broadcasts of competitive e-sports. Lately, though, in a pandemic when most nonessential workers are essentially streaming from home, it's hard not to notice how often they pop up behind the heads of friends and acquaintances who you've never realized were enthusiasts. For professional gamers, the chair has long been a billboard — real estate for hire, with the distinctive markings of the chair manufacturer hovering around the player's head and shoulders. Everyday gamers, streaming, Steam-ing, Twitch-ing, YouTube-ing and otherwise riding out the pandemic from behind their battle stations are the stars of their own nightly shows.
The first mass-market gaming chair, by most accounts, was introduced by DXRacer in 2006, when the company pivoted from its primary business manufacturing luxury car seats. (That's not a wild leap. The game controller is held a bit like a steering wheel, and many games are racing simulations.) That early model created the outline for generations of chairs to follow, with a head-high backrest, defined shoulder support, adjustable armrests and the option of a deep recline. The look suggested the need for speed, despite the fact that gamers were physically going nowhere.
And that aesthetic stuck — black body with brightly colored piping, seats with bulging muscles, synthetic materials, all indicating an affinity with the physiques and materials of physical sports. (Meanwhile Recaro, a maker of luxury sports-car seats that also sells them as office chairs, added a line with "extremely sportive appearance" in 2017, i.e., a headrest that looks like headlights.) What sets one chair apart from the next are relatively subtle differences in the silhouette up top, as well as different logos on the headrest.
The last big chair innovation before this was Herman Miller's Aeron, designed by Don Chadwick and Bill Stumpf in 1992, with its flared back and immediately identifiable mesh. When the curator Heng Zhi put up the "Seats of Power" exhibition at the Vitra Design Museum in 2018, Herman Miller's earlier Eames Executive Office Chair made it into the show but a gaming chair didn't, despite the fact that the latter precisely fit its criteria for media saturation and identity formation. Since then office chairs have gotten lighter and lighter in appearance, with spine-like structures and performance webbing. Gaming chairs went the other direction, with padded, faux-leather seats that cup the body and extend all the way up into headrests. Just as our enforced at-home time this summer began to crest, Herman Miller introduced its first line of gaming chairs in July, in partnership with Logitech. Herman Miller had the workplace history, and Logitech the tech cred: Its wireless keyboard and mouse are prized for their supportive contours and easy controls. The top-of-the-line Herman Miller x Logitech G Embody has a shoulder-high back, minimalist lines, and comes for the first time in black, the better to match most existing PC gaming set-ups. HM also produced versions of the Aeron and Sayl chairs in gamer-friendly colors.
"There was a growing dissatisfaction with the racecar-style chairs, for aesthetics and also comfort and ergonomics" that wasn't reflected in the marketplace, says Jon Campbell, now director of gaming at Herman Miller. Campbell — whose game of choice is Counter-Strike — pushed the company toward investing in the category, and believed Herman Miller's modernist sensibilities could compete. Quiet can be loud. "When we work with influencers on Steam, you can't see the chair," Campbell says. "The absence of that logo has been a positive force. People are asking, What are you sitting in? Why?"
The gaming Embody costs $1,500. The biggest changes from the existing chair, beside the color, is the addition of a layer of copper-infused foam that's engineered to pull heat away from the body when compressed, as well as additional support making it more comfortable for long periods of time. (The Twitch streamer Renee, given one in July, reported "no swamp butt" on Twitter.) When I tried one out at Herman Miller's Manhattan showroom, I liked the flat bench-like seat — some gamers like to sit criss-cross-applesauce — and that the seat depth could be adjusted from 16 to 18 inches, helpful for shorties. (Renee: "Fits my 5'4 self," prayer-hands emoji.)
Tim Rogers, a video-game developer and critic on his own Action Button channel, sees gaming chairs as part of a network of products that support players' visions of themselves as a star. "This is the closest most people will get to being cast as the lead actor in a movie. They get to control the [onscreen] guy or girl making all the decisions, which makes game players feel important, which makes them very susceptible to being sold products," he says, and the designs back up this analysis. (Some of them literally frame the player's face in lights; LEDs have long been a popular add-on to set the mood in darkened rooms, like the gamer equivalent of twinkle lights.) Rogers has RSI, and his seat of choice is a Steelcase Gesture chair, an office chair rival to the Embody, which he believes has the best armrests.
Office chairs speak of drudgery and cubicle life, something purchased for you as a low-level employee, rather than something about you. In Rogers's view, the gaming chair took  ergonomics out of the realm of corporate efficiency with a boost equivalent to Axe Body Wash's marketing campaign. One was soap, but Xtreme and cool; the other was Your Spinal Health, but Xtreme and cool. If the stereotypical straight-dude purchase is a sprawling, brown-black-or-gray sectional to go in front of the TV, here's the battle-station equivalent. The gaming chair might also be considered a variation on the phenomenon Ashley Fetters observed in the dude-ification of kitchen appliances: "steel it, matte-black it, and make it heavier."
Although the black is intended to match the predominant aesthetic of the battle station, an array of screens, keyboard, mouse, pad and lighting with its own reddit thread, one can't help but think that the category is ripe for more than minimalist disruption. So far, it's easy to spot the brands that are trying to offer something for the ladies. Like razor manufacturers before them, they've adopted the "pink-it-and-shrink-it" approach. The Kawaii TechniSport has a heart-shaped lumbar support pillow; the DXRacer Unicorn looks like a Pokémon that could be named Chairish. Pokimane, the top-ranked female Twitch streamer, has a throne-like white EPIC from Noblechairs.
Which type of ergonomic chair to game from ultimately comes down to personal preference. Alan Henry, service editor at Wired and host of the magazine's Twitch show Game Therapy, has a Maxonomic Titanus XL (not to be confused with the Secretlab Titan XL, with its distinctive heraldic T). "Back when the DXRacer was the only chair on the market, I was like, What are these ridiculous looking chairs? and I preferred the Embody," he says. But after gaming and working from home for months, "I like the feeling of being nestled into the chair, with the shoulder wings and the seat bumps on the side."
Razer, which added the Iskur chair to its line in October, sells everything for gamer life, laptops and headphones and keyboard and mice, but also speakers and sweatshirts and energy drinks, so that no part of your self goes unbranded. The Iskur stays true to the form with a black, padded, synthetic leather seat, its headrest like a cobra's profile, edged in green. The ergonomic innovation is a snakeskin-patterned, structured lumbar support that is permanently attached to the chair, cradles the mid- to lower section of the spine, and has a range of motion of 26 degrees. "It gives you the ability to get into the same consistent sitting posture every time," unlike a moveable cushion, says Razer's Jeevan Aurol, a senior manager in product marketing.
The Iskur costs $500, and the first production run sold out in two days. "In general people [who buy these] bounce between highly well engineered office chairs and gaming chairs, which fundamentally do the same thing," says Aurol. "The office chair is slim, with ergonomic mesh fabric. Then you go home and it's like getting behind the seat of a Porsche. One is comfortable and practical, the other makes me feel special."
It's easy to get hung up on the aesthetics of gaming chairs — as I text-chatted to one source, Even if a gaming company offered one to me for free, I still don't want that in my house — but there are real consequences to spending eight-hours at a desk job and then two to four hours of playtime in the same spot. Gaming is actually worse for your body than office work. It can lead to the kind of repetitive stress injury that forced a reckoning in the workplace in the 1980s, when computers and wheeled, body-embracing chairs became part of the office landscape.
As Herman Miller's Campbell says, "We wanted to view the player as an athlete, with the goal of keeping bodies healthy for an extended period of time. The longevity of the e-sports player is one to three years. We ask football players to smash their heads together, and they are still lasting five, ten years."
The New York Institute of Technology launched an e-sports team in 2017, and opened an e-sports arena on their Old Westbury campus in December 2018 with chairs donated by OPSEAT and Vertagear. "There are common issues that face most people in the work environment, sitting in a chair or computer," says Mark Gugliotti, e-sports physical therapist for the NYIT Center for e-sports Medicine. You know the drill: back upright and supported, thighs horizontal, knees and elbows at 90 degrees, screen arm's length away. "The only big difference is prolonged hours or competition.There's a tendency to want to lurch forward, to actually be in the game," says Gugliotti.  This change in position means the back, head and neck are no longer being supported, and the wrist and hands come out of alignment, potentially pressing on the nerves and causing repetitive stress injuries. Gaming chairs address these points of pain via lumbar supports for the lower back, molded shoulder and headrests, and highly maneuverable armrests that adjust both front and back and sideways. Some gamers also like a deep recline. "I see them almost laying down while competing, but I don't see them adjusting their screen" when they are in that position, Gugliotti says, "putting undue strain on their neck."
Galen Cranz, a professor emerita at Berkeley and author of The Chair: Rethinking Culture, Body, and Design, has long advocated a workday with less sitting and more changes in position. When I called to ask about gaming chairs she said she had never heard of them, but then she initiated a search. Her first reaction was horror: On Google Images, most of the gaming chairs show their adjustable lumbar supports resting on the seat … which is nowhere near your lumbar vertebrae.
The only chair that really captured her fancy was the Scorpion, an H.R. Giger–esque, $3,299 "computer cockpit" that transitions gracefully from seat to lounge and has mountings for your screens on its the stinger-like tail. It looks as likely to eat you as to support the spine in its optimal S-shape, but literally embodies the fuzzy line between work and play happening now. Cranz herself works in a lounge configuration, lying on a piece of furniture which supports her whole body, bringing her computer keyboard toward her on an arm that's a little like the Scorpion's tail.
Checking out the Embody, she approves of the outward curve at the base of the backrest, as well as the adjustable angle of the seat but then … "Cooling foam? So you can sit there forever and never have to get up, which is very bad for you." Whether you're sitting in a Porsche or sitting on an Aeron: "A sedentary lifestyle leads to early death."