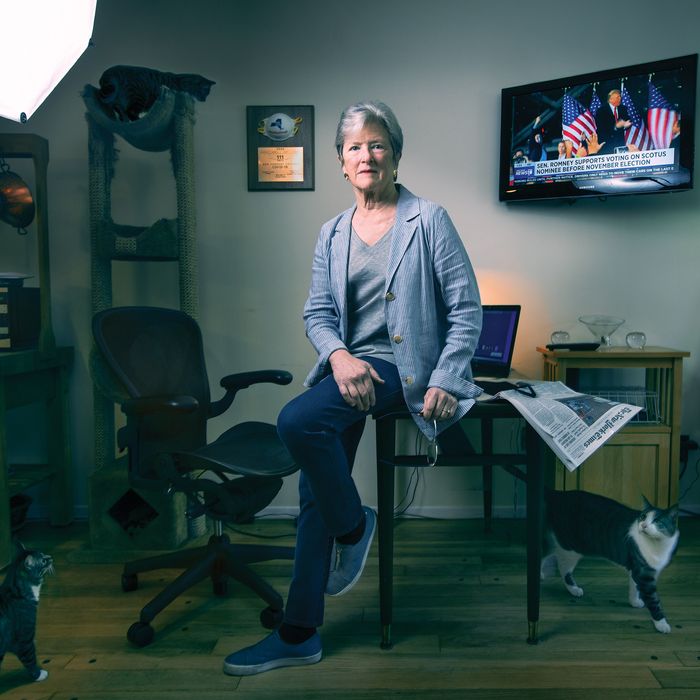 Wylde in her Bay Ridge apartment
Photo: Jonas Fredwall Karlsson
On the last Friday in September, two dozen protesters descended on the co-op 740 Park Avenue, laying crosses, small Stars of David, and Islamic crescents on the grassy median in front of the building, each one symbolizing another thousand of New York's COVID dead. They chose this building, an imposing Art Deco behemoth known in the tabloids as the "Tower of Power," because it is home to the highest concentration of billionaires in the United States. "Billionaires are experts at social distancing, and they are excluded from the communities that they have an impact on, and so we are bringing our rage and our suffering to them because they are so complicit in what is happening in New York right now," said Alice Nascimento, one of the protest's organizers. "They get rich, and we die."
The protest was one of dozens that had sprung up in the city since June, when a reckoning with racism collided with a global pandemic that had left millions jobless in New York alone. The next day, the Democratic Socialists of America protested in front of Mike Bloomberg's house a few blocks away from 740 Park, and for weeks before that, there had been a series of loud marches and drum circles on the tonier streets of the Hamptons and in front of Jeff Bezos's Manhattan apartment. All of this harkened back to the Occupy days, and the days of the recession before that, and the one before that, with protesters calling for more taxes on the rich and more justice for everyone else.
"Well, guess what? Jeff Bezos isn't even a resident of New York City. He doesn't even pay taxes here! So what are we talking about, exactly?" Kathy Wylde told me from her Brooklyn apartment this summer in one of the many conversations we've had over the course of the pandemic.
Wylde is the president of the Partnership for New York City, which bills itself as "a nonprofit organization whose members are the city's preeminent business leaders and employers of more than 1.5 million New Yorkers" and which aims to "build bridges between the leaders of global industries and government." It was founded in 1979 by David Rockefeller and runs a $170 million fund for business-development projects. But it is also a group that sees itself as functioning something like a permanent government, guiding city policy through the political vicissitudes of the moment and making sure New York remains welcoming to capital and investment. Since Wylde joined 20 years ago, its membership has grown to include some of the richest people in New York, including JPMorgan Chase CEO Jamie Dimon (net worth: $1.5 billion), hedge-funder John Paulson ($4.2 billion), and Blackstone CEO Stephen A. Schwarzman ($19.7 billion). The Partnership writes reports on how the city and state can best boost their economic prospects, lobbies lawmakers on issues ranging from mayoral control of schools to how to get more biotech businesses to move here, and regularly surveys the city's CEOs on what they need from local government. Its closed-door breakfasts are essential stops for the city's political class and anyone hoping to join it. This fall, two top mayoral contenders, Brooklyn borough president Eric Adams and former top Obama-administration official Shaun Donovan, both appeared in Zoom meetings with the Partnership's board. "There is no better champion to help New York City through this moment of crisis," Donovan said.
Wylde's affection for the 110 New York City CEOs, white-shoe lawyers, tech entrepreneurs, real-estate magnates, and other Masters of the Universe in the Partnership is obvious: She calls them either "my crowd" or, without a hint of irony, "captains of industry." And they love Wylde right back. During one of several conversations we have had since the spring over the phone and at her Brooklyn apartment, Wylde was interrupted by a knock on the door that turned out to be a delivery of Omaha Steaks, a thank-you gift from a CEO for whom she had done a favor. (She wouldn't say which CEO or what the favor was.)
A common refrain in the C-suites of the biggest banks when deciding whether to get involved in a civic cause, one former high-ranking finance official told me, is "We better check with Kathy first."
Wylde says she didn't join the Partnership to lobby on behalf of CEOs. "We are not a chamber of commerce," she says. "I call us the anti–chamber of commerce. We are business working on behalf of the city." But what it means to work on behalf of the city has meant different things to her at different times. When she arrived in New York from Minnesota in the late 1960s, fresh off her time in Students for a Democratic Society at St. Olaf College, Wylde was a community organizer working to save Brooklyn's Sunset Park as it was slowly being gutted by disinvestment and white flight. She organized sit-ins, led protest marches in front of the City Planning Commission to prevent displacement, and hounded foundations and federal bureaucracies until they gave her enough money to start rebuilding the neighborhood. The head of the state's Conservative Party called her a communist.
But she came to believe that government was slow and that power, true power, lived not in City Hall but in penthouses on Fifth Avenue and in the private offices of the city's biggest banks. By the time Bloomberg took office as mayor, the onetime rabble-rouser for the working class had become a spokeswoman for the interests of Wall Street. There is no example as clear as Wylde — perhaps Mayor de Blasio included — of someone who, once upon a time, could have been plucked from the front lines of protests like those this summer but, over the course of decades, became a part of the Establishment. And it is deeply embedded in Wylde's belief system by now that the ultrarich are far more important to the health of the city than its liberal citizens acknowledge, employing millions of New Yorkers, underwriting social-welfare programs that government will not, and footing the bill for half of the city's budget. "I was just telling someone this morning — I probably shouldn't tell you who, but a legislative leader in Albany — that I am, like, the lone defender of the billionaires at this point," she told me in July. "To think we are going to get out of this problem by demonizing wealth — it is wrong. It is just the wrong solution."
Wylde's perspective on the city's economic crisis is not just that billionaires and the companies they lead are misguided protest targets. She believes they are our best ticket out of all this. Over the course of her career, the city has weathered a series of calamities — the near-bankruptcy of the 1970s, the overwhelming crime of the 1980s, the fear of the post-9/11 era, the Great Recession — and she has been in the room each time as the New York business elite committed to the city's future and partnered with elected officials to fund and support recovery plans.
Those relationships were never frictionless, but this time around, she fears they are all but nonexistent. Politicians these days make a show of how they couldn't care less about what the Partnership's members think. At the first mayoral forum of the 2021 cycle, for instance, the candidates were asked if they still smoke pot, if they favor defunding the police, and if they approve of decriminalizing all sex work. None was asked what they would do to encourage businesses to move here, or people to remain here, or how they would expand the tax base and keep New York a world-class city. Just as worrisome to Wylde is the possibility that the business elites, surrounded by pitchforks and protests, might no longer feel that they have a stake in the city too. "This city," she says, "is not going to rebuild by itself."
Before the pandemic, Wylde had been considering retiring by the end of this year. She no longer thinks that's wise, given the precarious economic and political environment, and has instead redoubled her efforts at persuading the city's new class of activists and liberal politicians to be less suspicious of their wealthiest neighbors. Her success in that mission, of course, will depend in large part on how convincingly she can explain her transformation from an outsider like one of them into the city's ultimate insider.
Wylde lives in a small two-bedroom apartment at the outer edge of Bay Ridge that overlooks the Belt Parkway and is a block away from a wastewater-treatment plant. She shares her home with four cats and three cat towers, and the living room is dominated by a large desk and a flat-screen playing NY1 continuously. The TV is attached to a large, adjustable arm, so Wylde can move it to watch from anywhere in the small space and provide a running commentary on whichever politician has the misfortune of appearing onscreen: "Oh God, poor guy looks like he hasn't left the house in six months." When another appears: "This one, one of the worst there is. Always says one thing in public and another in private, tells you he didn't really mean the thing he said in the papers."
Wylde grew up in Madison, Wisconsin, as the daughter of an anesthesiologist and a nurse. Her mother was secretary of the state's Republican Party and an officer of the Ripon Society, the Republican public-policy group. When Kathy was 6, she went door-to-door petitioning for local candidates. Her sister, Jayne Perkins, now a retired music teacher who lives north of Milwaukee, remembers Kathy as restless. By the time she got to St. Olaf in 1964, she had been swept up in the revolts of the era — not unlike the ones of today — and she became the campus co-head of SDS. The undergrads focused on organizing small antiwar protests and diversifying the curriculum. But, lest you think she could have ended up on trial with the Chicago Seven, she says it was a tamer branch. "Keep in mind, the SDS at St. Olaf was not the SDS at Columbia," Wylde cautioned. "I was a community organizer. Everybody was a community organizer back then."
When she arrived in Sunset Park for an internship at Lutheran Hospital in the summer of 1966, the neighborhood was already past its days as a middle-class Irish-and-Scandinavian enclave underwritten by industrial jobs, and it was teetering into blight. The container port had made the local piers go idle, the Verrazzano-Narrows Bridge had opened two years before, and the suburbs were beckoning. Within a decade, the factories of American Machine and Foundry, American Can Company, Bethlehem Steel, and Domino Sugar had all shuttered, and Wylde had a front-row seat for the demise of a formerly stable place into a federal poverty zone. New Yorkers whose neighborhoods were being razed in slum clearance were relocated to Sunset Park, but there weren't jobs for them when they arrived. Wylde figured something was wrong when the hospital started seeing more and more people stumbling in with burns and smoke inhalation; it turned out landlords were setting their own buildings on fire to collect insurance money. In the summer of 1966, there were riots, subway derailments, and massive blackouts. Wylde decided she didn't want to go back to the staid Midwest.
She began a full-time community-relations job at the hospital in 1968, and Wylde became something of a mayor for Sunset Park. When Robert Caro tramped through in the early 1970s to gather material for The Power Broker, he quoted her telling the story of how Robert Moses had ripped the neighborhood apart by tearing down the elevated train and replacing it with the Gowanus Parkway. The new road, she told Caro, was "noise, dirt, accidents, not lighted, a garbage dump, drag races along it at night, wild kids, something totally negative," while the old el had "brought [Sunset Park] closer together." (In the book, she is referred to as "Cathy Wylde" because, she says, Caro "never wrote anything down." When asked if he had any memories of Wylde, Caro wrote in an email that neither he nor his wife, Ina, did: "In our defense, can I mention that it took place about fifty years ago. I see from re-reading her quotes in the book that Ms. Wylde had a strikingly deep and vivid understanding of the psychological as well as the physical destruction that an expressway can have on a neighborhood.")
Wylde was drawn to the burgeoning community-development movement, which refocused some of the energies of the anti–Vietnam War protests on rebuilding American cities from the grass roots up. She became an officer of the Sunset Bay Housing Corporation, a nonprofit that bought abandoned properties, renovated them, and sold them cheaply to low-income residents in the neighborhood. Wylde organized the locals to march on City Hall and, when necessary, held sit-ins at the offices of reluctant officials. Meade Esposito, the powerful head of the old Brooklyn Democratic Party, considered her an agitator.
As Wylde saw it, though, she wasn't doing anything all that revolutionary. She didn't want to burn down the system; she just wanted to help people. Friends remember her as a tactician and a voice of moderation, never a showboat, and one of the few women to ascend to leadership in the movement. "She had this nice midwestern demeanor, but she also didn't take any shit from anybody," recalled Brian Sullivan, then a community organizer who went on to become an associate director at the Pratt Center for Community Development.*
Wylde next set her sights on addressing the $200 million mortgage-fraud scandal that had helped plunge Sunset Park into disrepair. In 1972, dozens of officials of the Federal Housing Administration, along with real-estate brokers, lawyers, and appraisers, were indicted for falsifying credit records and appraisals to obtain FHA insurance at fraudulent prices on run-down and abandoned properties. Speculators bought the properties on the cheap, then sold them at inflated markups. They targeted the community of newly arrived Puerto Rican immigrants settling in Sunset Park with promises of low down payments. When, inevitably, the new owners missed their payments, the banks foreclosed on them. Then the banks auctioned off the properties, and the cycle began again. According to a New York Times account of the era headlined "Sunset Park Learns Why It Went Downhill," Wylde, as a member of the Sunset Park Redevelopment Committee, demanded that President Nixon's FHA provide her with a list of foreclosed houses that could be renovated. The list she was given included vacant lots that the FHA apparently believed still had houses on them.
There were mass firings at the FHA, but that wasn't enough to actually keep people in their homes. She gathered a contingent of 50 people from a drug-treatment center to stage a sit-in at the office of Bill Green, who had just taken over the local HUD office and the administration of FHA funds. Sitting in the federal building downtown, the group played bridge at Green's desk ("Because all these guys learned how to play bridge in jail," Wylde told me) while police trucks encircled the block on the street below.
"It was just infuriating," Wylde said. "These guys, these crooks, had caused the abandonment, had given us a very hard time when we tried to get the building back to renovate or get financing, and here they were tearing down the neighborhood."
Green, who went on to become a GOP congressman for the Upper East Side, let them stay all day, keeping the police at bay. If they wanted to protest, why not? They had been devastated by the very government agency he was now in charge of. Green signed the mortgages over to Wylde and her group for $1, and she came to realize that the political class, filled as it may have been with ward heelers and those looking to skim off the top, also had a few people who were on their side, or who could be reasoned with, even if they couldn't always say so publicly.
So she set out to find more allies. In the late '70s, Wylde and Sullivan regularly picketed outside the office of John Zuccotti, who served as deputy mayor and the Brooklyn representative on the City Planning Commission. They wanted to stop the city from moving the meat market across the street from Lutheran Hospital in Sunset Park. At one protest, Zuccotti sent word that once the event was over, he wanted the leaders to come by his office for a chat. They were expecting a lecture on how politics really works, but Zuccotti instead leaned across his desk and asked Wylde how he could help her and if there was a way they could work together.
"I just found out very early that protesting was maybe making a statement, but it didn't get things fixed," she said. "So that's when I figured out that there were people in power that wanted to make things work, that wanted to do the right thing, and that you could work with them."
"Zuccotti was politically adept, but he was also a fair broker, and we thought that if we could get to him, we could level with him," recalled Sullivan. "But there was a fear, too, from many of us of being co-opted. Here we are, all in our 20s, and we get to sit with the head of the City Planning Commission. You had to remind yourself that you aren't there because you are so smart; you are there because you are part of a movement."
In the end, Zuccotti was unable to keep the meat market from moving, proof for Wylde that even the most seemingly powerful politicians were facing forces bigger than themselves.
After a few years of splitting her time between the hospital and the Sunset Park Redevelopment Committee, Wylde went to work for Anchor Savings Bank as a community-housing specialist in 1979. It was the same type of job she'd been doing, as she saw it, just on the other side of the table: figuring out how to get mortgages to local residents to keep them in their homes and rebuild their neighborhoods, as well as how to build coalitions for neighborhood improvement throughout the city. She didn't last long, not just because the buttoned-up banking world wasn't her style but because she realized Anchor was overcharging on home-improvement loans. She tried to convince the bank's CEO that it shouldn't. The CEO told her she didn't understand banking and called her a communist. Wylde placed an ad for the bank in City Limits, a muckraking local magazine, about how banks were engaged in redlining. "The bank, I think, wanted to kill me," she recalls.
She wanted to see how money — so elusive in Sunset Park during its decline and her activism — moved through the city. Money bought things like safe housing, decent schools, and community health, all of which she was used to demanding. But unlike most everybody else in the financial world, she knew all the neighborhoods of the city, not just the shiny ones, and knew the people who actually lived in them, not just the rich. At the same time, the city was beginning to emerge from the fiscal crisis of the 1970s, and David Rockefeller, a grandson of the Standard Oil founder and one of the richest men of the 20th century, decided that members of the city's business elite needed to come together to save New York from backsliding after they had helped bail it out.
"Top New York Executives Plan Coalition to Exert More Influence," read the front-page story in the Times about the Partnership's launch, which described how Rockefeller, then the chairman of Chase Manhattan Bank, was teaming up with the heads of Citibank, MetLife, AT&T, and dozens of other companies because, as the paper put it, "the business community's influence is now limited compared with that exerted by more organized business communities in such cities as Hartford and Houston."
"This is the only town in America that doesn't have an Establishment," one executive was quoted as saying. "A lot of people think that they are important, but they can't get anything done."
The Partnership was welcomed by the mayor and the governor, who were frustrated that labor groups and the activist class had stymied their efforts to build new freeways and reduce taxes on corporations and the wealthy. When Wylde gave a presentation to city leaders about her work at the bank in housing, she was introduced to Rockefeller. She would soon show him the New York of the working class, where people could barely afford substandard rentals, let alone buy a slice of the city for themselves. Rockefeller hired her to launch a new initiative for the Partnership to rebuild housing stock in some of the city's abandoned neighborhoods. In time, Wylde became a favorite of the Partnership's board, acquiring a reputation for understanding the business-friendly policies that the millionaires, then the billionaires, wanted.
After Wylde had spent a decade at the Partnership's housing arm, the billionaire investor Henry Kravis brought her over to run its investment arm, which would fund new businesses that would be based in New York and create jobs there. In 2000, Wylde was named head of the organization, the first to have not come over from either business or government. The feeling among many city CEOs at the time was that the Partnership had failed to live up to its promise and that, as City Journal, the flagship publication of the Manhattan Institute for Policy Research, put it, the organization had "spent much of the last half-decade pursuing activities like building subsidized housing, funding incentive programs for public-school teachers and principals, and training welfare recipients for work," a focus that "left New York's heavily taxed business community without a public voice." The Giuliani administration grumbled that the Partnership hadn't joined it in pushing through a tax cut, while other organizations, such as the Business Council of New York State, complained that it hadn't helped push back against new health-care spending in the state. Wylde's appointment was hailed as a signal that she was eager to raise the Partnership's profile; the paper quoted Esther Fuchs, a public-affairs professor at Columbia who later became a top aide to Mayor Bloomberg, as being almost giddy at the prospect: "If you can mobilize the business community, you can change any policy outcome that you want," she said. But Wylde was more circumspect, telling the paper that the group couldn't get involved in every controversy. "The partnership needs to be judicious about how its leadership weighs in and where."
It was easy during the Bloomberg years. Having a plutocrat in the city's highest office meant that Wylde and the business sector came to be seen as part of a quiet cabal running the show, and Wylde was a ready surrogate for much of the Bloomberg agenda during her first years at the Partnership. She patiently explained to reporters why much of what the left wanted — whether it was rent protections, higher wages, or more regulations on businesses — was actually counter to its aims and would make the city into a place where businesses and people would flee, tourists would stop coming, and revenues to pay for the things liberals wanted would evaporate. As the city veered left in Bloomberg's third term, Wylde provided a counterweight, pressuring the City Council, for example, to not pass a living-wage bill, and at the state level, she put together the Committee to Save New York, which ran ads urging lawmakers to cap spending and not raise taxes to cover holes in the budget left from the market crash of 2008.
There was a time, pre-Wylde, when the Partnership included nonprofit leaders; Wylde tightened up the membership requirements, so that it is now a collection of bank CEOs, venture capitalists, fashion entrepreneurs, media companies (Vox Media, which owns this magazine, is a member), and, as of a few months ago, Sarah Jessica Parker.
But these days, we're a long way from the New York of Mayor Bloomberg, who called the city a "luxury product." If there is a baleful force in this city, as Wylde sees it, it is not "her crowd" but all those who march on Bezos's house or Gracie Mansion or who show up to disrupt City Council hearings. "The people with the great political pull are not the business community; it's the activists, except they don't have any solutions," she said. They stopped Amazon from building a campus here, they won't let the city grow, and they call to defund the police and tax businesses and the rich.
Never mind that Wylde was one of those activists once. "I don't think I have changed at all. My tactics have changed, that is all," she said. "My North Star has always been: How do you build bridges and deliver the resources, the wealth of New York City, to communities? In New York, the disparities are so obvious, and yet the resources are so enormous. How do you take advantage of the fact that most people in the city that have resources want to — I hate to say it, but — lift all the boats? They are looking for ways that they can support education, support opportunity. When you are holding up signs outside an office, it takes a lot longer to get something done. And you still then have to work with government, and government can be so slow."
Her old comrades from the movement agree. "It's not like there was any career plan for the kind of work we were doing," said Sullivan. "When I see her quoted in the newspaper, I take a lot of what she says with a grain of salt. She works for Henry Kravis now; she isn't going to be out on the ramparts with us. I know people in my world are sometimes shocked when they hear that I am speaking with Kathy about something, but they shouldn't be. She basically has a good set of values. And it's like Willie Sutton's line about why he robs banks: 'Because that's where the money is.' That's why Kathy is at the Partnership."
Wylde probably knows more New Yorkers than anybody else alive. Newly minted B-school graduates say she invites them out for lunch and introduces them to prospective employers. People who quit government jobs say that Wylde, who is famously blunt, calls them the same afternoon and gives withering assessments of their next move. "A lot of people in the political world, they try to be diplomatic. They aren't up front," said Amelia Adams, a former top City Council staffer who once protested in front of Wylde's house when she worked for the social-justice organization ACORN, and who recalled Wylde hounding her until she agreed to start her own public-affairs company, then promptly signing up as Adams's first client when she did. "Kathy doesn't play games, I mean, at all." Politicians say that when they are quoted in the papers supporting left-leaning policies, they get prompt phone calls from Wylde telling them to back down. When Newlab, a tech incubator at the Brooklyn Navy Yard, was trying to hustle out a new type of ventilator just as COVID was descending on the city, Wylde put the CEO in touch with the board members of Honeywell so he could get the necessary parts from overseas. "It was an $8 sensor, and I couldn't get an answer back from anyone," said Scott Cohen, the Newlab's founder. He reached out to Wylde. "Literally the next day, I had CEOs calling me and figuring out how they could help."
At 74, Wylde has somehow figured out how to command the respect and devotion of some of the richest men in the world. "I never tried to use feminine wiles, that is for sure," she said when asked her secret. "I never had them, so it's not been a problem for me not to use them. I just try and get inside the head of the person I'm around and understand what they are looking for."
Her nontraditional family arrangement also helps her find the time to get to know everyone in city business and government. Wylde met her husband, Wilfredo Lugo, when they were both community activists in the early 1970s. They bought a place in Quebradillas, Puerto Rico, in the early '80s, and he moved there full-time in 1995. (Lugo doesn't like to talk to the press, and when I asked to interview him, Wylde responded over email, "Yuck." But Wylde tells me he hated life in New York and wanted a simpler one by the beach.) Wylde visits once a month, taking calls over choppy phone lines and writing emails by the swimming pool or surrounded by some of their 19 rescue cats and dogs. When she returns to Bay Ridge, she has no distractions from her mission.
"She is very driven about getting the right people in the room to talk about the right issues," said James Gorman, CEO of Morgan Stanley. "When she wants something from you, she badgers you in this way that gets even very busy people to pay attention."
This can be less endearing in political circles. "She has created this mythology around her influence that makes no sense to me," said one former de Blasio administration official. "And somehow she has convinced the city's CEOs and politicians that she is the gatekeeper. Whatever power she has she gets from being around wealthy white men and being willing to do their bidding."
Several people who have worked with her say Wylde tends to dominate in meetings, cutting off people who give meandering answers and telling them how things should be done even when others in the meeting have more information. On a call about reopening in the spring with senior staff from the mayor's and the governor's offices, each of the five borough presidents, and other labor and governmental leaders, one participant recalled that Wylde kept interrupting, monopolizing the conversation, and not letting the others speak. "The elected representatives kept on trying to speak, and she kept on interjecting," this person said. "Not once but over and over. I was like, What the fuck are you doing? She was commandeering the meeting, and it was completely tone-deaf."
Wylde is also a terrific gossip, someone who knows whatever politicians are planning next, and she has been around long enough to remember the youthful indiscretions of some of New York's most august political figures. As such, she is an invaluable resource for city reporters. She deals with reporters directly — she hired her first-ever communications aide in June — and is quoted in the media constantly, almost always to give reasons for why something cooked up at City Hall or in Albany would hurt business and thus tax revenues. "She gets the game," said one former city reporter. "She knows how to do things without leaving fingerprints and knows how it is going to land and knows all the players. You gossip with her because she gossips with you, but I always guess that whatever she is telling me she is telling every other reporter in town." Several city reporters told me that when they arrived at a new job, they found a congratulatory email waiting from Wylde before they had been issued a work phone.
Over the years, Wylde has opposed raising the city's minimum wage, adding paid sick- and family-leave protections for workers, efforts to tax high-earners to help fund free prekindergarten for the city's 4-year-olds, and calls to cancel rent in the face of the widespread joblessness resulting from the pandemic, as well as a City Council bill to extend protections to a wide swathe of gig workers unable to work or receive benefits because of it.
"My job has given me access to people who make a difference. If you organize them, you can do something about lots of these issues," she says, when asked how a career championing the interests of the one percent could simultaneously be oriented toward the dispossessed. "There are leaders in the business community who, when they put their resources to good purpose, can exercise enormous power and can take care of things very quickly."
Theoretically, this is exactly the time when such resources and expertise would be especially useful. But as the city and state face massive budget deficits and increasing calls to plug the gap by taxing businesses and the rich, Wylde's group has been mostly silent. In September, she convened 163 executives on an open letter to Bill de Blasio, calling on him to pay attention to "public safety, cleanliness and other quality-of-life issues."
"Utterly useless. I think you can pin a lot of what has gone wrong in this town over the last ten years on her," says one political operative. "I sometimes wonder if she is working for DSA. No one votes in a Democratic primary, and no one is going to vote unless you mobilize them to vote, and she is sitting on a group with, what, a billion dollars to their name? Two billion? How do you not drop a million-dollar ad campaign on the heads of every politician who was grandstanding on the Amazon deal? Why is she letting them get away with it?"
Wylde says her group can't. New campaign-finance laws in the city and state have restricted organizations like hers from meaningfully affecting political campaigns. But even if she could, that might not be the right use of the Partnership's resources. "You could do a negative ad campaign, but you put it down, and after everybody you advertised against won their election, what do you do then?" Wylde told me in response to this charge. "We are not going to get into the business of running ads against elected officials. It's just not appropriate. They have been elected by the voters. Our job is to work with them, to educate them, not to try to take them out."
This stance has enraged even some of Wylde's allies in the city's executive class. If the Partnership doesn't want to get into the grubby world of politics, fine. But then do something, they say. In the 1970s, Rockefeller and his ilk came together, pushing for tax increases on themselves and steering the city out of crisis. Now, it is a similar moment, and the best the business community can do is host mayoral candidates over Zoom?
"An open letter?! An open letter," said one real-estate executive. "That is what you do when you don't have any other way to get an audience with powerful people in government. The only time they ever bring the full force of their membership together is to take a stand against tax increases."
If they can't advocate for individual political candidates or causes, fine — but do something then, something that gives regular New Yorkers a sense that "her crowd" isn't just in it for itself. In 1975, a bunch of wealthy New York business leaders came together to prepay $600 million in taxes so the city could stave off collapse. That would be the equivalent of nearly $3 trillion today. Could they attempt something similar now? Announce a massive job-training program to help get the city's more than 500,000 unemployed back to work? Or create a fund to help the 65,000 minority-owned businesses survive? Agree to a tax increase on upper-income earners? Hold a summit with the half-dozen members of the Democratic Socialists of America who were elected to the State Assembly this year and look for common ground on affordable housing?
For many in the private sector, the city has taken a dark turn over the past several years as they have found themselves increasingly the target of public ire. And it's not just the banks or the one percent who are criticized; it's anybody involved in free enterprise, anybody who makes a living that could be considered above middle class. This is a city where EAT THE RICH is being spray-painted on the plywood of shuttered businesses, where Mayor de Blasio has repeatedly said he isn't interested in trying to persuade the rich to move back home from their COVID hideaways in Palm Beach and the Hamptons, pledging instead that they would be taxed further if they did choose to come back and telling reporters recently that the wealthy have "allegiances to themselves and their wealth" and "I am not going to beg anybody to live in the greatest city in the world."
"It sends a hateful message to people who say, 'Wait a minute, I've done nothing wrong. I pay the millionaire's tax. I employ people. I pay a sales tax.' One percent of New Yorkers make up 46 percent of our tax base, and we want to convince them to stay in New York," Wylde says. "Why are you saying you don't like rich people? They are the ones who support our charities and fund our arts and culture. And now theaters are shut down; the restaurants are shut down. And these people are asking themselves, 'Why should I come back?' If you add another tax on them, I really fear it will be the straw that broke the camel's back."
This is an evergreen Wylde point. She has been arguing against tax increases for decades. Before, even if the politicians didn't agree with her, they at least saw her point. But now? "The argument has become ideological. It's AOC and much crazier than her out there," Wylde told me. "In the past, you would have some balance because business and real estate had more power. They don't have the power to stop it anymore, and there is no one in office who can stand up and say, 'Stop.' Well, there are only a few, mostly in the African American community, who can do that and get away with it because the advocates can't go after them in the same way they go after white liberals." She raised her voice and kept going. "For political organizers, they just want to stir the troops. They certainly don't have concern for their people. It's the showmanship that is important to them. It's disruption for its own sake."
Wylde became an activist because she wanted to help people, she says, not because she wanted to see the rich defeated. It's a political project that requires a great deal of moral flexibility, which is something she thinks her current antagonists lack. "They're blind to reality," she says, "because they're blinded by their ideology."
*This article appears in the November 23, 2020, issue of New York Magazine. Subscribe Now!
*This story has been updated to clarify Brian Sullivan's employment with the Pratt Center for Community Development.