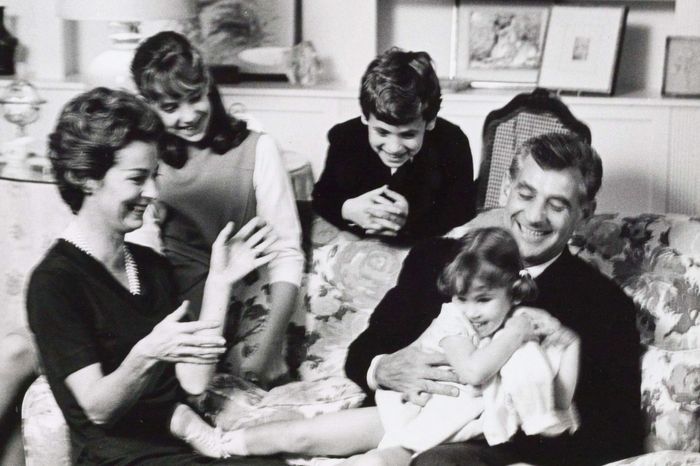 The Bernsteins at home, 1964.
Photo: Library of Congress, Music Division
A big, bright penthouse atop 895 Park Avenue at 79th Street has been offered for sale at $29.5 million, the New York Times reports. It hasn't changed hands since 1974, when a wealthy couple, Carol and Maurice Feinberg, bought it from none other than Leonard Bernstein, composer and maestro of the New York Philharmonic. The Bernsteins had owned it for about a decade, raising four children, and were moving to the Dakota. Many wonderful parties have happened there over the years, no doubt, and depending on who buys it, perhaps many more will. But it was one in particular that put a durable phrase, and this magazine, on the map.
Because, of course, this is the apartment where, in January 1970, Felicia Bernstein and her husband hosted a benefit for the Black Panthers. The New York cultural elite of that moment attended en masse, from Stephen Sondheim to Barbara Walters to Norman Podhoretz. Tom Wolfe wrote about it at length for this magazine, which was barely two years old. "Radical Chic: That Party at Lenny's" was an enormous sensation when it landed on the magazine's cover the following June.
Here's how Wolfe described the apartment:
In the living room most of the furniture, the couches, easy chairs, side tables, side chairs, and so on, had been pushed toward the walls, and 30 or 40 folding chairs were set up in the middle of the floor. It was a big, wide room with Chinese yellow walls and white moldings, sconces, pier-glass mirrors, a portrait of Felicia reclining on a summer chaise, and at the far end, where Felicia was standing, a pair of grand pianos. A pair of them; the two pianos were standing back to back, with the tops down and their bellies swooping out. On top of both pianos was a regular flotilla of family photographs in silver frames, the kind of pictures that stand straight up thanks to little velvet- or moiré-covered buttresses in the back, the kind that decorators in New York recommend to give a living room a homelike, lived-in touch. "The million-dollar chatchka look," they call it. In a way it was perfect for Radical Chic. The nice part was that with Lenny it was instinctive; with Felicia, too. The whole place looked as if the inspiration had been to spend a couple of hundred thousand on the interior without looking pretentious, although that is no great sum for a 13-room co-op, of course …
The Bernsteins hated the story, and the family still does. So did Don Cox, the Black Panther leader who had attended. Shirley Bernstein, Lenny's sister, wrote a scathing letter to Wolfe, saying "My revulsion at your current New York piece continues … You took two people, whom you know full well to be good people, and with your cleverest prose (and the aid of an uninvited tape-recorder) set out gleefully and maliciously to humiliate and divide them." In fact, there was no hidden tape. Wolfe was taking notes in full view, and his steno pad is today filed away at the New York Public Library. Nonetheless, the piece did, if we're being honest, skirt the edge of cruelty. But Wolfe had, in nearly 25,000 words, set the bar for every New York Magazine feature to come. It was observant about class, obsessive about the cultural dynamics of New York's most affluent people, and written in such a way that you were not going to put it down so fast.