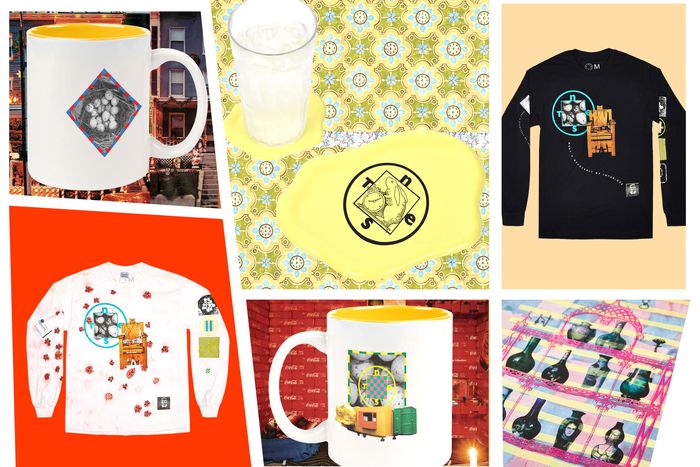 Nest — the quarterly interiors magazine that Condé Nast was too scared to buy — folded back in 2004. But last week, Parker Gallery launched a capsule collection with the bygone publication. There are only five items for sale, and each is made in collaboration with one (or, in some cases, two) designers, including Justin Hunt Soane, Emily Dawn Long, Eckhaus Latta, and Annabelle P Lee. Some are extremely limited edition (there are only ten, for instance, of the the hand-painted Annabel P. Lee tees), so, as our friends on the Strategist like to say: if you're interested, don't dillydally.
Photo: Nest
Multidisciplinary designer Justin Hunt Sloane's ceramic mug has a vibrant yellow glaze inside and one of Nest's logos (which famously changed ever so slightly with each issue) on the front. Through the full run of the magazine, the Nest logo was used as a window that playfully frames patterns, photos and illustrations. (To wit: the square in Curbed's new logo sometimes does the same.)
Photo: Nest
Also by Hunt Sloane: this coaster shaped like a small spill. The rabbit figure — originally illustrated by Wouter Dolk — was a recurring motif in the spring 1999 issue magazine, and often appeared in different settings. This specific rabbit is from a feature titled "Lucy Ricardo: Decorator." Here, Hunt Sloane inserted a rabbit into the Nest logo.
Photo: Nest
This one has screen printed imagery from Nest's winter 2001–2002 issue. The chair is the infamous "Yellow Mama" Alabama electric chair, which appeared in photographer Lucinda Devlin's photo series on prisons. "It's another example of how Nest consistently twisted the idea of 'interiors,' to provoke and expand a sometimes illiberal industry," Carson Salter says.
Photo: Nest
Hand-painted by designer Annabel P. Lee, who is best known for her checkered corsets, this shirt also has a screen printed graphic by Justin Hunt Sloane. (Only ten of them are available.) The "Gothic shelf" graphic here riffs on one that appeared in Nest's spring 2003 issue on the contributors page. The issue began with a love letter to vases.
Photo: Nest
Emily Dawn Long dyed ten shirts for the collection, riffing on the decorative motifs the magazine used in its layouts, and its imagery.