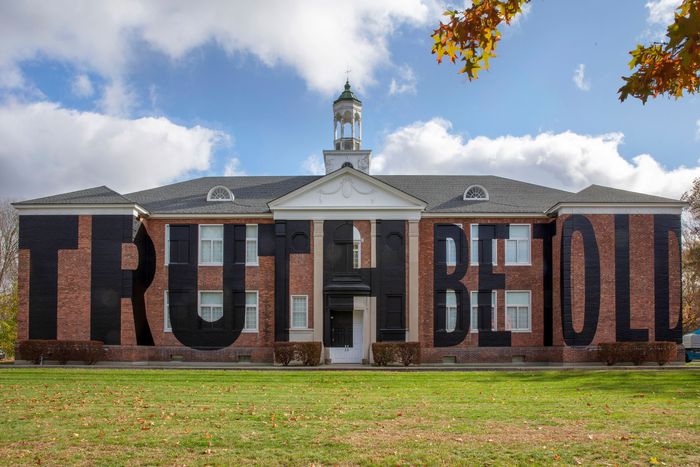 Truth Be Told
, by Nick Cave, 2020.
Art: Nick Cave/Courtesy of the artist and Jack Shainman Gallery, New York
Truth be told, artist Nick Cave wanted his new public artwork up three months ago. "The gallery had to go to the city and ask permission. I'm like, just fucking do it. Like John Lewis said when he said 'good trouble.' To me, it's about that. You don't need fucking permission. It's an art gallery, a place of expression. Go for it." The gallery never got permission but it went up anyway this past weekend — just in time for the election. The words "TRUTH BE TOLD" now cover the façade of Jack Shainman Gallery's exhibition space the School in Kinderhook, New York, overlaying the 1929 building, which was turned into an exhibition space in 2013, with two-story high lettering made of black vinyl.
"It's big and in your face. There's a sense of urgency around it," said Cave. "We can't move forward until people start speaking the truth." The piece is a part of the gallery's new initiative "States of Being" dedicated to expanding the conversation around social and racial justice.
"It goes without saying that as Nick's gallerist, I am proud to present this work," said gallery founder Jack Shainman, who was clearly frustrated that the town never would sign off on the installation. "In the seven years we have been open to the public (always free of charge), it's extremely disappointing that the response from the village of Kinderhook, a community of which I've been a part for more than two decades, is one of censorship. Clearly, we will not be censored, and I hope that this important public artwork will encourage a dialogue around freedom of expression."
On top of which, "we are living in a moment when the distinctions between fact and fiction are often blurred. This work speaks to those concerns at an especially timely moment for our nation's future, and while the words themselves may be simple, the message they deliver is anything but."
"Truth be told, we will know exactly where we stand as a country on November 3," Cave said. "We're not ever going to be what we were, so what do we want to become?"