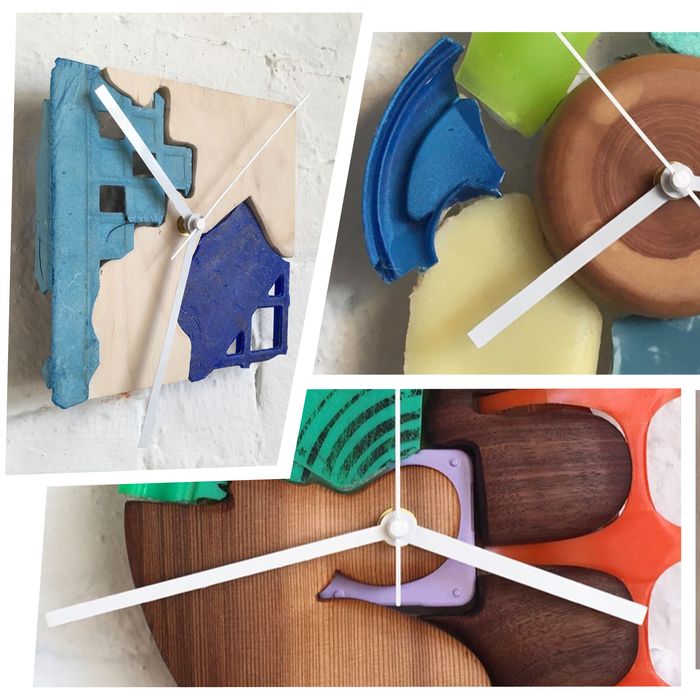 Photo: Courtesy Nick Demarco
"I almost never spend money on materials," says Nick DeMarco, an artist who creates things out of what humans leave behind. He's made a series of whimsical clocks from flotsam that's washed up on South Brooklyn's beaches, shades for an upcoming lighting series from recycled plastic soda bottles, and sculpture out of everything from waterlogged notebooks to takeout containers and toilet-paper rolls. "It's almost like an ideological thing. I think it's better to fetishize cheap stuff than it is to fetishize expensive stuff."
There's an element of the anthropologist to his work, something far more disciplined than dumpster diver. "Noticing things is a big part of my art-making, like just paying attention to the little artifacts we as people leave behind," he says. This type of curious observation, and a keen consciousness of all that consumers leave behind, is evident throughout his work.
This obsession comes from a place that's radical and also just inherent to who DeMarco is. He grew up in Seattle in what he describes as a "hippie public-art community." His family was involved with the Fremont Arts Council — a community arts organization that's been around since the '70s and is kind of like the West Coast's version of Bread + Puppet — and he'd help with costumes and props for its annual parade. This silly and playful theatricality shows up in a lot of DeMarco's work, like the custom-made eyeball doorknobs in Ellen Van Dusen's apartment, which he plans to turn into a product, or the Pinch clip he designed for Areaware. Meanwhile, he's inspired by the net art of Paper Rad, the anti-consumerist agenda of AdBusters, and the moral compass of the design guru Victor Papanek. DeMarco always knew he wanted to be an artist, but it wasn't until he read Papanek's Design for the Real World when he studying anthropology at Seattle Central Community College that things really began to click.
"It was like this diatribe against commercialism, which really resonated with me," DeMarco says. "Then [Papanek] goes on to say it's this horrible force in the world, but it's also the most powerful force in the world, so you can either write it off as being bad, or you can try to make it better. Because it's so powerful, you can use it like a tool. And I was super-inspired by that."
And this philosophy of using design as a constructive force is especially evident in DeMarco's clocks, which have a beautiful strangeness to them. He originally made them for "Horology," an exhibition organized by Elizabeth Jaeger and Silke Lindner-Sutti at Jack Hanley. Around the same time, he was making sculptures for his Lonely Planet videos, which are set in a distant future where plastic and trash become self-aware life-forms.
The clocks are composed of broken plastic he scavenged from the city's beaches, then took to his studio and started to arrange until "the composition felt nice." Once that was set, he filled in the gaps with wood that he carved in a way that hugs the scrap plastic, almost like how a tree will grow on a fence that's placed too close to it. "I would just kind of nestle the pieces together and try to just make it feel as if it was all one life-form," DeMarco says. "The wood is an organic creature that's grown up around the plastic."
His whimsical animism has a bittersweet undertone to it. Plastic will never come alive; it will just float in our oceans and stack up in our landfills forever. But he continues to use it so that the conversations about what it means to produce and consume things deepens. "I try to be hopeful," he says. "If the world's going to be covered in trash, there's a way to make it more bearable by arranging it in a sort of more pleasant way, but it's certainly not an ideal situation. I would rather the landscape be free of all this stuff. It's kind of like making the best of a bad situation."
Sign up for DeMarco's newsletter to find out when his doorknobs and lighting series go on sale.