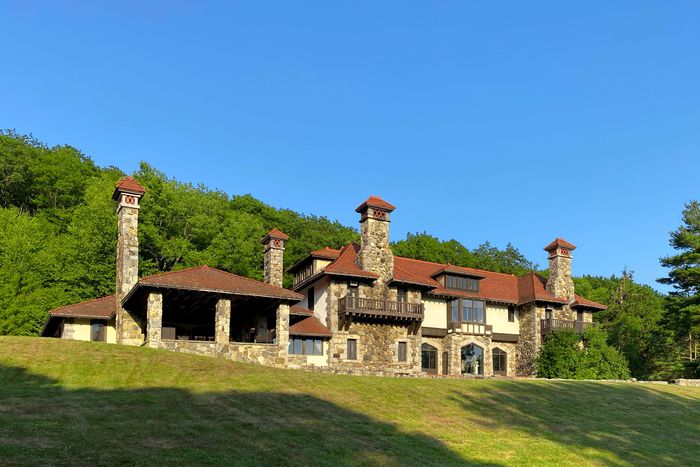 Alfredo Taylor, a Florence-born American architect, first came to Norfolk — a small town in Litchfield County — in 1902, just after graduating from the École des Beaux-Arts in Paris, alongside classmates like William Delano and Julia Morgan.
Rubly, a grand stucco-and-stone-walled structure, was actually Taylor's second home in Norfolk; the first was a Tudor-style mansion, which was a mile south of the village and which he designed for his in-laws to live in. But both homes — and many of the 45 other buildings, including some offices, a church, and a school, that he would go on to design in the town — showcase Taylor's blending of European styles. Most have terra-cotta tiles and low-pitched roofs reminiscent of Tuscan villas (like the ones he grew up with in Italy); Tudor arches, tall stone chimneys, and British-inspired oriel windows; intricate woodwork and dark wooden balconies like those he'd spotted on trips to the Swiss Alps.
The town's 1982 application to the National Register of Historic Places said Taylor was like "a town physician with a family practice … his work ranged from a kindergarten addition for a school to alterations for a columbarium." (Nearly all of Taylor's remaining buildings are on the National Register of Historic Places, and Norfolk is known as the Alfredo Taylor Thematic District.)
Rubly was Taylor's summer retreat until he died in 1942 at the age of 74, and much of it remains as it was. The imposing façade has a central block recessed between two shallow wings, and the granite walls (reportedly quarried on site) cover the first floor, while the second floor is outfitted in stucco with balconies that run parallel to the eaves above. The imposing wood columns, hand-blown glass windows, and oak-and-pine parquet floors are all original, and the home features four fireplaces outfitted in a range of stone, marble, and mahogany.
The current owner purchased the property in 1994 and added a new kitchen with corian countertops, a Gaggenau six-burner stove, and a copper hood. The original kitchen (and its cooking fireplace) was converted into a vintage car garage. Still, the views from the home haven't changed: To the west you can spy the Berkshire Hills and to the north, Mount Everett.
Broker Elyse Harney says that while in the past the home might have been used as a weekend getaway, the pandemic has changed that — and more people are looking at it as a full-time home. It certainly has the space: The second floor has two master suites with 12-foot ceilings, while the third has four additional bedrooms, a sitting room, and three full baths. "We had one buyer looking at it who had seven children," she says.