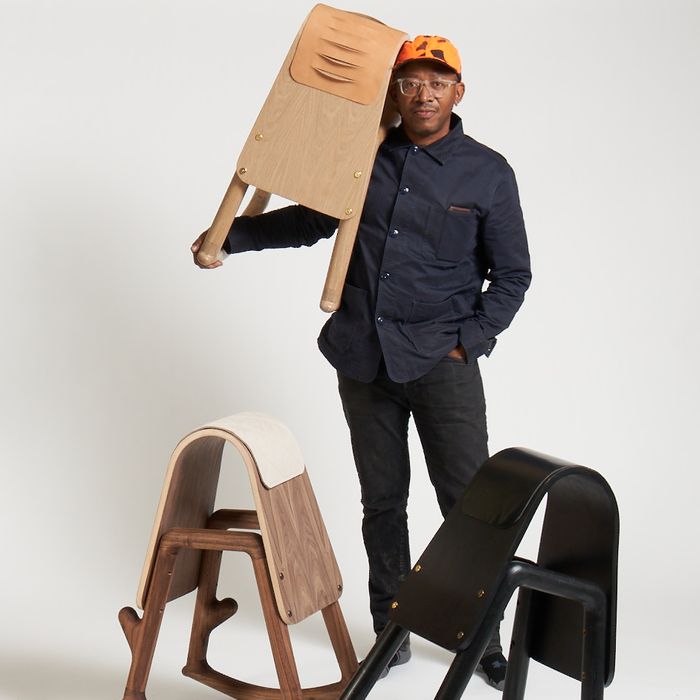 Designer Norman Teague.
Photo: Ross Floyd
It's so rare these days to get away from the computer, put on my mask, and actually get out of the house and go to a gallery and see people and meet a new designer! Norman Teague, who is based in Chicago, is presenting pieces from his furniture collection in New York for the first time, at R & Company. Teague's work is included with that of Marcel Breuer, Gerald Summers, and Egon Riss, and holds its own among these greats. In 2012 he worked with Theaster Gates on 12 Ballads for Huguenot House at Documenta, and it was in 2015 that he showed the prototype of his Sinmi Stool at Rossana Orlandi Gallery in Milan. That stool is at once a familiar and unfamiliar design, a something like an abstracted rocking horse, almost inviting you to play with it, on it.
Teague grew up on the South Side of Chicago, where "reading through history and I never saw anything that reflected or motivated me as a young Black man considering architecture and design." But he found a place to create new narratives at the Chicago Art Institute, where he says he was looking for "a narrative that reflected me, and I wanted to come up with something that came from an African or an African American sort of cultural place and became a piece of furniture you would be wowed by."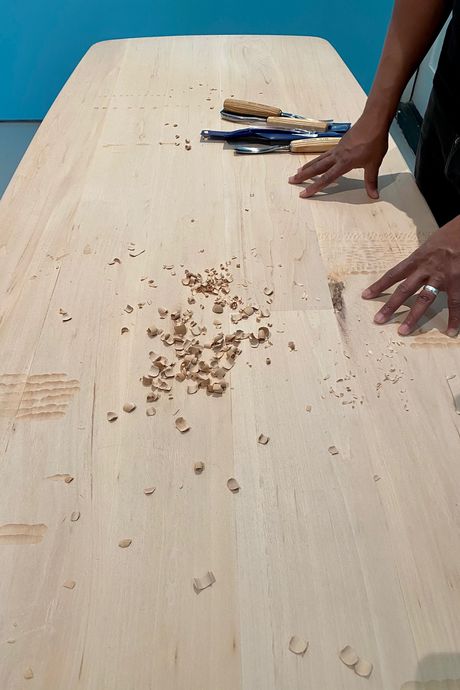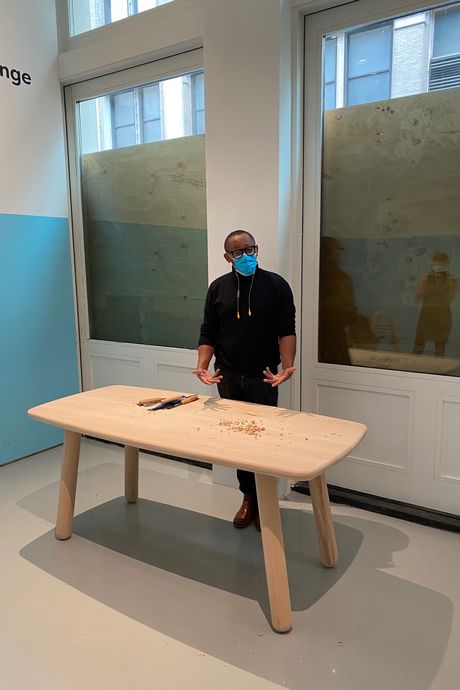 His research of forms and their functions included a one-string banjo and drums. "All of these Black people or moments in history helped me come up with the Sinmi Stool," he says. In Milan he watched as people straddled the stool, and then he leaned on it to show me how his piece can be used in the very familiar pose people take when they lean against any structure that isn't meant for relaxation per say: the side of a car, the back of a couch.
For this show, Teague created two new stools incorporating oak and maple with plywood, and then I had a surprise when he asked if I would like to carve on his table design, where he is inviting visitors to leave their mark on it, literally. I thought about it after my visit and realized that wood is alive; that working with it must be such an amazing experience because each wood feels different, and how you handle it is a completely new adventure. Sounds obvious I'm sure, but the more I think about it, the more profound that one moment was, because viewing things in galleries is most usually no touching. And always no carving.
"From Lawn Road to South Chicago: Progressive Plywood in Time of Change," curated by James Zemaitis, is open at R & Company, 64 White Street, through January 14, 2021.