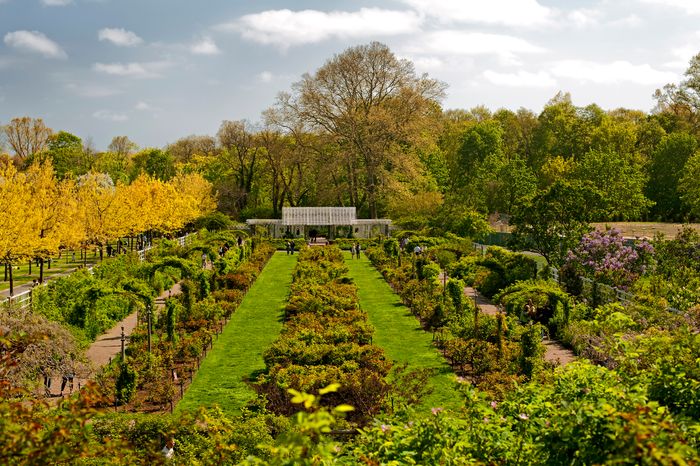 The Brooklyn Botanic Garden would be cast in shadow if two 39-story towers rise.
Photo: Driendl Group/Getty Images
On the edge of Crown Heights, a block from the well-tended paths and humid greenhouses of the Brooklyn Botanic Garden, a proposal for a pair of 39-story apartment towers threatens to cast the greenery into shadow, obliterating hours of morning light. But for now, that plan is on hold. A Brooklyn Supreme Court judge on Wednesday temporarily paused the proposal for 960 Franklin Avenue, issuing a restraining order on the project's seven-month land-use review process, which was set to begin on Monday. The judge's order is the result of a lawsuit, filed by local activists who have opposed the development since it was announced last year, arguing that the city violated its own rules when it failed to release a required detailed summary of the land-use changes the developer seeks. Without that document, neighborhood activist Alicia Boyd said, locals were unable to review the final plan and "cannot engage in our right to be kept informed."
The Franklin Avenue developer seeks to rewrite zoning restrictions for the site that were written in 1991 — specifically intended to cap neighboring buildings at 12 stories and thus protect the garden's share of sunlight. If the developer, Continuum Company, undoes those limits, roughly 1,600 apartments would loom over the garden and the neighborhood at 420 feet. Seven hundred — nearly half — would be below market rate, and therefore the project has the ear of Mayor Bill de Blasio, as well as a sharp talking point ("What do you care about more, plants or people?"). The mayor has supported the developer's plan despite an internal memo from his administration acknowledging that the towers would starve the garden's plants of sunshine. In a statement, the city's law department disputed that the city was in the wrong by certifying the plan and said it will fight the injunction. Expect more lawyering ahead.