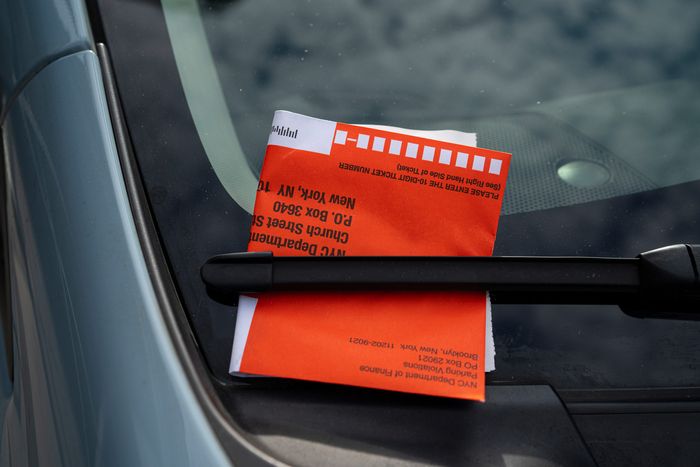 Photo: Robert Nickelsberg/Getty Images
Like slow-moving tourists in pre-pandemic days, illegally parked cars are seemingly always in the way. They block bike paths, obstruct bus lanes, crowd crosswalks — and sometimes, even sidewalks. They're everywhere. But someday soon, you might be able to cash in on your rage over an egregiously parked car through a newly proposed program that would pay you to snitch on your neighbors in return for a cut of the parking fine they pay. The scheme, laid out in a City Council bill introduced this week by Brooklyn Councilmember Stephen Levin, is not unprecedented; it riffs on another city program run by the Department of Environmental Protection (DEP) that encourages New Yorkers to tattle on idling truck or bus drivers spewing engine exhaust for more than three minutes. But does incentivizing snitching on motorists actually work, or does it just send city workers out on a wild goose chase? And are people even pausing to spill the beans on their fellow New Yorkers?
As it turns out, when given the chance, we're more than happy to gripe about badly behaving buses and trucks. So far this year, the city has paid nearly $183,000 to the public for 1,600 idling violations (that's out of 9,000 complaints) made to DEP (and more cases are working their way through the system). One particularly busy idling vigilante, on the Upper West Side, has managed to take home $16,759 by reporting dozens of alleged violators through the program, which was relaunched to much fanfare this February as part of the "Billy Never Idles" campaign — yes, that, Billy Idol (who doesn't love a good parking pun?).
Levin's program would employ a similar model to incentivize New Yorkers to flag scofflaw drivers illegally parking in bike lanes, bus lanes, and crosswalks and on sidewalks, including those government workers and cops who notoriously abuse parking placards (you can see their antics chronicled on Twitter by @placardabuse). As currently written, the bill would create an online portal through which complaints would be filed and managed by the Department of Transportation. If the bill gets a green light, DOT would be required to write the specific rules, establishing evidence requirements and the like (in the idling program, you need to send several minutes of video or photos). As with the DEP effort, cases would have to snake their way through the city's Office of Administrative Trials and Hearings; guilty parties can be fined up to $175 — up from the current $115 — and the person who reports the infraction would receive 25 percent. The only catch is that motorists must be within a 1,320-foot radius of a school building — but that, it turns out, is most of the city.