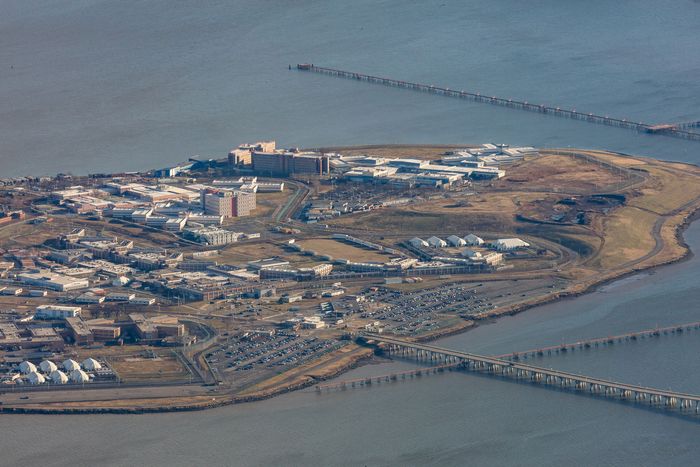 Rikers Island sits just off North Queens in the East River.
Photo: Max Touhey
There are currently just shy of 4,000 people who live, against their will, on Rikers Island. But as the city moves toward finally closing the notorious jail complex, the island will eventually be 413 acres of Manhattan-adjacent real estate — more than twice the size of Governors Island — that could be transformed into a new neighborhood where New Yorkers might actually want to live. While Rikers is a complicated place for reasons other than its jails, one of the big ideas on the table to redevelop it is affordable housing.
That's one of the concepts explored in a new report from the New York Building Congress, a construction trade group geared toward promoting growth in the industry. In addition to solar fields, public open space, and other ideas, the group proposes building a grid system of 80 blocks that would essentially create an entire new neighborhood in the East River. The concept was first floated by Curtis + Ginsberg Architects in 2015, and would bring roughly 65,000 residents to the island through a mix of multi-family and single-home housing, along with schools, retail, and medical centers — essentially everything needed to make it a fully functioning neighborhood, much like the development of Roosevelt Island a generation ago. "When else are we going to have an opportunity to have this much land that can be developed in New York City? There's not many places," says Carlo Scissura, the president of the New York Building Congress, who envisions low-income and workforce housing for the island. "Why not build a neighborhood of the future?"
It's a grand plan in theory, but Scissura concedes that the real-life limitations of the island are many. For one, it's an environmental mess that's burping up methane gas from the decomposing landfill that makes up more than 300 acres of its shores. Projected 100-year flood and 500-year flood zones paint a troubling picture for the island, with jails already suffering from persistent flooding. The island would require a huge environmental cleanup and coastal infrastructure to deal with future sea-level rise. Rikers is also right next to LaGuardia Airport, so building heights are limited and noise is not. The island's remoteness — the reason it became a jail complex in the first place — means it'll need a new transportation network (ferries, bus lines, bike bridges). All of this, needless to say, would be expensive (Scissura doesn't have a cost estimate), and would take at least a couple of decades to realize. Even the conversation is fully hypothetical until the city's new jails open in 2027 (deferred a year by City Hall).
Regardless of when that discussion begins to unfold, housing, Scissura argues, should be a piece of whatever eventually comes to the island. "Affordability continues to be one of the most critical pieces in the puzzle of livability in New York. It would be a shame not to use this opportunity to at least study the potential for building housing there," he adds. "We used to build massive housing visions, like Co-op City and Battery Park City — why not do it again?"