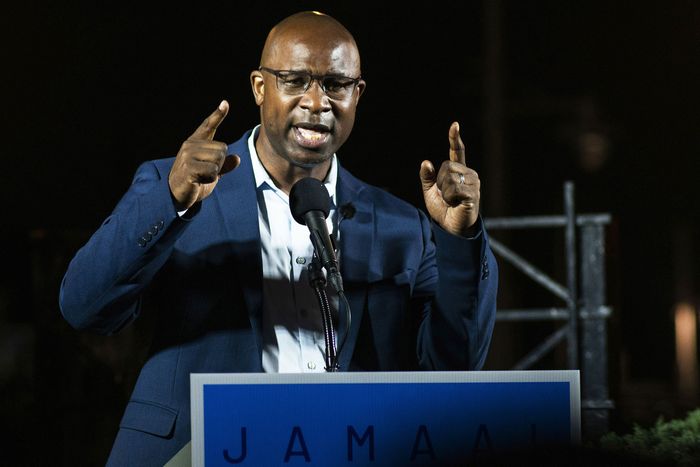 Photo: Eduardo Munoz Alvarez/AP/Shutterstock
Two years after Alexandria Ocasio-Cortez's upset over 20-year incumbent Joe Crowley, progressives continued their shake-up of New York's congressional delegation in 2020, pulling an already liberal congressional class considerably further to the left. Last night, New Yorkers elected Ritchie Torres, the first openly gay Latino who will serve in the House, along with Jamaal Bowman, a Black middle-school principal who beat a 16-term incumbent in his primary. (Though Nicole Malliotakis flipped Staten Island and Bay Ridge back to red, defeating Max Rose.) They will undoubtedly push the delegation's Old Guard liberalism on a number of key issues, including criminal-justice reform and income inequality and, most of all, housing. It's a central issue to these new Congress members, and as we sink deeper into a housing crisis during a pandemic, affordability and tenant protections have taken on renewed urgency. Here's where they, along with some of their veteran (and just-reelected) colleagues, stand on housing, with the policies they say they will push for.
Jamaal Bowman, 16th District
Bowman's June primary win over 16-term incumbent Eliot Engel reinforces the idea that AOC's upset was no fluke. The 44-year-old native New Yorker ran on a vigorously progressive campaign in the 16th District (which includes parts of the North Bronx and Westchester County) focused on racial and economic justice. Housing plays a key role in that platform, and he has said it will be a top priority for him on Capitol Hill. Bowman, who lived with his grandmother in the East River Houses until he was 8, says he will push for a deep reinvestment in the New York City Housing Authority (NYCHA) and federal funds to build new low- and middle-income apartments in a policy agenda he refers to on his campaign website as the "new deal for housing." He's also a proponent of a national rent-control cap, and he has called for new eviction protections that would make it harder for landlords to turn out tenants. Similarly, Bowman supports an expansion of the city's Right to Counsel program, a law that connects New Yorkers with free legal counsel in housing court in certain Zip Codes.
Ritchie Torres, 15th District
Though he is only 32, Torres has already been a force in New York City politics for years. When he was elected to the City Council in 2013, he became both the youngest member at 26 and the first openly gay official to represent the Bronx. An Afro-Latino of Puerto Rican descent, Torres is now the first LGBTQ Latino elected to Congress, where he will represent the south and central Bronx. Torres — who grew up in the Throggs Neck Houses, across the street from Donald Trump's golf course — cut his political teeth as a tenant organizer, and while serving on the Council championed affordable housing, fighting against what he refers to as the "humanitarian crisis" in the city's NYCHA developments. As the chair of the Council's Committee on Public Housing, he investigated poor building conditions and played a role in exposing the city's failures to address lead-paint contamination. Torres recently told MSNBC that his priority in Washington will be to push for a "comprehensive social safety net that establishes both health and housing as a human right."
Alexandria Ocasio-Cortez, 14th District
In a relative certainty on Election Night, Ocasio-Cortez cruised to a second term in her 14th District seat, where she represents parts of the Bronx and Queens. The race had money pouring in from all sides: Ocasio-Cortez raised $17.3 million, much of it from small donors attracted to her progressive star power, and $10 million backing her relatively unknown Republican challenger. It was the second-most-expensive House race in the country — and a reflection of the groundswell behind the 30-year-old and her progressive policies. During her first term, she was particularly fierce on pushing a sweeping platform for housing. That includes A Place to Prosper Act, which seeks to reform existing housing laws to expand federal assistance along with strengthening tenant rights and creating a more equitable rental market, and the Green New Deal for Public Housing Act, which calls for a $180 billion investment in modernizing and moving its buildings to carbon-free energy. More recently, Ocasio-Cortez has championed the call for rent relief throughout the pandemic and has spelled out a plan to forgive rents for those struggling to make ends meet during the coronavirus crisis.
Nydia Velázquez, Seventh District
The veteran representative Velázquez has pushed for a massive reinvestment in public housing since she was first elected in 1993. Last November, she introduced the Public Housing Emergency Response Act, which would inject $70 billion in federal dollars into modernizing public housing across the country — a $32 billion slice of that pie would be set aside for New York. More recently, she floated legislation that would suspend rent for tenants in public housing during the coronavirus crisis. Velázquez also made waves in her district by wielding her congressional influence in the local battle over the redevelopment of Industry City, which she vocally opposed. In an eleventh hour letter to the City Council, she and nine other lawmakers urged the body not to support the plan, calling it a move that would be "undermining Sunset Park's affordability and blue-collar job base." The developers pulled their plans after the opposition began to mount.
Yvette Clarke, Ninth District
Velázquez isn't the only old-timer who has brought ambitious housing proposals to the table recently. The five-term incumbent Clarke, representing Central Brooklyn, wants to shake the foundations of the affordable-housing market — in New York City and beyond — with a big overhaul aimed at making it more equitable. Perhaps most significantly is the bill's proposal to reformulate area median income (AMI) by which the Department of Housing and Urban Development defines affordable housing, and on which New York City relies in setting its own affordable-housing income requirements. Clarke, who narrowly won reelection in 2018 against political newcomer Adem Bunkeddeko (a housing advocate), introduced the legislation last November; it's the embodiment of how pressure to shift the delegation left is pushing veteran lawmakers to clarify their own vision on housing. "The ability to afford having a roof over someone's head should not be a luxury only provided to those whose income is considered upper class," she told Crain's. The bill is a response to long-standing concerns from housing activists that how AMI is calculated does not lend itself well to the creation of low- and middle-income housing within the reach of most New Yorkers.