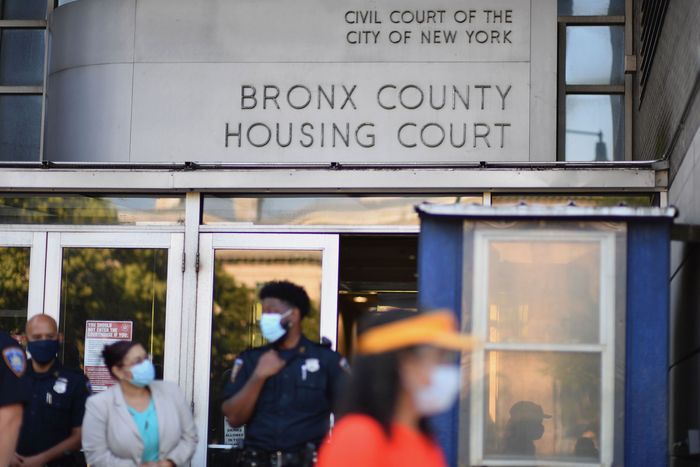 Photo: Angela Weiss/AFP via Getty Images
All eyes were on the presidential election Tuesday night — so, naturally, that's when Governor Andrew Cuomo dropped yet another executive order affecting thousands of eviction cases in New York. This one could actually be a boon for renters, but the directive continues the governor's confusing habit of using 11th-hour orders to shape and reshape how eviction cases can inch forward in housing court. This latest order, which has exceeded a dozen since March, creates a new 60-day window (starting November 3) for tenants to respond to pending nonpayment cases that have been filed against them. The seemingly small change could potentially keep thousands of New Yorkers in their homes by giving people more time to, essentially, ensure their court cases aren't over before they really had a chance to begin.
The new order deals with a pause on what's known as default judgments — in which the court automatically issues a ruling if you fail to respond to a case or show up to a hearing — that expired on Tuesday. In normal times, tenants have ten days to respond to a nonpayment case from their landlord to avoid a default judgment; the tenant's response is required for scheduling the first hearing of the case. But because that ten-day deadline has been on hold for months and tenants haven't had to worry about a default judgment, tenant advocates feared that New Yorkers wouldn't know to suddenly hurry up and respond before that deadline resumes. This new order establishes a three-month grace period to respond to a pending case, and gives more time to the Office of Court Administration to notify tenants about the time crunch they're under to respond to their cases before they could receive a default judgment.
Confused yet? You're not alone. The complex order — like essentially all previous executive orders on evictions — quickly became a source of consternation for tenant advocates and landlord attorneys alike. It also doesn't extend to tenants who've had new cases filed against them for reasons other than missing rent. And all of this landed on Election Night, when New Yorkers were balled up with anxiety over our future. It's the latest alarming chapter in the governor's perplexing approach to evictions and tenant protections during the pandemic, and it undoubtedly won't be the last.