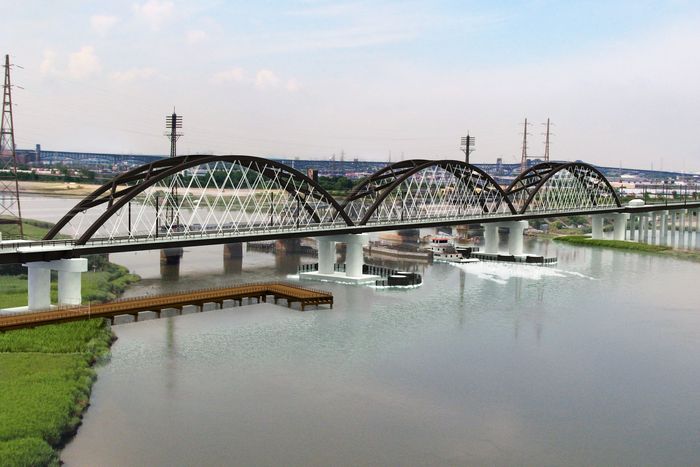 A rendering of the Gateway program.
Photo: GDC
After four years as a running joke, the origin of "infrastructure week" feels like a distant memory. But with Trump on the precipice of defeat, there's the promise of a functioning federal government led by Joe Biden on the horizon — and perhaps not only an actual infrastructure week, as Trump promised and failed to deliver on, but a whole infrastructure presidency (yes, despite the Senate; we know). After four years of slashing budgets, a Biden presidency could expand federal grants for housing, transportation, and infrastructure projects across the country. But no city in the United States needs new infrastructure like New York City.
Not only is New York grappling with the pandemic itself; it also faces a brewing budget crisis that could not only imperil large-scale projects but its day-to-day operations too. Governor Andrew Cuomo has denied Mayor Bill de Blasio the authority to borrow money to fill the operating-budget gap (even as Cuomo has been granted the authority to do the same). And while Congressional Democrats have been pushing for state and local aid in the next stimulus package, thus far Trump and Senate Republicans have balked. It's a grim picture, and unlikely to improve anytime soon — but who cares about reality when there's the hope of a new administration? Here are 11 infrastructure projects ranging from the already happening to the possibly impossible that, in a pretend universe where practical considerations are tossed in the trash along with so many MAGA hats, a Biden administration ought to back immediately. And he should probably actually get behind a lot of them in the real world, too.
Pass the Green New Deal for Public Housing
($172 Billion)
Last year, New York Representative Alexandria Ocasio-Cortez cosponsored the Green New Deal for Public Housing Act, which would renovate all public housing units to be carbon neutral and hire residents to do the renovations. Liberal think tank Data for Progress estimates that the program would cost between $119 and $172 billion in federal spending over 10 years, a massive investment given that the entire public housing capital backlog is estimated to be about $70 billion. With New York home to more than half of all public housing in the country, the city would benefit greatly from such a program. Not only would it lower carbon emissions, but also create an estimated 240,000 jobs, including as many as 35,000 for public housing residents.
Finish the Pennsylvania Station redevelopment — and Add to it Too
($1.6 billion)
With its byzantine mesh of tunnels that might as well have been planned via a toddler's doodling, the reeking gray concrete pit that is Penn Station is an insult to the grandeur of its original incarnation. After 20 years of discussion, a long overdue, $1.6-billion makeover got started in 2017, and will hopefully bring back some of the station's former glory. As part of the renovations the neighboring James A. Farley Post Office building will become the Moynihan Train Hall, and will include new platforms, better passenger flow, and a sky-lit atrium. The development group — which includes Related Companies, Vornado Realty LP, and Skanska USA — are pitching in $630 million, but the rest comes from shaky funding sources in the state, the MTA, the Port Authority, and Amtrak. While the project is now almost finished, in January Cuomo announced another new terminal on the east side of 7th avenue that would bring four new concourses. No timeline or cost is in place yet, but flush with Biden cash, Penn Station after the pandemic could end up wildly different — and better — than it did going in.
Go Big With Affordable Housing at Sunnyside Yard
($14.4 Billion)
While Hudson Yards has come to represent exclusion, inequality, and the terrible taste of the rich, the proposed redevelopment of Sunnyside Yard in Queens has the potential to be the polar opposite. The master plan lays out a 140-acre, $14.4 billion neighborhood above the train yard, complete with a new regional rail station, 12,000 affordable homes, ten new schools, and 60 acres of open space. According to the Wall Street Journal, it would be New York City's biggest affordable housing development since Co-op City was built in the early 1970s. But funding the project will likely take huge public investments that the city alone can't cover.
Use Rikers Island to Help the Unhoused
Rikers Island is a blight on New York's conscience, and calls to shut it down have only increased since George Floyd's murder set off a protest movement to end police brutality and reform the criminal justice system. But what happens to the East River island once the jail finally closes? Why not turn it into a homeless shelter and rehabilitation center? The question of where to house the unhoused is a thorny political issue, as the Lucerne Hotel controversy has shown. While a little education on the real effects of a homeless shelter in a neighborhood would go a long way toward soothing the fears of potential neighbors, Rikers Island would allow for a NIMBY-less location. Dreaming big, Rikers Island could be reimagined as a homeless shelter, rehab center, and mental-health clinic on a scale the world has never seen.
Protect New York City with a Storm Surge Barrier
($119 Billion)
New York is still dealing with the fallout from 2012's Superstorm Sandy in various ways, and given that climate change is causing a rise in the number of hurricanes each year, it is only a matter of time before we will face another storm like it. The Army Corps of Engineers has developed options for protecting the city from a future hurricane, and a six-mile long storm surge barrier in New York Harbor is the boldest. Comprising of several man-made islands in the harbor that would house retractable flood gates, the ambitious project would run an estimated $119 billion. The plan has been critiqued as not being sufficient for dealing with the full effects of climate change or rising tides, and while that is true, building the barrier could greatly limit the damage incurred from a major storm.
Fix the Brooklyn-Queens Expressway Before It Crumbles
($3.6 billion)
The 1.5-mile stretch of the BQE between Atlantic Avenue and Sands Street has been deteriorating for decades without a plan for addressing it. Now, the situation has gotten so bad that the city will need to place weight restrictions on it by 2026 or close it all together by 2036, leaving Brooklyn and Queens without its primary automotive transportation line and potentially wreaking havoc on traffic and shipping lines. In other words, there is no more time to waste. After local residents pushed back hard on two proposals from the Department of Transportation — one to build an elevated highway to replace the strip and another to incrementally repair it — Mayor Bill de Blasio formed a 17-member panel that recommended reducing the BQE from six lanes to four while a broader vision to overhaul the entire expressway is formulated. Some seriously want to just tear the whole thing down. Whatever path is chosen, the clock is ticking, and billions in federal funds will be required.
Finally Finish the Gateway Program
($29.1 billion)
The North River Tunnel between Manhattan and New Jersey is badly in need of expansion. Anyone who's taken the train into the city knows that traveling through the tunnel itself seems to take twice as long as the rest of the trip. In 2011 Amtrak unveiled the $29.1 billion Gateway project, which would do just that by expanding train capacity from four Amtrak trains to 12, and NJ Transit trains from 20 to 33, in addition to adding Metro North trains. The Obama administration agreed to pay for it, but President Trump has reneged on the commitment as part of a childish feud with his own home city. Given the relatively small price tag and the benefits of less congestion to anyone traveling to and from the city, it's an easy decision to fund this project.
Bring Smart Street Tech to New York
One of the COVID-19 restrictions that has actually turned into something popular is allowing restaurants to set up on sidewalks and streets, which gave New York City a new sense of vibrancy after the worst of the first wave of the pandemic passed. But thanks to advancements in 5G and IoT technology, the city might not have to pick between cars or pedestrians: smart-street innovations could make streets dynamic in a way that allows for a quick transition between regular traffic, weekend dining, or street carnivals. Installing LED panels in streets and developing movable street furniture could also allow the city to reroute traffic on the fly, and serve as valuable research for the rest of the country.
Take the 2nd Avenue Subway All the Way Uptown
($4.4 Billion)
The mythic 2nd avenue subway line that runs up the east side of Manhattan finally became a reality (or at least partly so) when three new stops on the Q were added in 2017 on the Upper East Side at a cost of $4.4 billion. The plan is to extend the line three more stops north to East Harlem, and the Federal Transit Administration has approved the second phase of the project. But funding remains an issue. If the cost of the second phase is comparable to the first phase, funding it will be a blip in the federal budget.
 Bring Housing — Not a Mall — to Willets Point
($14.4 billion)
This grimy track of land east of Citi Field is littered with junkyards, but because it sits in a transportation corridor right next to a major sports venue, it has the potential to be much more. There was a plan to redevelop it under Mayor Michael Bloomberg — but after he tried to swap out the affordable housing proposed by city council for a giant mall, Willets Point turned into a years-long legal battle that ended with the whole thing being scrapped in 2015. Mayor de Blasio is trying to jump start the project again (sans mall), with 1,100 affordable apartments, a school, and acres of open space. A funding boost from the feds could turn this site of infinite blight into an affordable destination for Queens residents.
Build the LGA AirTrain
($2 billion)
Joe Biden once quipped that he "must be in some third-world country" while walking through LaGuardia Airport (and so did Trump, one of their few points of agreement). LGA's desperately needed renovations are finally making it bearable to be inside the airport — but what about making it bearable to actually get to the airport as well?. A proposed AirTrain from midtown Manhattan to the Queens airport would put travelers at the security gate in 30 minutes by taking the 7 train to Willets Point and then getting on the AirTrain to Terminal B. The AirTrain is of limited value to the public and has received legitimate criticism about its environmental impact. Assuming those issues can be resolved, why not let the Biden administration foot the bill and make LGA a little less of a pain in the ass?