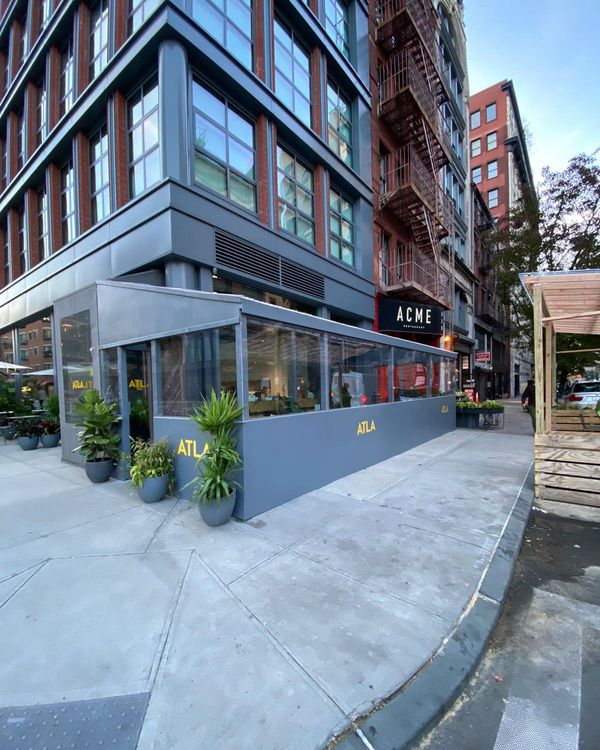 An outdoor-dining cabin built by construction company DB partners in Noho.
Photo: Courtesy of DB Partners
In less than a year, New York City streeteries have quickly developed from colorful wood fences around chairs and tables to covered, cabinlike structures — and bubbles — with lighting, planters, and heating. The first ones were knocked together by restaurant staff, but as the weather changed (along with the city's requirements), the building of these things had gone pro. DB Partners, a construction company based in NYC, is among the larger specialists, having built nearly 20 streeteries, and is in the process of building dozens of others. Last week, Instagram began feeding me ads promoting DB's streetery-building service, which is subcontracted to a company called NYWAY Contracting. (I've seen ads for many things on Instagram, but, until now, never a construction firm.)
Before COVID, Arsean Maqami, one of DB's owners, was in the business of office construction, but as that market evaporated this year, he decided to pivot. And just as his company began building its first outdoor restaurants, demand shot up. Maqami's company now has 48 current and recent clients. Until a slowdown last week — when restaurateurs briefly quit building because they feared damage from protests — his company was putting up five to seven structures per week.
It takes three days to build one. "We started with a prefabricated design that can be installed within one day," he says. "And as we spoke to more and more restaurants, people really wanted something custom that really matched the interior of their current dining experience." Recently, for instance, his company worked with Mexican restaurant Atla in Noho and the Copper Still, an Irish pub in Chelsea and the East Village.
Maqami's company charges between $5,000 and $25,000, depending on the shed's size (either 20 to 40 feet in length). Maqami says the sweet spot is between $17,000 and $20,000, which usually includes heating, painting, floors, and lights. "If we were to build a box, we could build [it] for $2,000, [but] if we're trying to transfer the feeling of a restaurant, that's a little bit more complex," he says. "[Some of them] needed a structure to increase their revenues — they don't have that much money, and we work with that." Most streeteries are made out of plywood; Maqami says he tries to avoid tentlike structures. Per the city's regulations, if they're on the street, they get electric heating, and if they're on the sidewalk, they're probably going to be kept warm with natural gas or propane.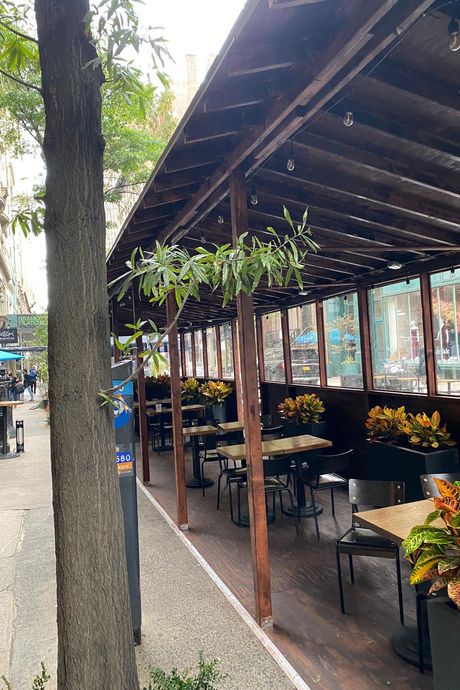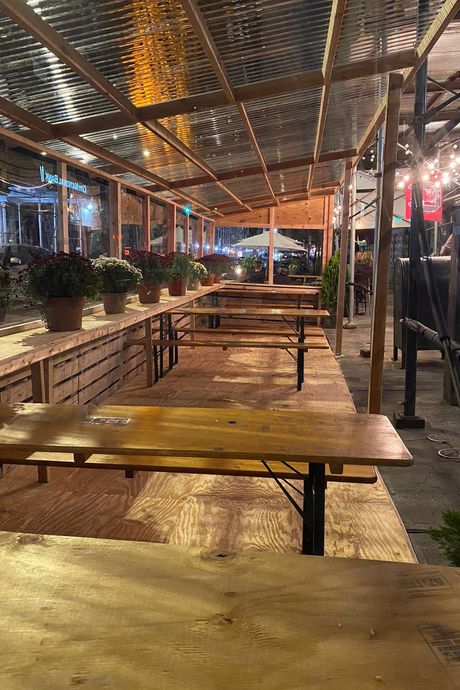 The Instagram ads, he says, are new. Most of DB's business previously came from word of mouth. In these uncharted waters, Maqami says, he and his company sometimes have to talk clients out of ridiculous plans. "We talk to people about what they really want in terms of experience — some people [have] ideas that would cost them hundreds of thousands of dollars, and we're like, 'I don't think that's the right business decision. Let's look at something and look at the number of tables you can keep.'"
And sometimes he becomes "a sounding board, reading the rules and making sure everything is compliant," Maqami says. "We get texts at midnight [when] Cuomo or de Blasio change the rules and the regulations, and these restaurant owners have to pivot … For us, it's about helping the city survive and helping the city and business owners similar to us get through something that nobody planned on. People want to continue moving."