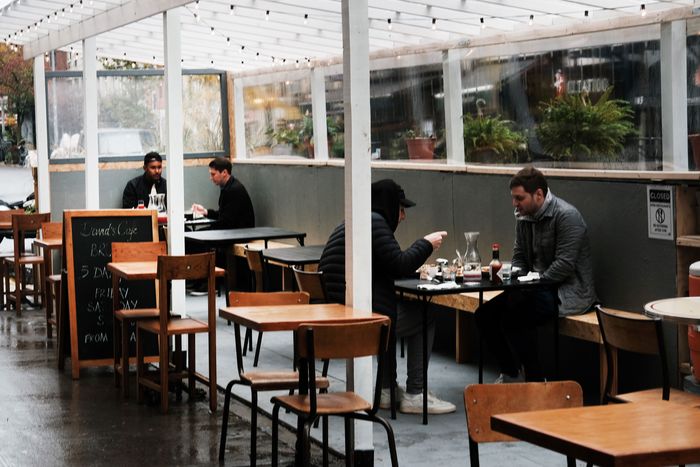 Photo: Spencer Platt/Getty Images
On Sunday night, the winds that howled through Manhattan tossed about some of the tentlike structures that restaurant owners have put up. A November near-tornado might not be your standard nasty New York weather event, but the storm hinted at what's to come as our pandemic winter settles in, bringing snow and ice. Will the city's new streeteries, which have just barely kept the restaurant industry afloat, be able to keep diners safe and cozy while withstanding whatever weather comes our way? It's a question that the city has at least somewhat answered with new guidelines for winterizing roadway and sidewalk dining structures, and what to do in case of snow — and now restaurateurs are struggling to make sense of the new rules and figure out how they can try to hold on not only to their streeteries through the winter, but their businesses, too.
One of the biggest changes in the new guidelines, issued by the Department of Transportation, is a requirement that restaurants fill their 18-inch-thick roadway barriers with soil or sand by December 15. That's intended to prevent the structures from blowing away and to reinforce them in case they're hit by cars (or snowplows). Streeteries are also required to have a fully built interior wall facing the roadway (rather than just a low barrier) and a floor to hold the soil or sand, which the city will be supplying. The sandbags around streeteries will make the structures more sturdy, but restaurant owners worry they may have to make significant changes to the ones they've already built, some of which can cost as much as $25,000. Danny Rivera, owner of David's Café and Isabella in the East Village, says, "I'm gonna have to do a little re-do to my outdoor [setup]. Obviously a challenge."
The new city rules also say that, during an active snow alert, diners can't sit at streeteries and electrical heaters have to be removed. And if a blizzard is bearing down on the city, with 12 inches of snow or more in the forecast, restaurateurs are required to remove or consolidate their setups "to have as small a footprint as possible along the curb." If it's not possible — which will likely be the case for many cabin-like structures — the city says owners are responsible for protecting their "asset from damage due to snow removal operations." In short, if a city plow turns a plywood cabin into kindling, then that's on the restaurant.
"It feels like they're sort of not taking responsibility for what might happen when the city has to snowplow and somebody's structure gets knocked over," Amanda Cohen, chef and owner of Dirt Candy in the East Village, says. The new rules somewhat contradict themselves, as Cohen points out: "Part of those new guidelines is that the 18-inch barriers have to be filled the entire way, but nobody's going to be able to remove that in case of a snowstorm." Restaurants have been playing catch-up with the city's outdoor-dining regulations since the program got going in June, and "every time we get new guidelines, we know around the corner there's gonna be more, so whatever we do, we'll probably have to change it in a couple weeks," Cohen says.
That said, freak tornadoes and future blizzards are only a slice of these restaurateurs' concerns. "It doesn't matter what we do outside — there's going to be a point this winter where it's just not comfortable enough for customers," Rivera says. "But we have to be creative now to survive."