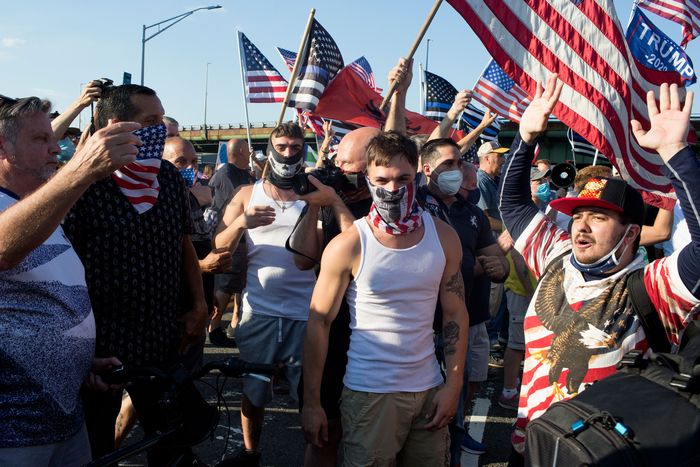 A Blue Lives Matter march in Bay Ridge, Brooklyn.
Photo: Andrew Lichtenstein/Corbis via Getty Images
Not all New Yorkers were nursing emotional hangovers on Monday morning (and some real ones too) after a weekend spent cheering the end of the Trump presidency: The celebration was a lot less obvious in Bay Ridge, where there have been pro-Trump and Blue Lives Matter rallies in recent months. The conservative pockets of South Brooklyn may yet have something to celebrate, however, because votes are still being counted in three local races where Republican challengers are threatening to flip the Congressional, State Senate, and an Assembly seat red. And it's the race to represent Assembly District 46 — encompassing Coney Island, Sea Gate, and parts of Bay Ridge, Dyker Heights and Brighton Beach — where things get truly weird: Republican candidate Mark Szuszkiewicz, who supports the feverish far-right conspiracy theory QAnon, leads the Democratic incumbent. That's right: A guy who apparently believes a cabal of Satan-worshipping pedophiles (mainly consisting of Democrats, journalists, and entertainment moguls) seek to undermine President Trump, has a shot at winning an election in Brooklyn. The district, cultural shifts notwithstanding, has gone to Democrats for nearly a century.
Szuszkiewicz, who was born in Coney Island and lived most of his life in Bay Ridge, has so far claimed 51 percent of the in-person vote in the district; he leads the first-term Assembly member Mathylde Frontus by 2,822 votes. The Board of Elections still has to count more than 7,000 absentee ballots, which by state law can be accepted through November 10. Even if there is an influx of absentee ballots by Tuesday, the race will likely be decided by a razor-thin margin. Szuszkiewicz is an outsider who raised roughly $1,400 — compared to Frontus's $18,600 — and he's open about his crackpot views on Twitter and Instagram, as was first noted by the Brooklyn Paper.
In one such post, complete with #QAnon and #Q hashtags, Szuszkiewicz suggested that Tom Hanks became a Greek citizen after Greece declared pedophilia a disability. While Hanks did indeed receive honorary Greek citizenship in July (his wife, Rita Wilson, is Greek-American) pedophilia most certainly was not declared a disability there. Szuszkiewicz has also reposted images denying the severity of the coronavirus, including one image from a community called "Red Pills," which are also known for pushing conspiracy theories, that he accompanied with the caption "COVID-19 is no more deadly than the flu." The Brooklyn Paper reports that he has also been indicted for aggravated assault and criminal contempt for allegedly stalking a co-worker, but the conviction was vacated after he sought psychiatric treatment. A campaign spokesperson who did not want to be identified (itself an odd thing, given that the role of a spokesperson is to speak for the campaign!) said bringing up the 2008 incident is "a political smear" and described Szuszkiewicz's penchant for conspiracy theories as "an issue the voters already knew about during the campaign."
Szuszkiewicz, as you might expect, has cast himself as "not the average politician" in his campaign literature. A self-described financial adviser, actor, and truck driver, he has put forward policies that match that image, including developing a mandatory public-school class where students would learn mechanical skills. If he's elected, Szuszkiewicz's campaign told Curbed that in addition to vocational training, his priorities would be passing bank regulations to rein in predatory interest and overdraft fees, and "nonpartisan solutions to quality of life and community infrastructure needs." He also favors drug-testing people who are applying for public benefits.
When Szuszkiewicz pulled ahead on Election Night, Frontus said she experienced "a sense of initial shock." But while she believes his support for QAnon is "deeply, deeply troubling," she attributed his and other Republican gains in neighboring races to Trump's spot atop the ticket. "People were coming out for Trump, and the spillover was going to provide. They didn't have to know who he is — you could have put Mickey Mouse in there and it wouldn't have mattered," she said. So far, the numbers in the district bear that out, with 18,894 votes cast for President Trump and 17,852 votes for Szuszkiewicz, compared to 15,533 votes for President-elect Biden and 15,030 for Frontus. The Assemblywoman described Szuszkiewicz's current lead as "not insurmountable" and is hopeful that she'll eke out a lead once the absentee ballots are counted.
The Bay Ridge Council member Justin Brannan, who is among the New York City Democrats who actively supported Frontus, noted that his party had braced for the "red mirage" in Southern Brooklyn, but that he believes mail-in ballots will lean blue and may keep some Democrats in their seats. That includes the Democrats in two other districts that overlap with Frontus's in Bay Ridge: A congressional race where Republican Nicole Malliotakis is leading freshman Representative Max Rose, and the election for the area's State Senate seat, where Andrew Gounardes is trailing Republican Vito Bruno. In both cases, thousands of absentee ballots have yet to be counted. Red mirage or not, the Frontus-Szuszkiewicz race will also be a nail-biter down to the last vote. "The absentee ballots are not an afterthought here, they could, frankly, make or break any of these elections because there's so many of them," said Brannan. "I think we might have a bunch of these 'Dewey Defeats Truman' moments once the ballots are counted. It's really too soon to say what's what."