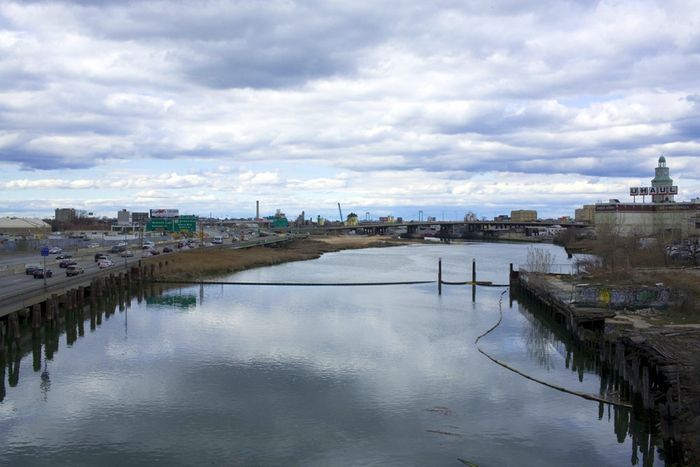 Flushing Creek in Queens.
Photo: Atomische/Wikimedia Commons
The waterfront is the last frontier for new development in downtown Flushing, a rare, big blank slate in what has been a booming local real-estate market. Construction cranes and half-finished glass high-rises have dotted this part of northeast Queens over the past decade as more condos have been built here than in any part of the city aside from Williamsburg. And now, although the banks of the polluted Flushing Creek have remained untouched, that could soon change if a cadre of developers gets its way. A proposed Special Flushing Waterfront District would turn 29 acres of the waterfront into a 13-tower luxury complex with retail, hotel, and office space and provide public access to the creek. Although the project would bring 1,725 new apartments to the area, at most 90 of those would be below market rate — what many argue is an unacceptably small sliver of the luxury development that raises questions over what is feasible to rise in a new post-pandemic era of development.
Last week, the City Planning Commission approved the plan in an 11-2 vote, sending it to the City Council for further review; the CPC chair, Marisa Lago, framed it as an essential part of New York's economic recovery from COVID-19. The developers — F&T Group, Young Nian Group, and United Construction and Development Group, who have formed a consortium known as FWRA LLC — say the project would generate $28 million in taxes annually and also clean up Flushing Creek. But during a City Council committee hearing yesterday, several lawmakers, including local councilmember Peter Koo (who as the district representative has a decisive vote on the project the council typically defers to), questioned why the project doesn't do more to address the city's affordable-housing shortage. The proposed 90 units meets the project's legal requirements for affordable housing, but if FWRA LLC is to win over a development-skeptical community — and probably Koo's vote — it will likely have to build housing within reach of more of the neighborhood's residents, not just for those who can afford a luxury high-rise lifestyle. Koo hasn't taken an official stance on the plan but has hinted at his tentative support.
Coming so quickly after the Industry City redevelopment flopped, the Flushing project has taken on citywide resonance. In an interview with the Real Deal, Richard Siu, chief investment officer of F&T Group, called the project a "litmus test" following that failed Sunset Park rezoning. Perhaps more important, it will be a sort of referendum on what types of projects should be developed in New York City at this moment — whether they are going to be required to prioritize housing for a robust mix of residents, especially if that project will utterly reshape a corner of a neighborhood. To community activists who oppose the proposed development, and who have already filed a lawsuit against the effort, the answer is clear. Now it's going to end up falling to Koo and his City Council colleagues to decide for Flushing.