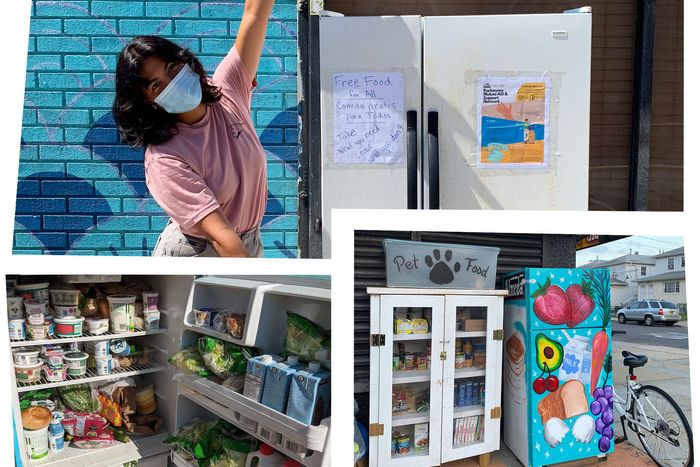 Pictured top: The former Beach 91st Street fridge that was dragged out to sea. Below: Rockaway Mutual Aid's first community fridge on Beach 72nd Street and Almeida Avenue.
Photo: Katharine Robinson
At first, Katharine Robinson thought the image had been Photoshopped: a grainy snapshot of a white refrigerator sitting atop a rocky jetty off Beach 86th Street surrounded by sand and seagulls, the Atlantic Ocean at its back. A friend had messaged Robinson, who volunteers with Rockaway Mutual Aid, a screenshot of the post from a local Facebook group with a question: "Is this your fridge?" There was no mistaking it. Only a few days before that balmy Friday in August, Rockaway Mutual Aid, with the help of a deli owner, stationed the fridge on Beach 91st Street in Seaside with a sign reading FREE FOOD FOR ALL. "I was shocked. I couldn't believe it at first," Robinson said. The fridge was meant to help food-insecure families during the pandemic; instead, someone hauled it three blocks south and dragged it out to sea. When city parks workers came to drag the fridge off the jetty, its doors were ripped off, and it was damaged beyond repair.
Local Facebook groups quickly lit up with speculation about who orchestrated the fridge-jacking. Some saw it as an elaborate prank. Many more condemned it as a blatant act of classism with a loud and clear message to the less fortunate: You are not welcome here. Several residents pointed the finger at those who within days of the fridge's installation had openly complained about it — and the people who might use it — online. No one has admitted to the theft, and while police say there was little evidence to act upon, some locals say they have a pretty good idea of who was behind it. Regardless of who precisely is responsible, if their goal was to prevent their neighbors in need from reaping the benefits of a community fridge, then they failed miserably. The silver lining to all of this is that in the days and weeks that followed, Rockaway Mutual Aid received an outpouring of support. Dozens called to volunteer their time, donate food, and offer fridges. "The whole situation was chaotic, but sort of very quickly people rallied," said Robinson. "Within a day or two, I was on the phone with people coordinating new fridge locations."
One of those people was Becky Glennon. She reached out to Rockaway Mutual Aid about hosting a fridge on her doorstop, only a block away from the old location, after getting her family and their immediate neighbors onboard. "I hate to say it — it started out of anger and spite," said Glennon. "We were so mad. These are our neighbors, and they need our support. Who do you think you are to drag that away?" Only two weeks after the incident, a new black fridge was humming outside Glennon's peach-colored clapboard house on Beach 92nd Street off of Holland Avenue, stocked with crates of apples, giant potatoes, carrots, milk, eggs, and rotisserie chickens. Glennon says at least four people a day swing by to pick up some food, and often as many will stop by to replenish it. One day, that included a couple who had just moved out of a homeless shelter with their two young kids. "They said, 'We didn't know what we were going to eat tonight,'" Glennon added. "I said, 'Take what you need. Come every day. It's here for you.' There's no reason I should have food and they don't."
The idea of solidarity — rather than charity — has taken off in New York during the pandemic, and community fridges have quickly appeared across the city. They're plugged in outside bodegas, apartment buildings, and houses and are aimed at combating food insecurity in a city where an estimated 1.4 million people rely on emergency assistance like food pantries and soup kitchens. The pandemic has only worsened the problem. There are now more than two-dozen fridges across the city, including one at Beach 72nd Street and Almeida Avenue in Arverne, which is also run by Rockaway Mutual Aid and has operated without incident since July. Some, like the Friendly Fridge on Knickerbocker Avenue in Bushwick, have become community centers just as much as resources for the food insecure. They are a sort of token of community harmony and health, popping up in unlikely, well-off neighborhoods like the Upper West Side (on West 77th Street).
A local curmudgeon here and there might complain about a fridge and its foot traffic, but what happened at Beach 91st Street was the first real backlash. Jasmine Abrams, an organizer with the Rockaway Youth Taskforce — whose farm is among the handful working with Rockaway Mutual Aid to stock the fridges with fresh seasonal produce — described the fridge theft as "an attack on poverty" and noted the stark income disparity on the Rockaway peninsula. To the west in Belle Harbor, the median household income is $138,200. A couple of neighborhoods to the east, in Edgemere, it's $30,400. The effects of COVID-19 have been felt along similar lines, with the virus claiming 379 lives in Far Rockaway and Edgemere — one of the sections of the city hit hardest by the coronavirus — and five deaths in Breezy Point. "It's easy to displace a fridge and make a joke like that when no one in your immediate circle needs assistance," said Abrams. "We're all just one circumstance away from poverty, and this pandemic is the pure illustration of that for a lot of people."
To this day, no one has copped to the fridge theft. Local police seem uninterested in the matter, but several residents have theories of who swiped it and how. In a Facebook post (that has since been removed) with a snapshot of a nearly empty fridge one night, one neighbor wrote, "You guys saving the world yet?" But there's no definitive proof of who actually did the deed, and one resident defended the person who wrote the Facebook post, saying that while those complaints were tone-deaf to the needs of those suffering, that person didn't take the fridge.
Rockaway Mutual Aid had actually agreed to move the fridge due to the fuss from the neighbor. But before they could, it was lugged beyond the boardwalk, down a ramp, through the sand, and hoisted onto the rocks. "When you think about the lengths folks went to just to move the fridge, it's sending a message that this doesn't belong here," said Abrams. "It's an immense amount of effort to do something so mean-spirited. It's crazy that it ended up on a jetty. But, in the end, it didn't make a difference; the community is resilient."