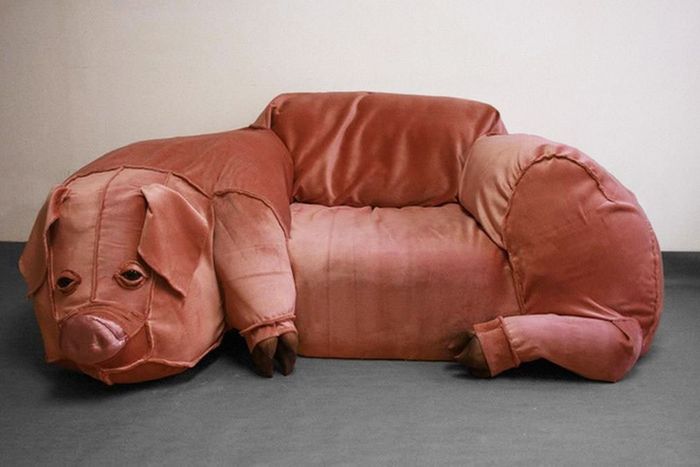 Photo: Courtesy of Pavia Burroughs
We hate to break it to you, but it turns out the fascinatingly bizarre pig-couch Craigslist ad that went viral on Twitter over the past few days is fake. The anonymous person who created the listing — who put a price tag of $250 on the unkosher sofa, saying that she had bought it for $11,000 but her new boyfriend wanted to get rid of it — confessed to us over email that they "get joy out of the liminal space between the strange reality of NYC and the alternate reality of New Yorkers' collective imagination." Which sometimes involves trolling people on Craigslist with fantastical but sadly unavailable items with a made-up narrative attached. "I mean, who doesn't want to hate someone else's fake boyfriend?," they asked, adding, "I also frequently post as a hermit crab who has outgrown his exoskeleton." Sure thing.
But hold it! The couch does indeed exist — or did, anyway — and it's probably sitting in someone's den in Maryland. We tracked down its designer, Pavia Burroughs, a 31-year-old Connecticut native living in Philadelphia, who said she made the couch herself back in 2011 as part of an installation for her senior thesis. "I was heavily influenced by Kit Williams's book Masquerade. In the book, there's a painting of a man who plays the music for the world, and he's sitting upon a crying pig, covered in grass," Burroughs, who is the director of design at a Philadelphia confectionery, says.
After producing her porcine thesis, she tried to sell it online, using photos she had taken in her college's art studio (the same ones you saw in the Craigslist ad). It sat for months. Finally, she says, a Maryland man bought it for $500. "Mind you, I hand-sewed this couch, it was my first foray in upholstering, and I hand-carved his hoof out of walnut — walnut is very hard to carve — and so it went off into the world. Now, every few years, someone posts a fake ad for the couch online," a state of affairs that Burroughs finds both odd and funny. "I can't imagine it's actually been traveling around the country as much as it says it has. I've seen it in Tennessee. I think I saw it in California. I see now it's in New York." And it's been making the rounds online for years. ("One time, Jinkx Monsoon posted it, and I was very excited about that," she says.)
So you can't buy it. Burroughs doesn't want to make duplicates and long ago lost touch with the buyer (her other work is available on Etsy). Plus, she says, people are not too willing to pay what it would really cost, considering the amount of sheer labor in the thing: "I had the chair core in my apartment, and so I upholstered over it. It took me six months to make in my college studio." That probably won't stop the pig couch from going viral yet again sometime soon.