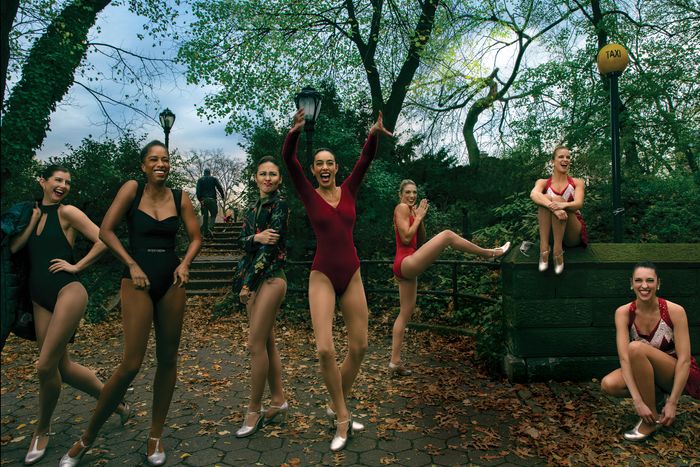 November 17 in Central Park.
Photo: Jonas Fredwall Karlsson
For the first time since its inception in 1933, there will be no Christmas Spectacular at Radio City Music Hall. For a New York holiday season, this is akin to Santa himself taking the year off. He works hard, but the Rockettes work harder: 300 kicks per show, up to four shows a day — after six weeks of rehearsal, six days a week, for six hours a day. Those were the days before COVID-19 shut down Radio City.
The usual 80-woman company has not been hired this year; they have dispersed or stayed home, keeping up their off-season gigs as exercise instructors, real-estate agents, students, and accountants. But a skeleton crew of Rockettes are training for the events they can do: 18 for the Macy's Thanksgiving Day Parade, a dozen for the Rockefeller Center tree lighting, masked and spaced.
"Our kick lines look the same, but we are doing them socially distanced," says Maranda LeBar, 28, who has been a Rockette for nine years and is a dance instructor in the off-season. That makes the job harder, says Katelyn Gaffney, 29, an 11-year veteran and off-season dog trainer, since precision is easier to find cheek by jowl.
Much of life as a Rockette has been tested by the pandemic-era adjustments. But even now, sisters-in-line are still sisters, online. "We've actually had Zoom meetings just to catch up, see what's going on," LeBar says. "You know, all 80 of us on the Zoom call."
*This article appears in the November 23, 2020, issue of New York Magazine. Subscribe Now!