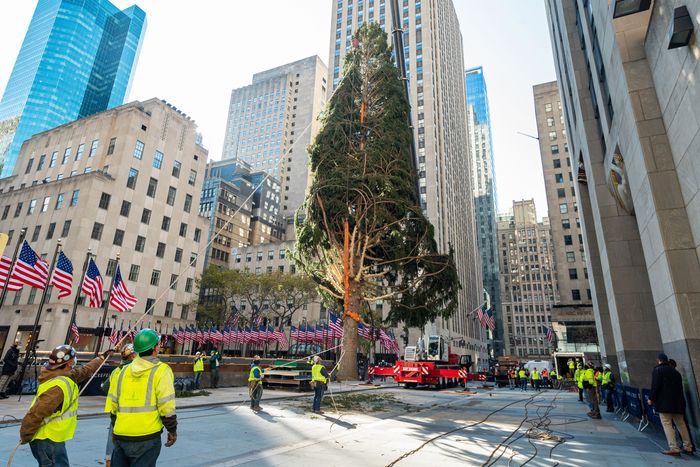 Photo: Courtesy of Diane Bondareff/AP Images for Tishman Speyer
To say that 2020 has been bad is an understatement, but that doesn't mean everything is doomed and terrible — including the Rockefeller Christmas tree, which despite what you may have heard will be just fine. This week, the customary conifer was brought in from Oneonta to be installed in the plaza, just as it has been every year since 1933. New Yorkers were quick to point out online its resemblance to Charlie Brown's sweetly spindly tree, and how that's very much on brand for the times we're living in. "It's 2020. It's been a hard, distorted year. People want normalcy. Why would you pick the most abnormal, ugliest tree?" a Twitter user said.
Turns out, this "problem" with the droopy limbs is all part of the annual ordeal of cutting, hauling, and installing the tree. It starts two weeks before the 75-foot Norway spruce is felled, when the limbs are tightly wrapped to make it more semi-truck friendly. Because the boughs are pinned down for so long, it takes a while for them to settle back into their festive, non-Charlie Brown-like shape. The Rockefeller Center's Twitter account was quick to respond to the criticism, saying: "Wow, you all must look great right after a two-day drive, huh? Just wait until I get my lights on! See you on December 2!"
This is all so routine, in fact, that you can find plenty of instances from last November in which New Yorkers were mad online about the purportedly misshapen 2019 tree. A year later, as we're all just waiting for the next shoe to drop, this has become A Thing. So although there's no public access to the lighting ceremony this time — it will be aired, as usual,  on NBC — this year's tree will not be counted as one of the many things that sucked about 2020.