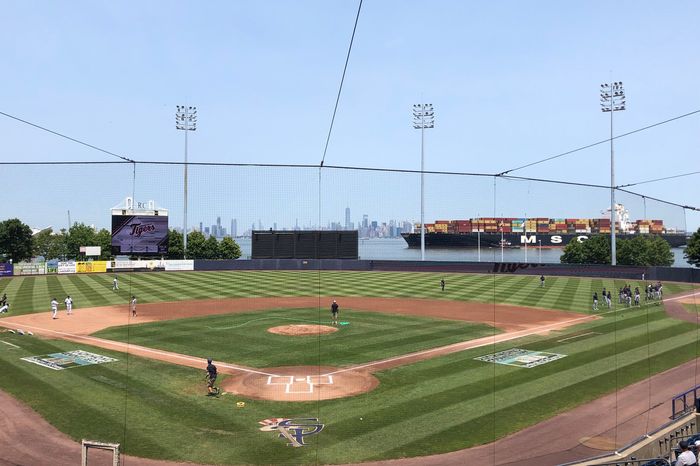 Baseball with container shipping: We'll miss this combo.
Photo: Joe DeLessio
Richmond County Bank Ballpark at St. George opened on Staten Island in 2001, the day before its sister stadium in Brooklyn. Both parks were built to house low-level Minor League affiliates (of the Yankees and Mets, respectively); both have great views; and both were designed to reflect the neighborhoods surrounding them. In Coney Island, the boardwalk continued inside the stadium and the lights are colorful, and on Staten Island, sails above the main entrance greet fans as they enter the park, and a vista of New York Harbor and the lower Manhattan skyline awaits them once they sit down.
Both ballparks were instant hits, with Brooklyn's Cyclones leading the New York–Penn League in attendance that first season, followed by the Staten Island Yankees and their perfectly named mascot, Scooter the Holy Cow. But whereas the Cyclones have thrived at MCU Park ever since, leading the league in attendance each year thanks in no small part to loaded promotional schedules of giveaways and theme nights, baseball fans on Staten Island learned last weekend that their team was being eliminated.
It's part of a massive restructuring of Minor League Baseball, but there were specific local concerns as well. The upkeep of the ballpark had reportedly become a concern, and attendance was way down. The team drew just 1,848 fans per game in 2019 — less than a third of the number a decade ago.
The news wasn't totally unforeseen: A list of teams on the chopping block leaked last year, and the pandemic only made it less likely that Major League Baseball would back off its plan to shrink the Minor Leagues. But the Staten Island Yankees blasted its former parent club over the weekend, saying the organization "made every effort to accommodate MLB and New York Yankees requirements, including securing a commitment from New York City for ballpark upgrades." The club added that it only learned of the final decision when the big-league Yankees posted it on social media Saturday afternoon, in what we'll note was a news dump for the ages.
The Yankees' announcement laid out how it'll be shuffling its farm system when Minor League Baseball goes from 160 affiliated teams to 120 next year: It's dropping its affiliate in Pulaski, Virginia, as well as one in Charleston, South Carolina. It's adding one in Fishkill in Dutchess County — a team that shares an owner with the Charleston team — and moving its double-A affiliate from Trenton to Somerset County, New Jersey. Trenton will then be offered Somerset's spot in the Atlantic League — an independent league that, going forward, will be considered a "partner" of Major League Baseball — but the future of baseball on Staten Island remains somewhat murky.
In its announcement, the Yankees said it'd help bring baseball to Staten Island in some form in 2021: "We are committed to working diligently with Major League Baseball, the City of New York Economic Development Corporation, and Staten Island Borough President Oddo to ensure that a team from Baseball's new partner — the reconfigured Atlantic League — will be playing there this season." But Borough President James Oddo told the Staten Island Advance that a lot still needs to be worked out, including who exactly would own a theoretical new Staten Island team.
Here's hoping it does come to pass, because the ballpark at St. George is too nice to go to waste.
Generally speaking, Minor League Baseball is fun because it's affordable and intimate, it doesn't take itself too seriously even though it's a cog in the multibillion-dollar professional baseball industry, and it's part of the fabric of communities — often small ones that wouldn't otherwise be home to a professional sports franchise. It's about cheap hot dogs and dizzy-bat races and the chance to catch a foul ball without a hundred-dollar ticket. And the ballpark at St. George is charming even by Minor League Baseball standards. Container ships pass by just behind the outfield wall, to the delight of children and not a few grown-ups. Ferries arrive at the terminal just beyond the right-field fence — both a convenience for fans and a bit of extra action to watch. And the Financial District skyline in the distance is one of the great outfield views fans have in any ballpark anywhere. (Baseball diamonds can't be oriented to the west because the sun would set in the batter's eyes, which limits where you could build one in New York City and still see the skyline framed like this.)
Baseball's Minor League overhaul comes at a particularly lousy moment for Staten Island, considering the recent development in St. George. When the 2019 season finished, the stores of the Empire Outlets across the street from the ballpark were just beginning to open. And although the mall has struggled to find tenants, if it succeeds, it's easy to see a family one day making a day of its shopping and a late-afternoon ball game.
Now those ball games are dependent on Staten Island's finding a new team — and then supporting it enough to keep it alive. Because as delightful as the stadium is, any team that plays in it will need to sell tickets like the Staten Island Yankees once did. Otherwise it could meet the fate of Bears & Eagles Riverfront Stadium, a lovely ballpark that opened in 1999 for the Newark Bears of the Atlantic League. In 2008 the team filed for bankruptcy; in 2010, it dropped down to a less competitive independent league; and three seasons later it folded entirely. The ballpark, a charmer that was two decades old, was demolished last year.