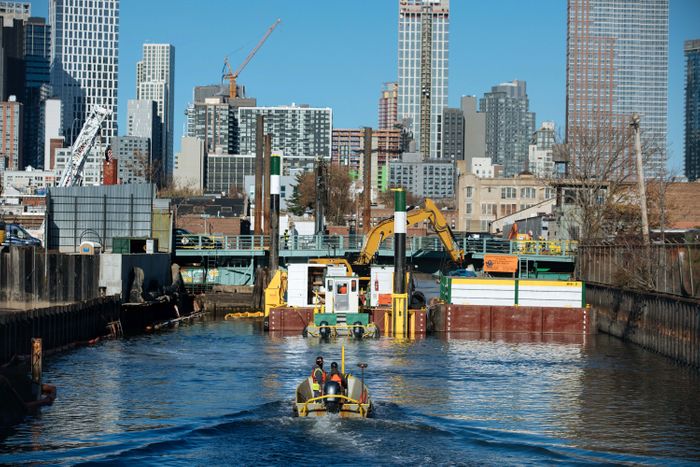 Dredging begins, seeking a plan everyone can live with.
Photo: Kevin Hagen/The New York Times
Nothing says urban glamour like a shovelful of reeking muck. The Gowanus Canal has been on the receiving end of the city's most unspeakable discards for 150 years, but now the federal government has arrived to clean up a channel that was designated as a Superfund site in 2010. Immense dredgers are finally at work, slurping up the "black mayonnaise" of noxious chemicals, excrement, and possibly the odd vanished mobster from a few decades ago. Just another ten years or so and the canal will be … well, maybe not clean exactly, since in a heavy rain, a cocktail of greasy stormwater and raw sewage still sluices in. That will continue to happen until sometime around 2032, when the city expects to comply with a government order and build a pair of huge cisterns. In the meantime, the charmingly fetid waterway keeps tempting developers, new residents, and City Council members like Brad Lander, who has hopes to shape a new high-rise neighborhood on its toxin-laced banks, despite the scent of eau de Gowanus.
A large-scale rezoning has been in the works for years, is coming to a head, and deserves to pass, with a fistful of caveats. Buildable land is scarce, pollution can be mopped up, and the past 20 years have brought a steady stream of new residents entranced by the area's grungy chic. With the dredging underway and the sun setting on the de Blasio administration, the city feels more justifiable urgency to get it done. The subsidized showpiece is Gowanus Green, a dense campus of five residential buildings plus a school and a wedge of park, all packed into a six-acre city-owned lot known as Public Place. A consortium of developers — Hudson Companies, the Bluestone Organization, Jonathan Rose Companies, and the nonprofit Fifth Avenue Committee — was awarded the project back in 2008, but the outlines keep shifting. According to the latest announcement, all 950 apartments will be affordable, half of them set aside for people earning just half of the area median income.
You might think that the opportunity to make a coal-tar pit not just habitable but also widely affordable would elicit a chorus of hallelujahs. But of course, some neighbors are loudly opposed to the idea of building anything there at all. Hashed out over years of hearings, howls, proposals, and counterproposals, the Gowanus rezoning has evolved into a worthy project, albeit a fragile and imperfect one. It will generate thousands of affordable apartments — and many more unaffordable ones. New buildings can be designed to retain stormwater in tanks so that they don't simply dump more effluents into the canal. But intentions do not equal a guarantee. The city and private developers will have the EPA looking over their shoulders, which would be more reassuring if the past four years hadn't taught us that even gold-standard federal agencies can be corrupted or hollowed out. And while Lander hopes to squeeze in money to rehabilitate three nearby NYCHA projects, the city's splintering budget may preclude that.
Those caveats shouldn't be allowed to kill a good proposal or dampen its ambitions but rather prod the city to perfect it, and especially to demand the best design that New York's architectural talent pool can offer. I am not optimistic about that last part. Given the politics and limitations, the best that one can reasonably expect of this new neighborhood is that it will be resoundingly okay, or perhaps better in spots, but unlikely to inspire much swooning. This is not a swipe at the professionals who, with varying degrees of earnestness and pragmatism, will design and execute the buildings. It's simply a product of circumstance. The rezoning may well get approved before de Blasio exits office just over a year from now, but to do so it will have to survive a planning system that has become unwieldy, unfair, and oriented toward mediocrity.
In some ways, New York is an organism that grows, decays, molts, and morphs of its own accord, nudged by social forces that nobody can control. In others, though, the city's map is a game board strewn with immense, often incompatible ambitions and governed by rules that only initiates grasp. ULURP. FAR. MIH. CBA: These arcane acronyms form part of the vocabulary of those who would tear chunks of your neighborhood down and rebuild it as they see fit. You can use them all in a sentence, as in: The uniform land use review process (ULURP) will almost certainly result in a higher floor-area ratio (FAR), thanks in part to mandatory inclusionary housing (MIH), although the details of a community benefits agreement (CBA) have yet to be hammered out. The rules governing what can and can't get built are complex enough — and the process for changing them is tortuous enough — that they favor developers with money, patience, and an adequate supply of lawyers. And so, in each part of the city targeted for megaprojects or large-scale rezoning, whenever some bespoke-suited real-estate guy shows up with a slide show, a sales pitch, and an inside track to City Hall, residents react with suspicion.
"You're going to get widespread opposition if a rezoning is seen as something being done to a community rather than for a community," says Barika Williams, executive director of the Association for Neighborhood and Housing Development. She supports the Gowanus plan, partly because of its aggressive affordable-housing quotas and partly because it's the rare rezoning that targets a relatively white and affluent neighborhood. De Blasio is also making a late-inning push to pack thousands more apartments into Soho and Noho, but the most sweeping affordable-housing proposals tend to concentrate where need is high, density low, and land is cheap, which is to say in low-income neighborhoods. That, says Williams, is a recipe for rejection. "If you've watched ten years of development that isn't supportive of your community, that's ten years of mistrust. Eventually you get into a bad place where people don't believe in any kind of development."
We're already there. In a progressive political climate, amplified by the celebrity of Alexandria Ocasio-Cortez, caution has escalated to blanket hostility. Inwood residents sued to scrap a rezoning even after it had passed City Council in 2018, arguing that the environmental review should take into account the consequences for social and racial justice. (A judge did block the law, but that decision was reversed on appeal.) A year after Amazon's plans to build a campus in Long Island City went up in flames, so did a second plan on part of the same site. In Brooklyn, City Council member Carlos Menchaca is running for mayor on the strength of his anti-real-estate bona fides. He rejected the expansion of Industry City in his Sunset Park district because it was being driven by the company that owned the land. "What the community wants is not a private developer with private money to come in and bail out a neighborhood," he said at the time. "They really want the city of New York to come in and say we're gonna bring capital infrastructure funding to bring in the Green New Deal at a city level, to really bring jobs that are connected to our community and in the community's vision."
That urge to drive away private developers, and replace their clout and capital with public funds, is profoundly self-destructive, especially as the city's budget withers before our eyes. Reflexive rejection is tragic because low-income areas need robust and thoughtful development. Take Bronx Point, a complex in the crook of waterfront land where the 148th Street Bridge meets the Major Deegan Expressway. The plans for the first phase are promising: 540 rent-regulated apartments rising above a permanent home for the Universal Hip-Hop Museum, a food hall, and a small park. "It will probably be the gateway to more development," says Ron Moelis, the CEO of L & M Development, which is building Bronx Point. "But now there's a conversation about creating opportunities for the local community, and the hip-hop museum is an attraction that people in the Bronx can embrace." The developers got their approvals and subsidies in 2017 and hope to begin construction later this year. I wonder if the project would get torpedoed if it were just getting started today.
The public-review process has a ritual, theatrical quality: months of persuasion, rejection, and mutual accusations of bad faith, frequently followed by a lawsuit. One side tries to eke out as many square feet out as possible, the other tries to knock the number down, or else extract concessions: a public plaza with benches, say, or some leftover space for a community center. Neighborhood groups sometimes try to undercut that dynamic by offering up their own plans, but those usually get dismissed as parochial and impractical. Residents of the Diego Beekman Houses in the South Bronx, who had helped rescue the complex in the 1990s, recently worked out a proposal to rejuvenate the wider neighborhood. That idea was gaining momentum — until the city effectively mooted it with a plan to erect a jail nearby. "That would just continue to entrench the neighborhood in poverty," says Arline Parks, CEO of the Diego Beekman Mutual Housing Association. The drive to replace Rikers Island with a network of borough jails has been stalled by lawsuits and the pandemic so, for now, the site will remain the one thing nobody wants and New York doesn't need: a vacant lot.
Even when developers do manage to shed their image as cloven-hoofed creatures — even when negotiations are cordial and progress gets made — the participants can feel like they're players in a scripted drama, marching toward a foreordained conclusion. When Jared Della Valle and A.J. Pires, the architects who founded Alloy Development, pitched the project that would become 80 Flatbush, a complex of five buildings including two giant towers that will one day loom over Boerum Hill, they were determined to be kinder, gentler developers.
"People say, You get up here in your jeans as if you're one of us. I'd like to think we are. Our kids go to school here," Della Valle says. He met skepticism with earnestness. Activists often insist that large-scale development should start, not with a proposal — Here's what we're doing to you — but with a question posed to the neighborhood: What can we do for you? Della Valle agrees. "You have to just sit and listen, and you have to approach these conversations in advance of a design." He and Pires welcomed the objections, the heated exchanges, even the glacial pace. "Earning the privilege of building things in New York should be difficult. The physical impact on people's daily lives is a huge responsibility, so it should be a high bar," Pires says. They wound up believing that, far from forcing concessions, the negotiations improved the outcome. "Absent those voices, we wouldn't have come up with those design solutions. The community was effectively our client."
Della Valle and Pires's good-guy demeanor didn't pacify Howard Kolins, the president of the Boerum Hill Association, who saw from the get-go that the brownstone neighborhood was going to have to swallow a Manhattan-scaled development. "When the third or fourth slide in the presentation shows a total of 1.4 million square feet, that's the oh my God moment." Kolins credits the Alloy team for their openness and flexibility, but he still feels that he and his neighbors were stampeded into accepting the unacceptable . "Our beef is with the way the city does its planning. They're always on the side of development."
A rezoning, no matter how half-baked or craven, always comes with an implicit threat: Let us build something bigger and better, or we'll just build what we can, which will still be pretty massive but a whole lot worse. Take the Flushing Special Waterfront District, a plan for a $2 billion high-rise development on the banks of Flushing Creek, which is fat with apartments (1,725), hotel rooms (879, at a time when hotels are going bankrupt), and retail space (nearly 300,000 square feet, even though stores all over the city are shutting by the hour), but short on public space or affordable housing. The proposal is quickly losing altitude among City Council, and it should be rethought. In practice, though, the developers can lose the political battle and carry out most of the plan, under regulations that require more parking than they need. No neighborhood should be forced to choose between terrible and meh, but that's the way the system works if the city doesn't guide development — a worse option wins by default.