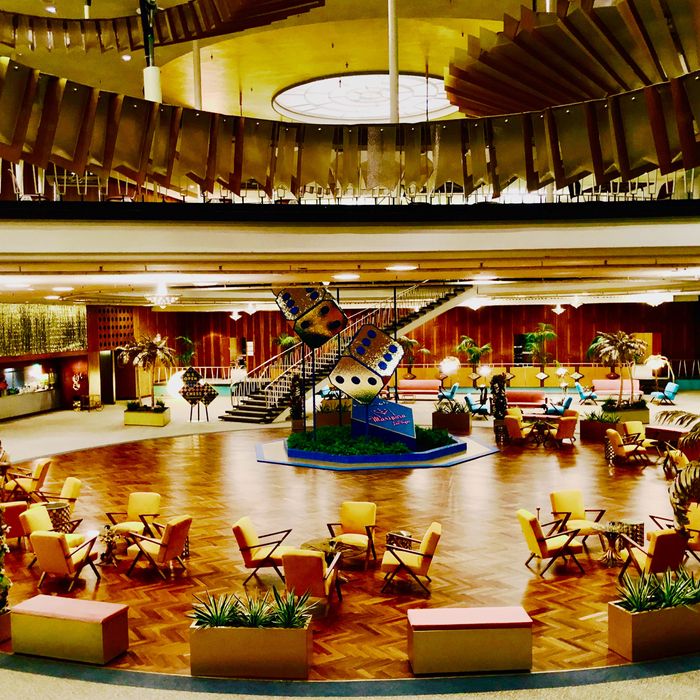 Photo: Uli Hanisch/Netflix's, The Queen's Gambit
The Queen's Gambit is set across the country in the 1960s, from a traditional mid-century-modern home in Kentucky, to a glitzy Las Vegas hotel room, to a basement brownstone apartment in New York. But, in fact, 95 percent of the show was filmed in Berlin.
Convincingly re-creating the United States without stepping foot in the United States was the job of Uli Hanisch, a Berlin-based production designer. Hanisch (and his 120-person crew) knew that a few key scenes in The Queen's Gambit would need to be filmed in Paris and Moscow. So, they reasoned, it would make sense to film the whole show in Europe, with a short trip to Toronto to shoot a few buildings that could pass as American exteriors. Below, Hanisch walks us through 11 sets — and exactly how they came together.
Alice Harmon's Trailer
Hanisch can't recall who found the bizarre plantlike lamp on the table ("What the hell is that?," he said, when asked about it) in the trailer where Beth Harmon lived as a child but said its spooky, odd silhouette matched her mother Alice's psyche. "We don't really have the poor living in trailers like this in Germany," Hanisch says, so he was relieved when he found a match in Bavaria owned by a family that worked in a traveling circus in the '70s. A few coats of paint, plenty of era-appropriate alcohol bottles, and they had Alice's home. "I used a strong green plaid to show they were living in something like a cage; the pattern works like bars," he says.
Mrs. Deardorff's Office
The color palette for most of the scenes in the Methuen Home orphanage — filmed at the Schloss Schulzendorf castle on the outskirts of Berlin — was dominated by petrol blue, but for the office of Mrs. Deardorff, Hanisch went with this lighter, almost sickly hue of green. "The office is a stern, organized place, not a lively place, because Mrs. Deardorff is not lively," says Hanisch. "Green can sometimes resemble something fresh and new, but in this range, the color has faded away. The hard shape and brown color of that 1960s desk lamp resembles her personality."
Bradley's Neighborhood Pharmacy
To create Bradley's pharmacy, located in Mrs. Wheatley's fictional hometown in Kentucky, the Queen's Gambit crew found an appropriate shop in the Toronto suburb of Hamilton. Re-creating a convincing 1960s pharmacy required using as many products as possible that hadn't changed their packaging over the years, like Morton Salt and Lea & Perrins Worcestershire sauce, plus some items handmade by set designers. "We invited, designed, and manufactured those three pinkish packages on the shelf ourselves. And, in the end, they are just three pinkish dots in the background."
Alma Wheatley's Living Room
The exterior of Mrs. Wheatley's "humble and plain" home was also filmed in Toronto, says Hanisch, but the interior was filmed on a stage in Berlin so the designers could work in a larger space. The German set-design crew knew it had to dig in and "re-create something we didn't grow up with," says Hanisch, and the goal was for an American to walk in and exclaim, "This looks like my grandmother's house." More blue tones, a mishmash of unmatching patterns, animal kitsch (like those cat ceramics on the mantel), and mid-century-modern décor (the starburst clock) all point to Mrs. Wheatley's character. "Mrs. Wheatley is caught up in a strange marriage to a strange man, and she's trying to build up a façade of a happy home," says Hanisch. "She's using catalogues to create something perfect, but really it's ugly and questionable in terms of style."
Alma Wheatley's Dining Room
This theme continues in Mrs. Wheatley's dining room, where nature-inspired bird paintings blend with "kitschy, strange things" like an aqua ceramic fish pot. The goal, according to Hanisch, was to create a "very lame and country room that was grandmotherly, even though Wheatley is not that old." The wallpaper was a particular challenge. It started as a light cream with "terrible" yellow cornfield flowers on it, and the team's scenic artists struggled to keep the new green paint from washing away. Says Hanisch, "It was a big drama to paint it."
Alma Wheatley's Bathroom
Matching bathroom fixtures in "wild colors" was "all the rage" in the U.S. from the 1940s through the 1970s, so Hanisch knew he wanted porcelain in a strong pink, blue, or turquoise. His team found this green bathtub in the south of Germany. They then added a mosaic tile with a mix of four colors, baby-blue ruffled curtains, and another overly strong (and painted) patterned wallpaper. Mixing everything required leaving traditional good taste behind, says Hanisch. "Not every home is supposed to be well designed, because the characters wouldn't do that. It's not supposed to be beautiful; sometimes it's a little bit terrible and sad."
Beth's Bedroom
Beth's pink and white bedroom in the Wheatley home was one of the strongest moments for storytelling when it came to the set design, according to Hanisch. "We knew that the moment Mrs. Wheatley decided to adopt a girl, she would come up with the girliest room for someone much younger than 14," a nightmare for Beth because it doesn't suit her at all. Using the same tasseled fabric and pink plaid all over the room created tension, says Hanisch. "You have this creature with strange red hair, and she's like a supersmart animal caged inside a powdery marshmallow box."
The Las Vegas Hotel Lobby
To find a spot in Germany that could replicate the glitz of the fictional Hotel Mariposa in Las Vegas — the setting for the U.S. Open chess tournament in the show — Hanisch turned to the Palais am Funkturm building of Messe Berlin. Built in the 1950s, the exhibition complex contains the city's largest ballroom, with a retractable staircase (seen behind the dice sculpture) and adjustable chandeliers. The hardest part was filling the expansive, flashy lobby. Hanisch had to source 40 golden-beige armchairs, 20 turquoise chairs, and 20 mauve sofas from a manufacturer in Berlin that produced the chairs and let the show rent them. As for the sparkly dice in the center, the goal, Hanisch says, "was to make them big and gold and central so that we sell the Las Vegas idea."
The Las Vegas Hotel Room
During her time in Vegas, Beth visits the hotel room of a potential suitor. Hanisch admits that he stole his ideas about what a casino hotel room might look like from American movies. The golden-dice motif reappears, this time inset into a mirror, and the room feels gaudy, with turquoise velvet pillows and golden-trimmed comforters. Because Beth spends the majority of her time traveling from tournament to tournament, Hanisch knew he needed to make each hotel room look as different as possible. "Las Vegas was turquoise and gold," he says. "Mexico was red, Paris was pale blue, and we ended in Moscow with heavy blacks and white wood."
The Paris Hotel Room
Hanisch wanted the Paris hotel room where Beth stays during her second-to-last tournament to "play as French and pompous as possible." The opulent Second Empire gilded bed (sourced from a prop house) is covered in Japanese-inspired fern linens (with a matching headpiece), and the gold floral wallpaper was the most expensive wallpaper used in the entire show (about $3,600 for the room, Hanisch says). Hanisch also chose a mid-century-modern painting of a female form that stands out from the room's 19th-century glitz. In all of the Queen's Gambit sets, the paintings — usually of women — mean something. "Beth is becoming a grown-up, independent lady, and we didn't want her to be surrounded by paintings of boring men. We gave her the company of other strong women."
The Moscow Invitational Tournament
The show's penultimate chess scene — set in Moscow — was filmed in Altes Stadthaus, an administrative building in Berlin that has a grand hallway where Hanisch set up 200 chairs overlooking tables lined up in a center aisle. It's designed to look like a church, or "a temple to chess," says Hanisch. "I wanted it to be as intimidating as possible and to feel really overwhelming to Beth." The audience is elevated to look down on the chess players, and demonstration-board towers on either side of the chairs add more height to the room. Downlighting and sturdy, well-built chess sets show, Hanisch says, that "in Moscow, chess is big business." Prop master Alexander Lambriev sourced the chessboards and figures from eBay. He couldn't just buy any old piece, Lambriev says — the Russian ones have "little extra cones on the queens, and dots on the kings and the runners."