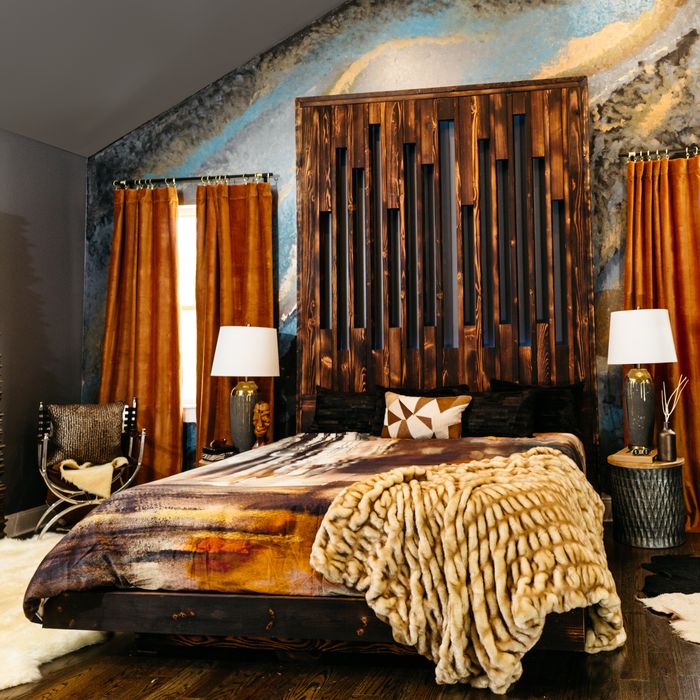 Photo: Brian Winston Fraser
My client is not your average guy," says artist and interior designer Bailey Li. He's a bachelor who was redoing his second home in Little Falls, New Jersey. The house doesn't call much attention to itself from the street, but once you get inside, you can see the client wanted something theatrical and utterly surprising — starting with this bedroom and its king-size bed's nine-foot-tall, custom-made wooden headboard, which doubles as a "light installation and mood changer," notes Li. "There are sensors in the headboard that allow you to dim or brighten and change colors to enhance your chakras or set an intended mood."
The headboard is set against one of Li's hand-painted murals. "I was inspired by a rare natural stone," she says of her use of metallic paints from Golden Paint Works, which were mixed with Benjamin Moore colors to interpret Moroccan malachite and azurite stone. "Not only is it aesthetically pleasing," Li says, "but the stone's properties promote inner peace, passion, and a more positive view of life."
Li worked in real estate before starting her design practice three years ago. As a broker, she staged properties for maximum effect, all the while finessing her own unique design point of view, which is unabashedly maximalist, layered with rich textures and painting, and often playful.
Li's own home, a renovated firehouse in the Valley Arts District of Orange, New Jersey, features her own hand-painted murals, a Louis XV chair hung from the wall and used as a shelf, and a mobile shelving unit repurposed from a sleek motor scooter. Whoopi Goldberg purchased two of Li's "Vaginas Are Lit" installations, exhibited at the 2018 Newark Arts Festival, where her work was shown as part of the women's collective fem'n'3d.
"I see myself as more of an interior artist than an interior designer," Li says. "I believe that art is a way to truly uplift people in subtle and subliminal ways that go straight to their psyche."
Li's client loves to collect artwork by emerging Black artists. "I was blown away by the work of Philip A. Robinson at first sight," Li says. "I scheduled an artist visit with him, and the rest was history. I discovered his work at the Gardenship in Kearny, New Jersey, an artists' residency that he and I and a few other artists had access to during COVID." Robinson's Kanye West is made of walnut, zebrawood, tree bark, calfskin, marble, bronze, and tugboat chain.