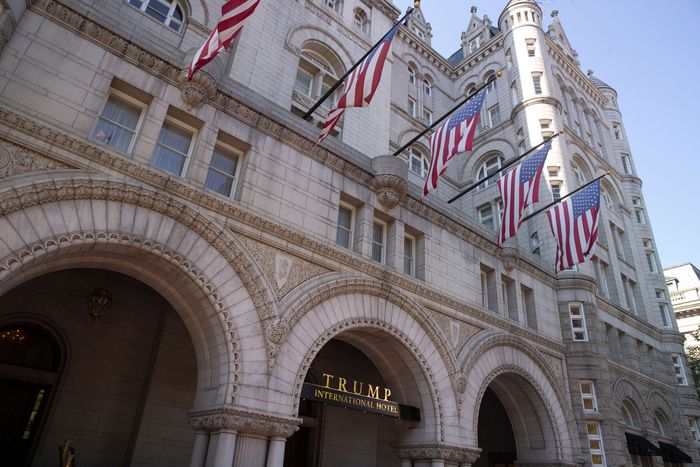 Photo: Michael Reynolds/EPA-EFE/Shutterstock
The Trump Organization is reportedly ready to sell its flagship Trump hotel in Washington, D.C., a renovated post office that has become uncannily, suspiciously popular among foreign government visitors since Donald Trump assumed the presidency in 2017. But after shopping the hotel with a $500 million asking price — and a requirement that any buyer has to keep the Trump name — the firm received bids that were less than half of that and has placed efforts to sell the building on indefinite hold, according to CNBC.
While the toxicity of Trump's brand undoubtedly is playing a role, it's probably more important that it's simply a hotel in 2020. The COVID-19 pandemic has brought business and leisure travel alike to a near halt. While it's rebounded from April lows, hotel occupancy remains down 32.7 percent year-over-year. Next year won't be much better, judging by the rise in infection rates and the many months between now and a fully rolled-out vaccine. It may be a bad time to sell a Trump hotel, but it's also a very bad time to sell any hotel.
The D.C. hotel had been one of the few bright spots in Trump's uneven hotel business. Others have faltered as Trump wrecked his brand, but the D.C. hotel, down the street from the White House, pulled in $40.5 million in revenue in 2019. But even this high-performing asset could be problematic soon. The Trump Organization took a $100 million loan from Deutsche Bank to renovate it, part of $400 million in debt that (according to the New York Times' exhaustive report in September on Trump's finances) is soon coming due. The hotel's income, which has likely taken a hit since the pandemic, was widely seen to have been propped up by political actors foreign and domestic trying to curry favor with the president, some of whom have reportedly booked rooms at the hotel without even staying in them. And that source of you-can't-technically-call-it-a-bribe cash flow will stop the moment Trump's no longer in the White House.