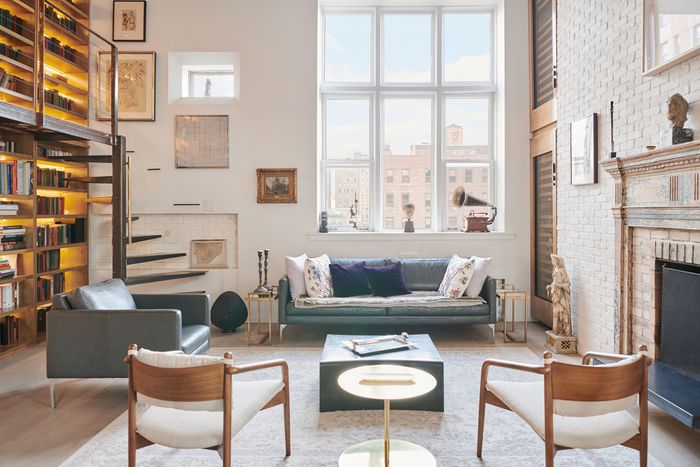 This four-story penthouse apartment on West 76th Street near Amsterdam Avenue is unusually vertical: It combines two 16-foot-high units with a series of interior spiral staircases. According to the current owner, Michael Katz, the lower half of the apartment, which was originally the top floor of the entire building, once housed the operating room of the former Park West Hospital. The penthouse level was added when the building was converted into a 22-unit co-op in the late 1970s.
Katz and his wife purchased the bottom unit in 2011. Two years and two daughters later, the penthouse above them went up for sale, and the family decided to buy it and combine the two.
Although Katz is an energy-tech investor, he has also trained in architecture. He spent years working closely with architect Jose Cassorla to figure out the right design for the gut renovation. The actual construction, though, took only eight months and was completed in 2017.
The renovation retained some of the space's best features, like the skylights over the upper unit and the oversize north-facing windows in the lower unit (plus some exposed steel beams), but almost everything else had to be redone. Several walls were knocked down, four big windows were added on the east side, exposed brick walls and tin ceilings were revamped, and, most important, new staircases were installed to connect all the levels.
Starting from the first floor, which houses the living room and a bedroom with a bathroom, black floating stairs spiral up to a catwalk (made of perforated corten steel and thick plexiglass), which passes a 1,500-book library with backlit shelves to reach a lofted office and bedroom. From there, a white spiral staircase goes up to the skylit dining room and kitchen, which has pocket doors out to the terrace, and then it continues up to a lofted master suite.
"People ask me, isn't it dangerous?" says Katz. "Our oldest, who's now 6, moved in when she was 2. She grew up here. The girls love running up and down the stairs. Their favorite part, though, is the outdoor terrace in the summer, which has a hose they like to cool off with."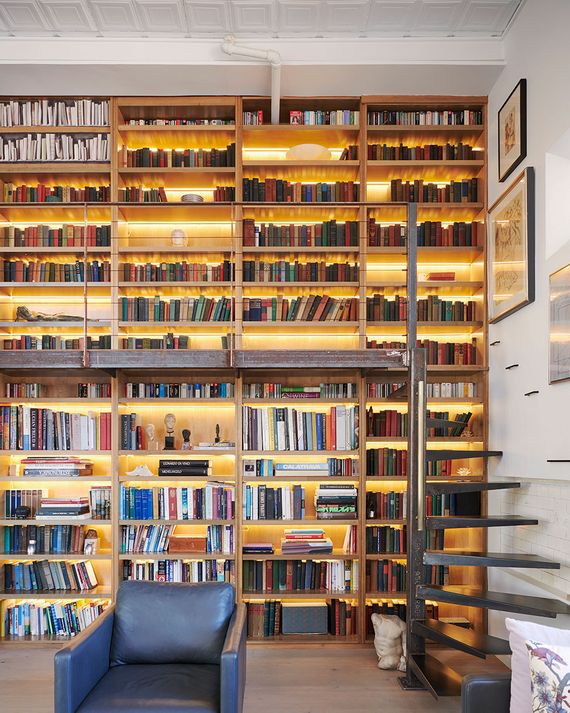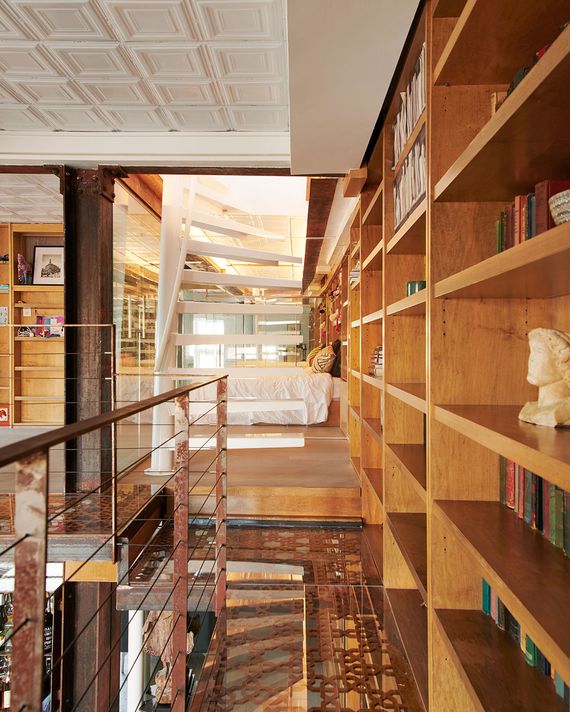 Throughout the space, which features interior design by Marisa Da Silva, mirrors cover doors and walls to reflect as much light as possible. There's also a lot of built-in storage, as in the master bedroom, which is lined with wooden closets. Other custom additions: a 350-bottle floor-to-ceiling wine cellar (accessed by telescoping stairs that are usually stored in a closet), an antique fireplace mantel taken from a Federal-style house in Pennsylvania, and a concrete tub that required six men to haul up the stairs. The apartment also has lighting sourced from Italian factories and a Bowers & Wilkins sound system, which are included in the sale.
As their daughters grow up, Katz and his wife are once again searching for more space. They've considered trying to absorb another smaller unit on the penthouse level, but those owners, who are in their 80s, aren't particularly interested in selling, though they live out of state for most of the year.
Katz listed the apartment five days ago and has already given a few FaceTime tours. "The right buyer will understand the space," he says. "This is one of the brightest New York City apartments I can think of. Even on the most overcast of winter days, we don't need to turn the lights on. It's just so bright in here."