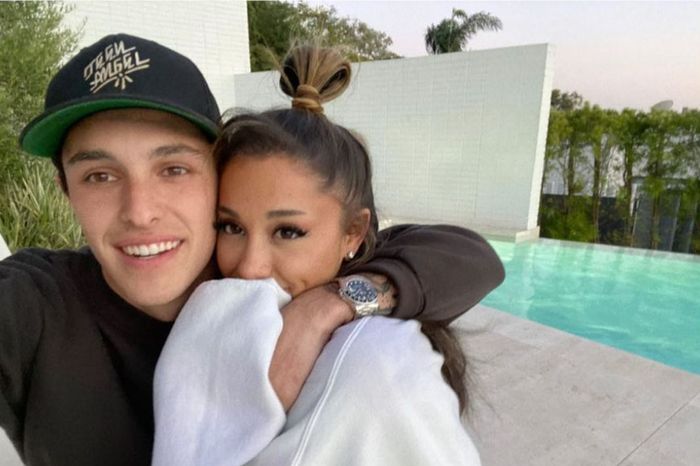 Dalton Gomez and his soon-to-be wife.
Photo: @arianagrande/Instagram
The real-estate world is abuzz with the news of the engagement of Dalton Gomez, previously best known throughout Hollywood for being attached to notable design icons like John Lautner and Richard Neutra. Gomez, 25, has represented sellers for some of Los Angeles's most architecturally significant properties, making him somewhat of a prodigy — as much as a property broker can be a prodigy. His fiancée, Ariana Grande, is a 27-year-old pop singer also known for her teenage appearance in the Broadway musical 13.
Gomez is a "five year veteran of the luxury real estate market," according to his bio at the Aaron Kirman Group, which he joined five years ago, yet his résumé rivals that of agents with a generation or more of experience. Working alongside Kirman, host of the show Listing Impossible, Gomez represented sales for two Case Study homes — the experimental mid-century houses built in L.A. during the 1940s and 1950s that redefined residential architecture in the U.S. — last year: Pierre Koenig's Case Study No. 21, also known as the Bailey House, which went for $3.26 million, and Craig Ellwood's Case Study No. 16, which went for $2.9 million.
Gomez racked up Instagram likes over the weekend when he presented his fiancée with a diamond-and-pearl engagement ring (with a pearl possibly repurposed from her grandfather's tie pin), but he may have secured his future wife an even more valuable gift last summer (which is, apparently, how they met). As the sole buyer's agent for the Aaron Kirman Group, Gomez helped his fiancée secure the June purchase of her home, a glassy contemporary mansion high in the Bird Streets of Hollywood Hills. Grande sealed the deal for $13.7 million, about half what the property had been listed at two years before. The 10,094-square-foot spec home was one of dozens of houses being offloaded by the Woodbridge development group after its founder, Robert Shapiro, was sentenced to 25 years in jail for running a $1.3 billion Ponzi scheme. The bride-to-be is an accomplished performer, we've heard — but has yet to close a sale on a Case Study home.