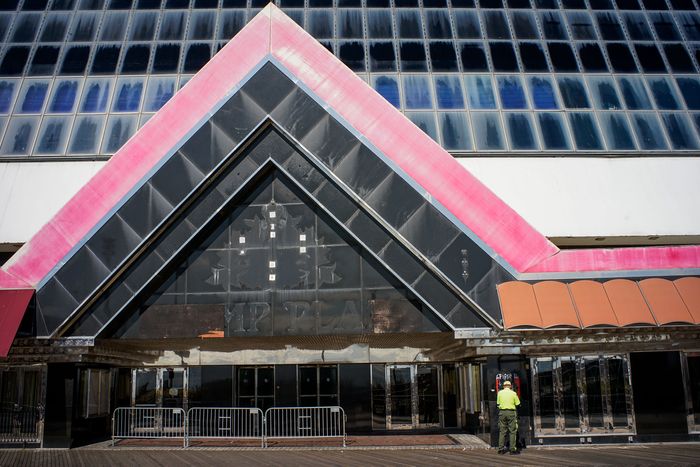 An eyesore, but not for much longer.
Photo: Eduardo MunozAlvarez/VIEWpress/Corbis via Getty Images
Really, the script for this presidency has gotten a little too pat. On January 29, nine days after he departs the presidency in a snit and holes up in Florida — though possibly not at Mar-a-Lago — to rage-tweet the final few years of his life, the old Trump Plaza casino-hotel tower in Atlantic City will be blown to bits. And you, Curbed reader with some disposable income, may be the one who can set off the dynamite. The AP reports that the city is treating the demolition as a charity fundraising auction for the local Boys & Girls Clubs. As of Curbed's publication time, it's been bid up to $7,250. It's an endearingly local affair: Bodnar's Auction Sales, "Central New Jersey's largest auction house," is handling the bidding (via the LiveAuctioneers platform). If you can't quite swing the top bid on the Trump Plaza kaboom, you can perhaps console yourself with one of Bodnar's other lots, which are more typically along the lines of this Ziploc bag of mixed Indian Head pennies (current high bid: $25). The auction estimate for the implosion-triggering is "$500 to $500,000."
In the mid-1980s, Trump glommed onto the attempt to revitalize A.C. with casino gambling and instead revitalized mostly himself, briefly. "Atlantic City fueled a lot of growth for me," he told the Times shortly before he became president. "The money I took out of there was incredible." That might even be true: Somehow he never ended up stuck with the final bill on Trump's Castle (bankrupt, now the Golden Nugget) or the Taj Mahal (ditto, now the Hard Rock) or Trump Plaza (ditto, soon to be rubble). He perhaps did create some jobs, but they didn't last; the city stagnated, as the tacky gambling halls along the boardwalk seemed to funnel little revenue into few hands except those of their owners. Trump, meanwhile, had hugely overleveraged himself to build his, because the only people who'd lend him money charged high interest rates, and he spent the early 1990s scrambling out of the hole he'd dug. Now his last namesake property there will shortly become a hole in the ground, possibly at your own button-pushing behest.
Till then, please enjoy this commercial for Trump's Castle, aired constantly on New York City local television in the late 1980s, which implies that Trump might possibly be Henry VIII. It conspicuously cuts to the sign reading FREE INDOOR PARKING, a noted perk given to Tudor royalty.