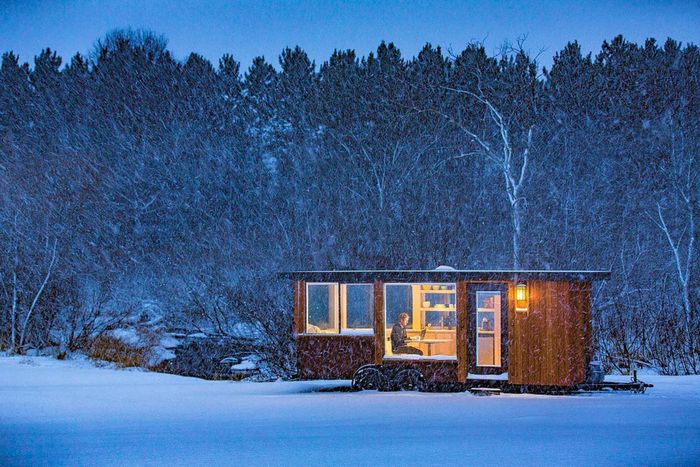 During the winter, an Airbnb's amenities become especially important. The cold, combined with a lack of light and a dearth of outside-the-house activities, means that ensuring a genuinely comfortable couch, a fireplace that works as it's meant to, and speedy Wi-Fi is essential. Access to downhill skiing or snowshoe trails doesn't hurt, of course, nor do saunas or picture windows with pine-forest views. It takes work to find a house with this type of attention to detail. So we combed through hundreds of listings, and exhaustively read the reviews of people who have stayed in them over the past two years, in order to find the very best winter cabins for rent within three hours of New York City. Our finds include a Nordic-style two-bedroom with a dry sauna and a Belleayre Mountain–adjacent spot where the host provides s'more ingredients (and face masks).
A note: By their very nature, many of these cabins are secluded and require trips down winding — and potentially icy — dirt and gravel roads. All-wheel drive or four-wheel drive vehicles are often recommended, so read each rental's requirements carefully and pay attention to the weather forecast.
Photo: Airbnb
Four adults can squeeze into this Nordic-style two-bedroom, two-bath cottage on Swinging Bridge Reservoir that comes with a cool concrete table and massive record collection. The rental earns high marks for its cleanliness and well-stocked kitchen. (There's "everything you need to cook," says one guest, "including EVOO, salt and pepper, pans, great knives, and a coffee maker.") But this "homey" spot's best attribute is a dry sauna with "slippers, towels, and a water bucket with a wooden spoon to pour water over the rocks." A fireplace and "woodsy views" make it a perfect place to "spend a few socially distant days away from the city," says one guest, but be aware that the remote home's steep driveway can get icy and there's no cell service, so it can "be a little frightening" if you arrive at night.
Photo: Airbnb
With room to sleep 13, this three-bedroom house about 15 minutes from Cold Spring has a long list of glowing reviews for its eight-person "sparkly clean" hot tub that uses UV light to sanitize so you don't smell like chlorine when you get out. Reviewers praise the plentiful towels and comfy bedding, and multiple guests say the two-stove "kitchen is larger than it looks in photos" and comes stocked with nonstick pans and spices. Four-wheel drive is recommended in the winter, and large groups need to be mindful of the house rules (including telling the host, Linda, exactly how many people are staying each night). Other perks include an outdoor firepit and easy access to cross-country skiing at Fahnestock Winter Park (about ten minutes away).
Photo: Airbnb
Set on 15 acres about 12 minutes from skiing at Plattekill and Belleayre mountains, this pet-friendly 1,200-square-foot Catskills cabin sleeps six. If you can manage the long, snowy dirt road and rugged driveway (four-wheel drive and daytime driving recommended), the rental has lush plants, a fireplace with "enough firewood for three solid days," and an outdoor swing where one guest loved having their coffee each morning. The Wi-Fi is fast enough to keep up with work or, as one reviewer stated, "stream the odd YouTube video on the latest sourdough technique." And hosts Meg and Dee earn high marks for their timely responses (as quick as five minutes) and for providing s'more kits, Korean-beauty face masks, and a bottle of wine in each bedroom. Tip: If you have six guests staying at once, be sure to stagger shower times so you don't run out of hot water.
Photo: Airbnb
This three-bedroom modern cabin, located on 19 acres with a stream-fed pond, comes with thoughtful touches like chargers near the beds and flashlights next to bedroom doors for nighttime bathroom runs. The property also has pleasantly rocky hiking paths and fun "tree-trunk bridges," but if it's too chilly, inside there's a firepit, a Sonos sound system, and a projector with Roku (plus notably fast internet). Be on the lookout for deer, squirrels, chipmunks, foxes, and owls, and note that the third bedroom includes a twin bunk bed that's most suitable for children under 12.
Photo: Airbnb
This 1,500-square-foot lakefront cabin is, to be fair, an excellent summer rental — it has an outdoor shower and 250 feet of water frontage on Whiting Hollow Lake. But in the winter, guests say they love "staring out the large picture windows" at the snow and icy lake views, and the property is also within 30 minutes of four ski areas (Plattekill, Windham, Hunter, and Belleayre). An outdoor firepit by the lake works if the weather cooperates, but if not, a pellet stove inside provides a cozy fire and, according to one guest, "cranks out heat to warm the house up quickly." Throw in the comfortable sectional sofa, a big TV, and soft blankets and pillows, and, one review claims, "this was the most comfortable and relaxing Airbnb I've ever booked." (Note that the house is on a long gravel road that can be tricky in winter, but one guest said they were fine in an old two-wheel-drive car, even with a bit of snow.)
Photo: Airbnb
Listen, a 180-square-foot glass-enclosed vacation rental isn't for everyone. Located on a private farm about 20 minutes from the Beacon Metro-North train station (a car is still recommended to get around), this off-grid tiny home is powered by solar panels, uses a propane HVAC system for heating and air-conditioning, and has a Laveo dry-flush toilet (don't worry, guests say it is "super-easy to use."). If none of that freaks you out, you're in for a treat: A comfortable Casper bed sleeps two, the kitchen has surprisingly ample space to cook, and the small shower is hot with great water pressure. But the best perk is the "stunning wide-open view" from the wraparound windows that look particularly inviting "during a beautiful winter storm" and "fully immerse you in nature," say guests. "The night sky put on quite a show" during one stay, "including views of bright planets and shooting stars." And the remote location means that you don't even have to close the blinds because it feels so private — just bring slippers (shoes aren't allowed in the house) and a bit of firewood for the outdoor firepit.
Photo: Airbnb
Guests report that it's easy to get to this 100-year-old house just above the town of Palenville, and it has "an adventurous feel, up a winding drive through the woods along a brook." A porch with thick stone walls and screens spans the entire back side of the lodge, and one reviewer said they "couldn't help spend time on the patio," even in the cold weather. The home also scores big points for its forested location, which "makes for a fun winter retreat playing games in the snow" and easy access to just-steps-away hiking and snowshoe trails. Back inside, guests appreciate the very fast broadband internet to stream movies, the home's high ceilings and comfortable cotton linens, and a fireplace to warm up.
Photo: Airbnb
Despite a bumpy five-to-ten-minute drive down a long gravel road, this two-person guest cabin next to a main house, says one reviewer, "is like staying in a five-star hotel hidden in the woods." Guests love the concrete radiant-heat bathroom floors, voice-activated lights, freestanding cast-iron propane fireplace that's controlled by a Nest thermostat, and "perfect puzzle-doing surfaces." While there is hiking nearby year-round at Minnewaska State Park, most guests advise hunkering down to enjoy the treetop views from the private deck (don't miss it at sunrise).
Photo: Airbnb
If you're looking to get off the grid, this minimalist cabin in the Catskills, not far from the New York–Pennsylvania border, backs up to a 100-acre farm and two waterfalls that flow even in February. Dog owners appreciate the fenced-in backyard and reasonable $30 pet fee, though one reviewer says the house is so clean it "doesn't feel like a dog place, if you know what I mean." A covered back patio fits four people, so you can still enjoy your coffee in the rain, but in bad weather, reviewers went inside to enjoy the wood-burning stove (watch the provided video on how to use the stove to heat the entire cabin), heated floors, and the spalike bathroom with skylight, whirlpool tub, and towel heaters. One Verizon user reported little to no cell service at the cabin, but host Jenna provides reliable and fast Wi-Fi.