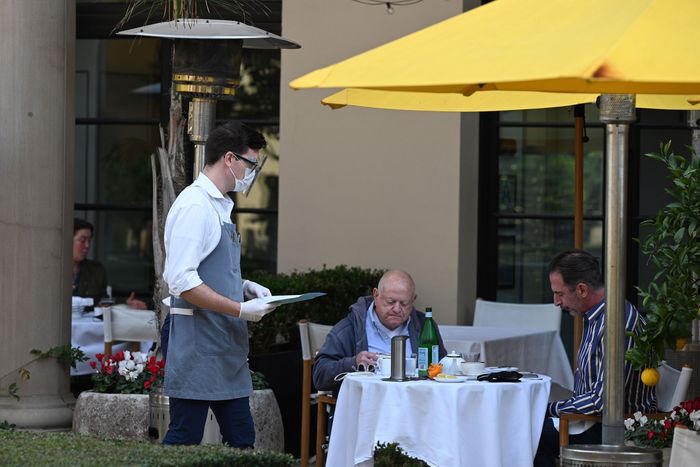 A server wearing a mask and face shield takes orders from customers at a restaurant in Beverly Hills, California, November 23, 2020.
Photo: ROBYN BECK/AFP via Getty Images
The heat lamps went dark on November 30 as Los Angeles County, seeking to clamp down on the COVID-19 surge, shut down outdoor dining across the region. But there was one exception: The city of Pasadena, which operates its own health department, decided to keep it all going. As other Southern California cities enviously gazed upon Pasadena's large tents and small plates, some began drawing up their own plans to weasel around the county's restrictions. On December 1, the Beverly Hills City Council unanimously passed a resolution opposing L.A. County's health order — a decision that Beverly Hills mayor Lester Friedman called "capricious and ill-conceived" — and voted to explore the formation of its own health department, one that could reopen the city's shuttered restaurants. And even after Pasadena's autonomous alfresco zone was quashed by a statewide stay-at-home order, Beverly Hills — population 34,183 — didn't hesitate to move forward, commissioning a full report on the next steps to be presented at its meeting the following week.
Creating a new health department is an unnecessary move from the standpoint of improving actual public health. The county's health department is more than capable of providing guidance for nearly 10 million residents, and has been largely successful at keeping the pandemic at bay — until the recent spike in cases attributed to the Thanksgiving holiday. Until now, only two of Los Angeles County's 88 cities — Pasadena and Long Beach — had their own departments, which is something not many Angelenos likely knew until pandemic-related restrictions became delineated along city boundaries. The point of Beverly Hills's motion, pretty clearly, is to cherry-pick regulations so everyone can go get sushi.
The council's decision to push for public-health freedom was emboldened by a local court decision, where county superior court judge James Chalfant — who earlier in the year had ruled that indoor worship services should be exempted from the stay-at-home order — said the county had acted "arbitrarily" when shutting down outdoor dining. Chalfant's ruling let the ban on outdoor dining stand but ordered the county to prove that restaurants — an increasing number of which have had to close temporarily as a result of COVID-19 outbreaks among workers — had contributed to the virus's uncontrolled spread.
Leaving the county's health-department jurisdiction would make Beverly Hills part of a very exclusive club: Aside from Pasadena and Long Beach, Berkeley is the only other city in California to maintain such independence. Beverly Hills would be the smallest to do so and the first city to make this type of decision in more than a century. The change would also do little to alleviate the challenges of the current pandemic; as the soonest that the city's own health department could be fully autonomous would be July 2021 — by which time a solid number of Californians will likely be vaccinated. Although it's less clear if that will be the case in Beverly Hills, where some private schools have vaccination rates lower than those of developing nations.
Still, starting a new health department is in line with the city's aspirations to become the "healthiest city in the world," said City Councilmember and former mayor Lili Bosse, who, in 2014, started the "BH Healthy City" initiative with that exact goal. "We always prioritize health, and I think we need to take it to the next step," she said at last Tuesday's meeting. Other councilmembers weren't persuaded. "I agree we want to be the healthiest city, but we can't even enforce our mask ordinance," said Councilmember John Mirisch, noting that the city had made few arrests or citations at recent superspreader events. (The city has hosted some of the largest anti-mask rallies in the state.) Councilmember Dr. Julian M. Gold, an anesthesiologist, reminded his fellow officials about other less-glamorous services that such a department would need to render: issuing birth and death certificates, promoting educational programs, handling vector control. He suggested the city might partner with neighboring cities, or hire its own health officer and continue to contract some duties out to the county, which has more resources and better infrastructure. (Although Beverly Hills is home to many doctors like Gold, it has no hospital.)
Beverly Hills wasn't the only city on the west side of L.A. trying to get creative with restrictions last week. On the day the county ban went into effect, the City Council in Manhattan Beach, an oceanfront city near LAX — population 35,532 — swiftly reclassified restaurant patios as city-owned public spaces, technically removing them from the county health department's purview. Like the effort in Beverly Hills, this was yet another attempt from a wealthier, whiter city, and one that's accustomed to using its own resources to create new school districts or police departments, to exempt itself from the county's rules.
When asked how the Beverly Hills decision might improve public-health outcomes, the L.A. County Department of Public Health provided a statement to Curbed: "Given the alarming surge in cases and hospitalizations across every part of the county, we would urge city managers and elected officials to support the necessary public-health measures as this is our best effort to stop the surge. At this point, working together is the most sensible path forward."
At the city's last council meeting, Beverly Hills mayor Friedman clarified that it wasn't the county measures themselves that were the problem but the fact that the county had implemented them without much input from local communities like theirs. "As Judge Chalfant stated, there was no data or scientific evidence for them to make that kind of decision," he said. "So you know, if this is a wake-up call for them, so be it."
By December 10, L.A. County's health department did have some new data to share. Younger Latino residents were determined to be contracting COVID-19 at a higher rate than any other age or ethnicity group — nearly twice the rate of white Angelenos of similar age — largely because of the nature of their jobs in service-related industries. Hospital capacity in the region tumbled below 5 percent. And each day that week, 10,000 new cases were reported — three times the number of cases that had been reported daily just three weeks before. By the following week, the county reported 20,000 daily cases and 131 deaths, breaking all-time records for the pandemic. "While this trend line provides a frightening visual of our reality, the more terrible truth is that over 8,000 people who were beloved members of their families are not coming back," said Dr. Barbara Ferrer, the county's health department director, at a press conference Thursday. As she finished the sentence, she broke down in tears.