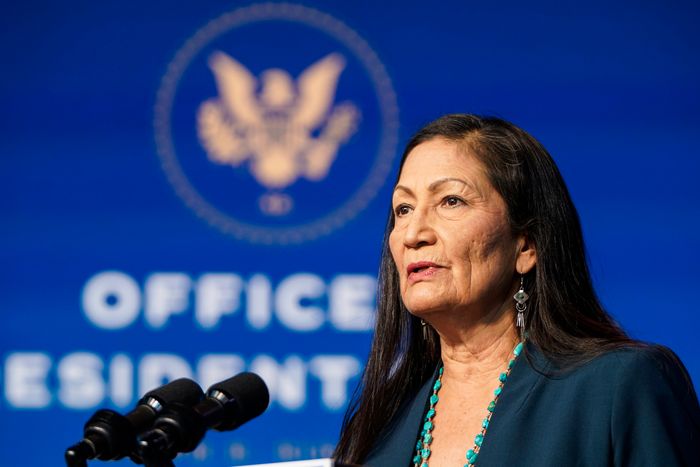 Deb Haaland would be the first Native American Cabinet member.
Photo: Joshua Roberts/Getty Images
On Saturday, the Biden-Harris transition team announced its most consequential appointments yet: a supergroup of experts who would be leading the administration's climate-action plan across departments, sectors, and industries. Biden's Interior secretary pick, New Mexico representative Deb Haaland, would be the first Native American Cabinet member in history and is charged with protecting public lands from fossil-fuel extraction. As North Carolina's former environmental quality director, Michael Regan centered communities of color in an impressive environmental-justice agenda and has pledged to do the same as the nominee for EPA chief. Energy secretary appointee Jennifer Granholm promises a zero-emission future for auto manufacturers, gleaned from her experience as Michigan governor. Attorney Brenda Mallory, known for prosecuting polluters, will chair the Council on Environmental Quality, in a more public-facing role than under previous administrations. And overseeing it all is Gina McCarthy, former EPA director under Barack Obama, who will take a newly created "climate czar" position coordinating the domestic response — a counterpart to John Kerry, whose focus will be international. She will be joined by Ali Zaidi, New York State's energy secretary, who will serve as her deputy.
At a press conference, Biden's climate team outlined a future which entails nothing less than a fundamental transformation of virtually every aspect of daily life in U.S. cities. Which is really good news. Because so far, U.S. city leaders have proven that they can't really do it on their own.
Over the past few years, as cities have become the frontlines of increasingly devastating climate disasters, U.S. mayors have tried to make the case that their executive power allows them to act faster, plan smarter, and implement climate policies more effectively than other governing bodies. In the wake of the Trump administration's withdrawal from the Paris Agreement in 2017, a group of mayors formed the Climate Mayors, a network that pledged to uphold the agreement's terms with or without federal support. The bipartisan coalition has since grown to over 400 mayors; early adopters included Transportation secretary appointee Pete Buttigieg when he was mayor of South Bend, Indiana.
But so far, in the U.S. at least, this approach hasn't worked. Despite a nationwide network, public commitments, and well-publicized plans, most cities are missing their emissions reduction targets, according to an October 2020 Brookings report. Of the country's 100 largest cities that made such pledges, only 45 cities took inventory of greenhouse gas emissions and set specific targets for reductions. Another 22 cities made no inventories or targets at all. California cities, in general, saw some of the deepest emissions cuts, but many of those reductions were attributed to the impacts of stricter state regulations. The most major emissions reductions were made by Los Angeles, but only, the report notes, because it owns and operates its own utilities, giving it jurisdiction over power plants.
The data also show that no large American city is successfully reducing emissions from the transportation sector, which, at one-third of total emissions, remains the country's single largest source. This is one area where cities have a great deal of control over local outcomes, especially when similarly sized peer cities in other countries — London and Paris, notably — have made measurable gains in the last few years, not just in reducing emissions, but also in increasing transit ridership and improving air quality. Yet members of the Climate Mayors coalition — including many who sit on a new task force to "serve as critical voices within the network" — are actively widening highways, often right through the center of their cities, despite the fact that climate goals they set do not allow for any increases in driving.
It's fair to admit that the country's mayors have had to fight an uphill battle over the past few years. Trump's EPA has managed to roll back nearly 100 regulations, and the lame-duck administrators in the agency are trying their hardest to flip a few more in their favor during these final weeks in office. Decades of lopsided federal funding allocations all but ensure that emissions-intensive infrastructure like highways is prioritized over buses and trains (although earlier this month, a group of U.S. representatives passed a resolution that would make highway and transit funding equal, and winning Democratic control of the Senate in the Georgia elections will all but guarantee more money for transit). But what's been made obvious is that Trump's Cabinet has been far more of an obstructionist body than Congress, where many Republican representatives have actually come around to support climate policies. One extremely heartening sign of this is a sweeping bipartisan climate bill that's part of this week's relief package. Headed by this new White House team, the mandate to reduce emissions is likely to be authentic, sustained, and delivered within a framework that moves beyond pledges into action — in many ways, the first coordinated climate response U.S. cities have seen. The mayors will no longer have an excuse.