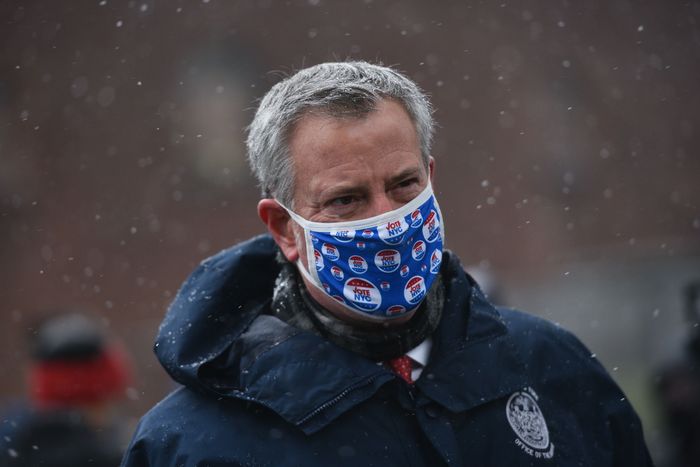 Photo: Erik Pendzich/Shutterstock
Whether you need it for work or school or even just binge-watching, it's clear that, right now, a good broadband line is everything. Universal access to the internet has been a goal for New York City going back two decades, and even in the era of Zoom school, 29 percent of households in the city still don't have broadband. In January, Bill de Blasio released an internet master plan that lays out an ambitious framework for bringing down the cost of high-speed internet, which is the biggest hurdle for low-income households. A year after the announcement, with a year remaining on de Blasio's mayoralty, we haven't seen results.
The plan is a dramatic step toward public ownership of internet infrastructure, unlike the Bloomberg administration's public-private partnership approach, which failed to deliver on his promise for universal access. De Blasio's approach, which would include laying fiber optic cable that touches every street intersection in the city and give internet service providers (ISPs) access to the city's real-estate assets, like rooftops on public buildings and utility poles, would, in theory, increase competition and lower the price of broadband internet.
But will the city actually be able to break the duopoly that Verizon and Spectrum have in New York City? When Verizon and other ISPs install their fiber-optic networks throughout the city, they own that network and have it all to themselves. Although telephone providers are required to sell access to their networks under anti-monopoly regulation put into place following the breakup of AT&T, telephone and cable companies in 2002 got the Federal Communications Commission to declare that the internet wasn't a telecom service. So they don't share those lines, and we're left with mostly private broadband infrastructure.
The city's only real leverage over ISPs like Verizon has been its public real-estate assets such as streets, utility poles, and public rooftops, which are offered in exchange for concessions. The level of access that companies have to public properties is set out in so-called franchise agreements. Verizon's, from 2008, required the company to leave the holes it dug in the streets open for two weeks so competitors could add their own networks without reopening everything again — but no companies wanted to compete with a behemoth like Verizon, and nobody else laid cables down. The agreement also required Verizon to provide Internet access to the entire city by 2014, but it fell 1 million households short of that goal. (The city sued over this in 2017, after which the company agreed to wire up more low-income neighborhoods.) But even if Verizon had blanketed the whole city in fiber optic cable, it wouldn't make its service cheaper, the crux of the problem for low-income families.
The city's internet master plan would achieve this by creating a public fiber-optic infrastructure that new, low-cost providers and nonprofits like NYC Mesh, a volunteer-driven nonprofit that provides broadband for an optional donation, could tap into. NYC Mesh provides internet service by installing dishes on top of buildings and connecting them to an internet exchange point at the base of the Brooklyn Bridge. They complete what's referred to in the industry as "the last mile" — connecting the individual house or apartment to the network on the street or building. (This is like when Verizon or Spectrum drills a hole in your apartment wall to run cable through.) The organization serves a relatively small number of people now, but the city's master plan could allow it to expand dramatically via the city's public fiber-optic network.
Critics of the plan charge that it's yet another attempt at the same type of public-private partnerships that have failed the city in the past, and that it relies on good-faith commitments from the same telecommunications companies that have broken agreements. Anyway, the process will take long enough that we're likely to be back in schools and offices by the time it's done. The master plan will continue to roll out over the course of 2021, and there's always a chance the existing duopoly will find a way to fight it off.