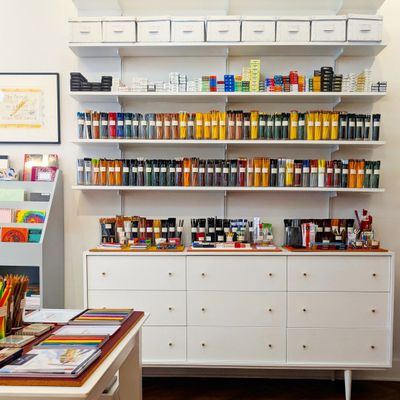 Photo: Courtesy of CW Pencil Enterprise
After almost six years exclusively selling graphite, the notoriously niche CW Pencil Enterprise is soon to become a full-service office supply shop.
Owner Caroline Weaver quietly made the announcement on the Orchard Street shop's site earlier this fall, and plans are already afoot for the transition — one that, like so many of them this year, has been propelled by the pandemic. "I knew a lot of our in-store customers are tourists but I never realized just how much we relied on tourists," Weaver says. "So in order to have a more stable and sustainable business I need to be serving my community before anyone else."
Weaver says she's had many neighbors over the years come in asking for things that they don't sell: staplers, scissors, hole punchers, various kinds of tapes, brass fasteners. Soon, these things will all be in stock. There will be Panfix, a Japanese tape made of natural vegetable cellulose, almond-scented Coccoina glue made in Italy out of potato starch, paper goods from Pennsylvania-based Roaring Spring (which has been making marble composition books since the 1930s). They will also, for the first time, begin carrying pens, but only ones that are easily refillable.
The store will close in January to renovate, and will reopen in its new form in February. Pencils will still be sold, but they'll be relegated to a "writing tools" wall. She (and her shop manager) are also going to become notaries, and offer simple services like photocopying.