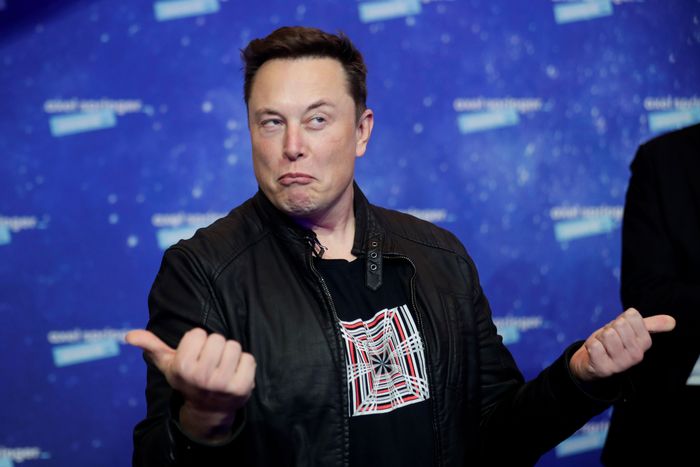 Going thataway.
Photo: Hannibal Hanschke-Pool/Getty Images
Like any longtime Californian, Elon Musk has spent a lot of time over the years complaining about his commute. His journey to work was so excruciating — driving from his complex of six Bel Air mansions in a luxury SUV built by his electric-car company to his interplanetary-space transportation company 16 miles away — he started an entirely separate company to help him get to the office faster. Now his commute will be longer still, as Musk has sold off most of his Los Angeles homes and, as of this week, left California for Texas.
"California has been winning for too long," Musk said at a Wall Street Journal event this week. "If a team is winning for too long, they tend to get complacent." (This isn't the first time he has threatened to leave, but what does that mean? He's teaching the entire naughty state a lesson?) As he finds a new sandbox from whence to deploy his boy-wonder contraptions, his former home will no longer have to brace for impact every time he tweets. California, after all, has a time-honored tradition of rolling its eyes at the whims of celebrities, but because Musk is a billionaire with a 40 million–follower Twitter account, his dumbest ideas not only get global headlines, they sometimes actually get built. Take Tesla's "autopilot" feature, which has turned public streets into a nonconsensual self-driving testing facility for a fleet of robots (and the cars aren't very smart either). It's almost enough to give California innovation a bad name — although, to be honest, he's had plenty of help.
Ever since 2016, when he started making Swiss cheese out of the ground beneath his SpaceX headquarters, Musk has traveled the country, not unlike a certain monorail salesman, pitching his worst idea yet: a Tomorrowland-esque vision for ending everyone's commute with a network of human Habitrails. Along the way, he managed to convince a lot of influential people that five-passenger electric vehicles traveling underground at 155 miles per hour can move people more efficiently than existing transit. (To be fair, building Tesla tunnels under cities was actually Musk's second dumb idea to fix traffic; his first was double-decker freeways.) He eventually sold one of his swoopy, not-actually-public-transit ideas to Las Vegas, gradually scaling back its visionary aspects until he eventually had to admit it was literally just a tunnel to drive cars through. As is true with Musk's other ideas — not all of which are dumb — the execution is never the point. It's the genius, people.
But that's why he's leaving. California doesn't value its entrepreneurs, Musk told The Wall Street Journal: The state is "taking them for granted." (Clearly, they're an oppressed group. In November, Musk edged above Bill Gates as the world's second-wealthiest person, and No. 1 is Jeff Bezos, newly resettled from Washington State. Two of the ten richest counties in America are Bay Area suburbs, one of which is where Musk is trying to sell his seventh home.) Almost surely, his megalomania is a better fit for Texas, and the new SpaceX and Tesla facilities are there, with tax breaks. But his other factories and corporate headquarters are (no doubt frustratingly) still planted on the West Coast, at least for the near future, which means Texans should prepare for some all-new, self-centered "solutions." Imagine it: Musk persuades the state to abandon its high-speed rail system and build a Hyperloop between L.A. and Austin to shuttle him back and forth whenever he gets bored.