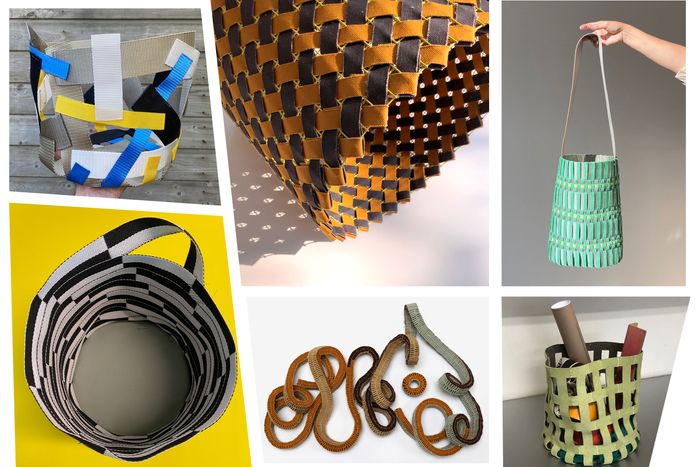 Jamie Wolfond, the Toronto-based industrial designer behind the now-shuttered home-goods brand Good Thing, and Adrianus Kundert, a Dutch designer, became friends a couple years ago over Instagram after realizing a shared interest in weaving with shipping straps. They've kept in touch since, and when the pandemic started to lead to canceled design events — like the Milan Furniture Fair, where Wolfond and Kundert were both supposed to exhibit new work — they decided to begin a project of their own. They called it the Basket Club.
The premise is fairly simple: Wolfond and Kundert pick an emoji. Then they send a brief to the group of designers, which includes Jean Lee and Dylan Davis from Ladies & Gentlemen Studio; Carole Baijings, who often makes home goods for Hay; RISD professor and furniture-maker Christopher Specce; and Studio Gorm, the designers behind the recent "Furnishing Utopia" exhibitions on Shaker design. Each then makes a basket — or their interpretation of a basket — inspired by said emoji. The designers and weavers tend to work with scrap materials lying around their studios, like plastic ribbon, yarn, paper, wood, or reed (though, recently, the textile brand Maharam donated some fabric).
In November, for instance, they tried the peach. Bertjan Pot, a designer based in the Netherlands, stitched a bright-orange basket out of polypropylene rope. Meanwhile, Esther Van Schuylenbergh, a textile designer based in Belgium, took peach-gradient paper and used different cuts and folds, turning it into a cylinder. In October, the inspiration was a plant sprout, prompting Wiesi Will to weave a basket out of scallions. And in September, the light-bulb emoji led Stine Aas, a designer in Norway, to make a functional bright-blue wall sconce, while the Tokyo-based designer Shigeki Fujishiro managed to craft a teal flashlight. Once a participating designer (generally around 20 total) finishes their piece, they take a picture, which is then posted to the shared Instagram account — now followed by some 12,800 people.
So far, there have been 13 Basket Club challenges. In April, when it first got going, the briefs were coming every week or so. Then, as time went on (and reopenings started happening), it shifted to every two weeks. Now it's about once a month. And as time has elapsed, the designers have become more and more ambitious. "The definition of a basket is something we continue pushing," Wolfond says about their experimentation with unconventional materials and unexpected shapes. "I don't know if early on if someone would have sewn chair webbing together to make a basket."