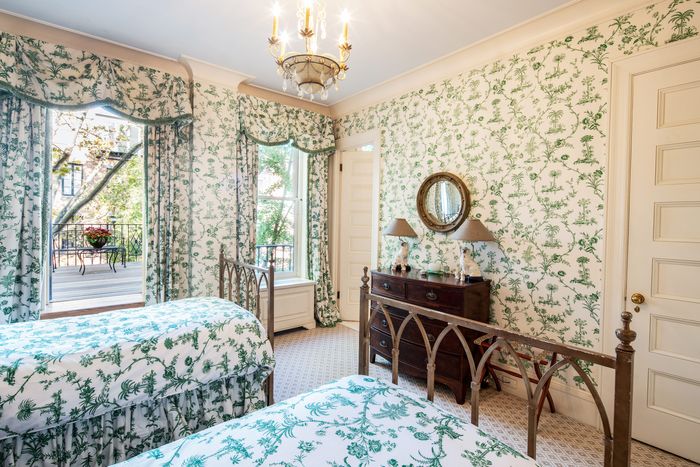 Photo: Brown Harris Stevens
On the fourth floor of a $15.5 million Renaissance Revival townhouse on E.92nd Street is a bedroom that makes a particularly compelling case for matching bedding, curtains, and wallpaper. Ensconced in grand-millennial green florals, the room has a satisfying symmetry: a pair of slim, slightly austere twin beds face a pair of also slightly austere-looking Staffordshire dog lamps. Ruffles abound.
The five-story townhouse, built in 1891, has six other bedrooms, and a curved bay window that runs all the way from the parlor level to the top floor. It also happens to be the teenage home of none other than Gwyneth Paltrow, whose parents, Blythe Danner and Bruce Paltrow, bought it after moving from Los Angeles in 1984. Gwyneth was 11 at the time, and attended the Spence School, just a three-minute walk away. The room wasn't furnished then as it is now — but it's easy to imagine a tartan skirt-clad Gwyneth flopping onto those D. Porthault-esque linens.