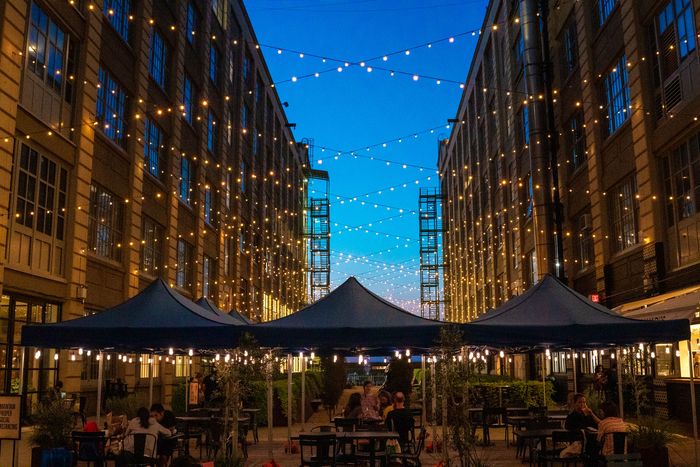 Photo: Courtesy of Industry City
The mother of all streeteries just opened at Industry City: an 85,000-square-foot outdoor space with 12,000 square feet of heated tents spread across three courtyards, served by 38 food vendors from the complex's loftlike food hall. Unlike other streeteries, a few heat lamps wouldn't cut it at this scale — so how do you keep that much outdoor space warm?
The five tents, which seat 150 in all, are lined with ducts connected to the surrounding buildings' HVAC systems, pumping gas heat into the spaces — and, in these ventilation-obsessed times, providing proper air circulation too. At $1 million, the new setup was far from cheap; the ductwork alone cost $500,000. Tapping into the HVAC system meant not needing countless propane tanks to refill heat lamps, but there are still a few of those toasty umbrellas around to help heat the corners that the ducts can't reach. Most vendors at this Sunset Park complex — including Avocaderia, Bangkok Bar, and Sahadi's — have new service windows on the courtyard where diners can pick up their food (although some orders are still picked up inside) before sitting in one of the nearby tents.
But even if the sophisticated heating and ventilation setup sounds compellingly cozy, there's a hitch: The sides of the tents are 50 percent open, providing both the opening needed to count as "outdoors" per city regulations and an avenue for all that pumped-in heat to quickly escape. There's always the steaming dumpling soup from Ejen, if you do end up needing a little extra warmth.