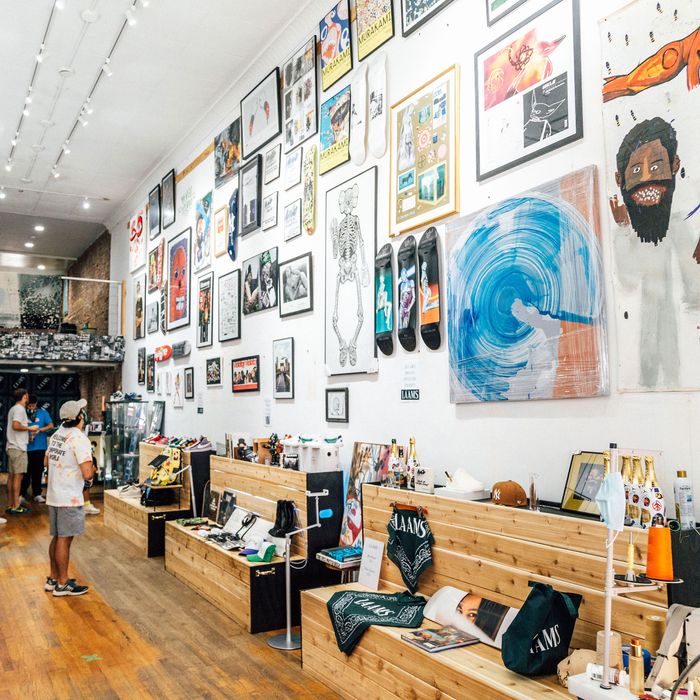 New York's always had its hangout shops, where a self-selected group of kids with skateboards and advanced taste ended up exchanging ideas and making culture. The Lower East Side's Alife was like that in the 2000's. But between the rent increases and the general move online for retail, and the more recent COVID-19 shutdowns, it's been hard to make a go of that business model. LAAMS, which finally officially opened at 74 Orchard Street this summer, aims to be a new model, even if it's a bit hard for its founder to describe just what it is exactly.
"It's so difficult and it sounds ridiculous," says its founder, Scott Selvin, who notes that many of the people involved had first met at Alife. "Even before we started, I didn't want to tell people about it until it opened, because I'm like, Yeah, it's going to be vintage, art, books, collectibles, a juice bar, a tattoo shop, a workshop … Let me just open it." Even the name sounds like an inside joke you may or may not get. "It's whatever you want it to be … but no one is going to confuse us with anyone else."
When he gave me a tour in early December, palo santo filled the air. Chris Travis played on the loudspeaker; his creative director, Joe Rovegno, was going over proofs for a new zine he's making; and Sam Levin was sewing denim in the workshop upstairs. Meanwhile, a few artists who recently made work for the store — like Shredmasterkeith, a pro skater who spent the night before screen-printing T-shirts for a capsule collection, and Kyzer, a painter whose work is currently the focus of a pop-up exhibition in the space — were hanging out as a couple of shoppers browsed vintage Commes des Garçons tees and Puma x No Mas sneakers from the mid-2000s. Soon the tattoo artist Jerami Goodwin will be working on the mezzanine.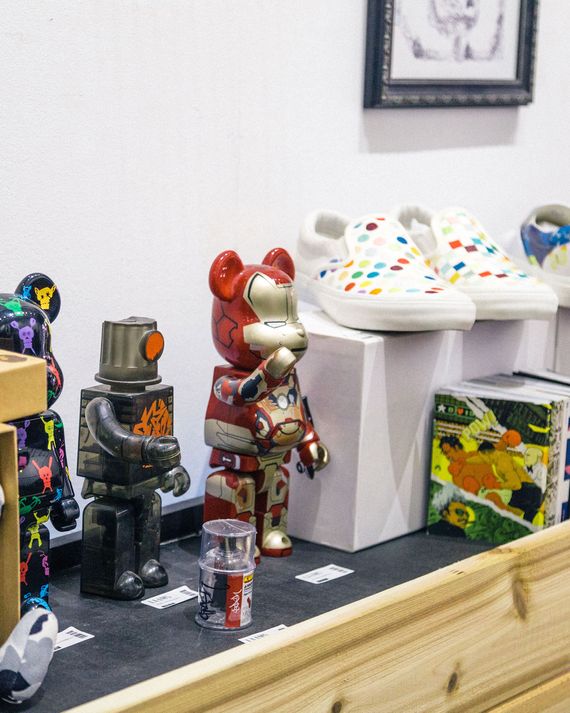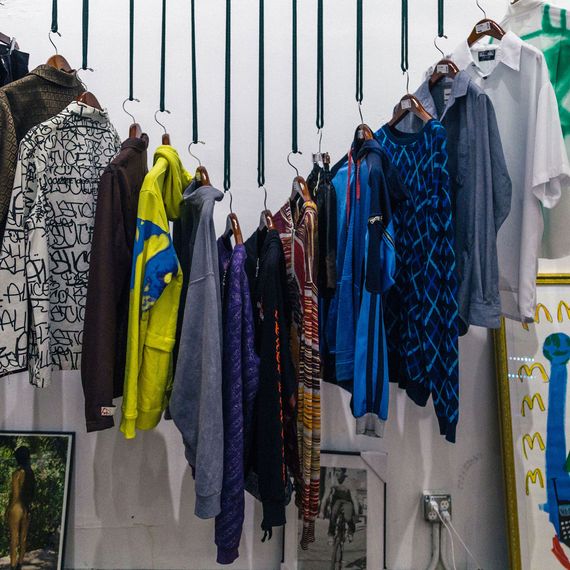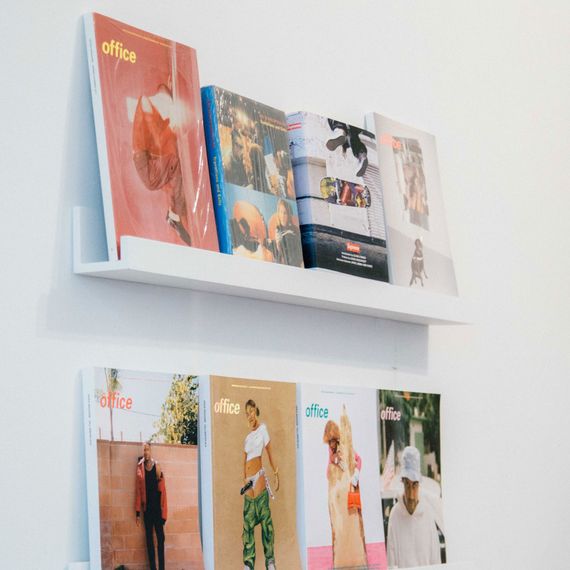 Previously, Selvin ran a leather-goods brand, which he founded in 2012. And before that, he worked at Mishka, a streetwear brand. But he always had a fondness for stores like Alife and Supreme back when you could still get shirts for $30 in the mid-2000s. Throughout his experience in the fashion industry — as an entrepreneur and also a fan — Selvin saw the power shift from stores to brands as his favorite retailers closed.
"It felt like there was this vacuum," he says. "There weren't places I really wanted to shop anymore, and the few stores that are doing really well are Über-expensive. That's why it's important for us to have books for 15 bucks and shirts for $30."
Since Selvin had very specific ideas for the business he wanted to open, it took him a while to find the right kind of space. It needed to be a sizable enough retail floor for merchandise and events, and have studio space. Plus, being a vintage boutique meant he needed room for dry-cleaning equipment, too. In February, he finally found the right space in the former Robert James boutique. He signed a five-year lease and got the keys on March 3, just a couple of weeks before lockdown. Selvin intended to open in April, but the pandemic construction moratorium pushed the build-out back a couple of months. Meanwhile, the summer's NYPD curfews nearly derailed Selvin's plans for the storefront, which was painted by the graffiti artists Snoeman and Hidji, and will change over to artwork by new artists every six months or so.
"Hidji is not the best at schedules," Selvin says. "He gets here at 6 p.m. and has to be on a flight to L.A. two days later. It's going to rain the next day, and there's the 8 o'clock curfew. I have to call the police department and tell them, 'Listen, he's got to leave town; it's going to rain; we need the paint to dry. Can we please stay out here? Can you please let us finish this paint job?'"
They caught a break from the precinct and were able to finish that night. LAAMS held a soft opening on June 16, and fully opened for business on the first day of phase two. It was an opening that couldn't get pushed back any further. "That June day was not an option," Selvin says. "The landlord said, 'That's the first day you can start making money; that's when the rent kicks in.'"
That LAAMS is so many things is due in part to the precariousness of New York City real estate. The rents make it difficult for small businesses to get going, let alone one that has ambitions to be more than your typical streetwear boutique — though you can still find $3,000 Kaws sculptures, $300 Supreme jerseys, and $120 Bape paperweights. Apart from the new apparel and merchandise LAAMS makes, most of the clothing and footwear are pre-2010 vintage. Meanwhile, a double-height gallery wall features framed original artwork for sale by emerging artists, some of whom are friends of the store and others who are new to LAAMS, hoping for a big break.
"Our stocking procedures are different from most stores," Selvin says. "We tell kids: 'Just pull up. Show us what you have and if we like it, and the price is on point, we'll put it up on the wall.' There are a lot of barriers to entry with most stores, and less and less stores exist. Everyone has to sell online or through Instagram, but if you don't have a massive following, you have to start playing the game. It's a pain in the ass."
The plan for LAAMS was never to just try to make money selling T-shirts, hoodies, and hats. "That's unfeasible in New York City," Selvin says. "Retail rent is crazy. Make this a cool enough place where brands want to do events in partnership with us, that would alleviate a lot of the expenses and allow us to all be creative."
And it's also filling a void in the Lower East Side. Stevie Baker, who manages LAAMS and works on artist relations, remembers how life-changing it was to hang out at places like Prohibit and Community 54 when they were still neighborhood spots. "I was running around at 16 making relationships and connections with people that I'm still friends with now," he says. "So it was really important to have a place like this, where you can come and network and bounce ideas off each other and be inspired by your environment. I'm a big believer in how you're a product of your environment and the company you keep."
Lately, LAAMS has been called a community center, which Selvin is leaning into.
"All these kids are meeting here, and we allow them to do their art out on our patio or work out in the workshop," he says.
The studio upstairs is more or less open to anyone who wants to screen-print merchandise, but doesn't want to hassle with the minimums that other shops in the city require. Eventually, once it's okay to have more people in the space, Selvin hopes to host workshops to teach kids how to screen-print.
Selvin loves the community that's forming at the space. In the short while LAAMS has been open, it's become so popular that they've had to hire security to make sure the crowds are dispersed and that the capacity inside adheres to COVID-19 safety guidelines.
"It seems like stores have all gone to this aesthetic of, like, super clean, don't touch stuff, don't hang out; buy stuff and leave," Selvin says. "We want it to be like home here, a little more old New York, more natural, make people feel welcome, and have it be inclusive rather than exclusive."
And in that, create culture. "A lot of people refer to LAAMS as being like Warhol's Factory," Selvin says. "I look at this as having the same type of potential in five or ten years from now. Like, 'They all met at LAAMS, and this all happened out of there.'"