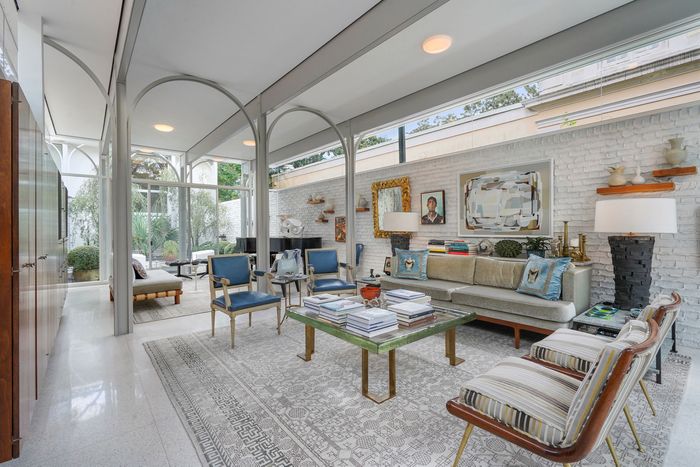 Nathaniel C. "Buster" Curtis Jr. is one of New Orleans' most famous 20th-century architects — his firm designed both the main branch of the New Orleans Public Library and the Louisiana Superdome. In 1963, he built something for himself: a brick and glass two-story on an oak-filled Uptown street, with room for him, his wife, and their seven children.
The property is hidden behind an eight-foot white brick wall with a cast-iron gate. This allowed Curtis to build an almost entirely glass façade, without worry that his family would be watched by passersby. (It also allowed anyone sitting in the living room or dining room to look out onto the property's four separate courtyards.) A 70-foot central hallway connects three pavilionlike main spaces: One consists of a living area or music room; another holds the dining room, kitchen, and breakfast nook; the final "pavilion" in the original floor plan contained seven bedrooms, four bathrooms, and a laundry room.
Curtis passed away in 1997, and his wife, Frances, remained in the house until 2013, the year architect Lee Ledbetter and his husband, Douglas Meffert — the home's second owners — purchased the property. "I've always been drawn to secret gardens," Ledbetter says. The couple also liked the arched steel beams and the clerestory windows in the living room that let you "look up and see the sky."
The new owners decided to keep many of the original details: the home's easy-to-clean terrazzo and black Vermont slate floors, for one, and the intercom system, which is still there (though needs some repairs, according to Ledbetter). Every bathroom has a pair of small double doors, each of which leads to a laundry shoot (a perk that Ledbetter appreciates and that likely would have been a lifesaver with seven children). Other features needed some rehabbing. The couple carefully updated the kitchen, replacing the white Formica counters with white Caesarstone, refinishing the walnut cabinetry, and updating the appliances. (The original still-working Toastmaster warming drawers remain, however, as do the swiveling Eames barstools in the breakfast nook.)
The biggest changes happened in the "sleeping quarters." Originally, there was a cluster of seven small bedrooms for each of the seven Curtis children, and some of them were, in Ledbetter's words, "like monastic cells … square and small." By knocking down pairs of back-to-back closets from adjacent bedrooms, Ledbetter created four larger bedrooms, each with a sitting room and a private bathroom. Outside in the courtyards, Ledbetter and Meffert planted staghorn ferns, palm trees, giant elephant's ear plants, and yaupon holly, an evergreen shrub meant to attract birds.
Ledbetter says he's sad to leave (he told Galerie magazine this past July that he loves the place more than ever) but feels like it's a lot of house for just two people. Plus, he has his eye on a piece of property a mile away. "I'm going to build a house of my own," he says. "It's every architect's dream."