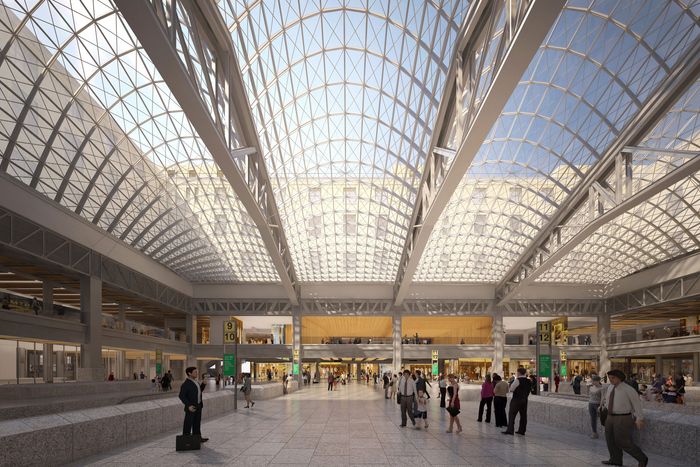 The new station is here! The new station is here!
Photo: New York Governor's Office
The grand old Pennsylvania Station, as every good New Yorker knows, was demolished starting in 1963 by the dying railroad that owned it. We lost a landmark that had been built for the ages; in its place, we gained a rat's maze, one that is now old and tatty. (And also the Landmarks Preservation Commission, created in large part to stop such a thing from happening again.) Thirty years later, it occurred to Senator Daniel Patrick Moynihan that the James A. Farley General Post Office — which had faced the old station portico-to-portico and had been drawn up by the same architects, McKim, Mead & White — sat over the train tracks and just might become a replacement for the lost building. We at New York wrote about his plan regularly throughout the 1990s, and after hundreds of funding votes, postponements, redesigns, cancellations, political swaps, and renamings, the Moynihan Train Hall (which is part of the larger complex that is now being called Empire Station) will be opened by Governor Andrew Cuomo on Friday. Here's how we've covered it over many, many years — in fact, since the previous Governor Cuomo was in office.
November 1, 1993: "What's At Stake," by John Taylor
"Moynihan pointed out that since the New Deal, social spending by the federal government has been designed to move wealth, in the form of tax revenue, from the Northeast to the South and West. [Presidential candidate Bill] Clinton, he continued, was committed to righting this imbalance, and since Moynihan himself is now head of the Senate Finance Committee — the first New Yorker to assume that position in 153 years — he could help …
"In any event, Dinkins or no Dinkins, there will be no righting of the imbalance. 'If 30 days before the election the president can't bring up the Christmas presents, when is it going to happen?' asks one of [Mayor David] Dinkins's advisers. 'Clinton could have come up here and said, "I want to make New York the showcase of the country," then done something like speed up the funds for turning the Post Office into the new Penn Station and modernizing the rails. He didn't do it."
March 6, 1995: "The Elephant Woman," by Jacob Weisberg
"Last week, after endorsing Bob Dole for president [Staten Island representative Susan] Molinari quietly cast a major anti–New York vote, to cut off funds for the $315 million Penn Station redevelopment Pat Moynihan has championed (though she says she supports the project and voted against it only for procedural reasons)."
May 1, 1995: "Penn Pinchers"
An infographic recap of the ups and downs the project faced in 1994 and 1995 as the Gingrich Congress fought to cut off funding.
September 29, 1997: "Senator Superfluous," by Hanna Rosin
"There is one treat for which Moynihan is almost single-handedly responsible: the construction of a grand new Penn Station in the old General Post Office. Even critics will admit that Moynihan deserves all the credit for the project. And it is a fitting Moynihan legacy, brimming with high-minded history and heft."
May 17, 1999: "The Next Big Things," by Michael Tomasky
"This summer, we'll start rectifying one of the worst decisions New York has ever made, when politicians and planners gather to announce the arrival of the new Penn Station.
"For years, the new station, built in the shell of the James A. Farley Post Office Building at Eighth Avenue and 33rd Street, has been an I'll-believe-it-when-I-see-it pipe dream. It would be talked up for a while, then disappear. Senator Daniel Patrick Moynihan, its tireless champion, would score some funding; Republicans in Congress would try to kill it. But it survived, and the new station — of which New York is offering New Yorkers their first glimpse — is scheduled to open in 2003. It'll be worth the wait. 'If you ever knew the original,' Moynihan crows, 'you will be reborn to see what's coming.'"
June 3, 2005: "Train Station Running Late," by Chris Smith
"Moynihan Station is the middle child of New York City development projects. Ground zero, which will always claim the greatest emotional attachment, is the firstborn. The West Side stadium [Editor's note: This was a proposal for the New York Jets on the site now occupied by Hudson Yards.], which can do no wrong in the eyes of its indulgent parents, is the favored baby of the family. Moynihan Station — earnestly playing by the rules, reluctant to complain — has been rewarded for its obedience by being ignored."
October 19, 2006: "Moynihan Station, an Autopsy" by Chris Smith
"So what the hell happened yesterday with Moynihan Station, the new, presumed-to-be-gorgeous Penn Station that seemingly everyone wants but never actually happens? Well, as we know, Shelly Silver killed it. But why? … Seems there are many agendas at play, from all the stated ones to an unstated wish to hold things off till Spitzer's term to win some favors from the new governor."
July 5, 2007: "Moynihan Station Is Back From the Dead, Probably"
"It's tough to keep track of what's going on with Moynihan Station. Seemingly decades ago, the late Senator Pat Moynihan came out with the idea of relocating Penn Station into the adjacent Farley Post Office … This time, the plan will include a soaring, glass-roofed Penn Station; it'll also create 10 million square feet of new office space, as much as the old World Trade Center, and involve buildings on six blocks. Steven Roth, of the Related Companies, is one of the two developers behind this plan; he's also a leading contender to win the battle for Hudson Yards when the MTA finally puts that up for sale — which means one dude will basically own all of 34th Street west of Macy's. That's kind of cool, or else kind of terrifying."
March 6, 2008: "Moynihan Station: All That Doubtful Press a Good Sign," by Alec Appelbaum
"We've uncovered reasons to view recent stories about the Moynihan Station struggles as part of an encouraging trend on the project. For one thing, Governor Spitzer has personally entered negotiations … and apparently it's had an effect. 'I'm seeing real positive movement — all the players want to make this work,' said Bob Yaro, who carries the civic-consensus banner as head of the Regional Plan Association. According to our source on the inside, parties are stalking a grand bargain in which the Feds would drum up $500 to $550 billion, in part via tax credits that the House Ways and Means chairman Charles Rangel would snag, and the city and state and Garden and developers would match that sum. However the players come to terms, it's clear that Spitzer has tied Moynihan's success to his own credibility."
March 8, 2009: "How Bloomberg Could Finally Build Moynihan Station," by Chris Smith
"Somewhere, there's a cornerstone for Moynihan Station. I'm not reaching for a metaphor: There is literally a hunk of marble, engraved with the names of politicians, ready to go. It was carved back in 2000 in anticipation of a ceremony declaring the start of construction to transform the grand old Farley post office on Eighth Avenue into a railroad showpiece called Moynihan Station in honor of the New York senator who'd had the brilliant idea in 1992. The ceremony never took place, of course; the station has never been built; thousands of people are instead still condemned to commute through cruddy Penn Station.
"But here's the metaphor, or the bad joke, that epitomizes the entire ridiculous, complicated saga: The cornerstone is lost. No one knows where it is.
"It would be wildly premature to hire another stonecutter, but there is new hope that Moynihan Station will get underway. Senator Chuck Schumer, with the help of the recession, has reframed the project along its original lines: Creating a new transportation hub instead of redeveloping a vast stretch of Midtown West all at once."
 September 14, 2009: "Amtrak Gets Onboard With Moynihan Station," by Chris Rovzar
"Perhaps this summer you spent a lot of time in Penn Station, waiting for the mad rush to get on a train to the Hamptons or Fire Island. Perhaps you thought to yourself, for the Nth summer in a row, God, weren't they supposed to fix this hellhole? Well, the short answer is yes, but not anytime soon. Nobody wants to pay for the overhaul of the Farley Post Office Building across the street to turn it into the lovely theoretical Moynihan Station. But today it was reported that Amtrak is onboard once again with the plan, which will at least help."
May 9, 2012: "Moynihan Station Will 'Be Fit for Humans'," by Dave Hogarty
"Port Authority Executive Director Pat Foye knows how to sell a project alright. Announcing a $270 million expansion into Moynihan Station that will double the length of Penn Station's western concourse and expand access to Amtrak and NJ Train platforms to six entrances on 33rd and 33rd Street that will include elevators and escalators, Foye admitted that the current situation is pretty bad, but that commuters' routines would 'be fit for humans' after the Moynihan Station project was complete."
August 27, 2014: "Long-Awaited Moynihan Station Is Actually Making Progress," by Jessica Dailey
"The most recent talk about the long-in-the-works Moynihan Station, an expansion of Penn Station into the James A. Farley Post Office building, focused on a possible air rights sale, but a new story in the Times points out that actual, physical progress has been made on the conversion. The first $300 million phase of the project is underway, and the expansion of the existing concourses beneath the post office and the expansion of an underground passageway that connects to Penn Station are both nearly complete. Additionally, yesterday Senator Chuck Schumer asked Amtrak and the Federal Transit Administration for the rest of the money for phase two, which will turn the grand building into an open, light-filled train hall the size of Grand Central's grand hall."
January 8, 2016: "Why Governor Cuomo's New Penn Station Scheme Might Get Somewhere," by Justin Davidson
"The original Penn Station lasted 53 years; the effort to replace the replacement has eaten up nearly half as long again, and counting. Every so often politicians proclaim, budgets are drawn up, and designs are unveiled. Then nothing happens. So Governor Andrew Cuomo's familiar announcement this week that Penn Station's pit of despair would soon be magicked into majesty seems like an invitation to scoff. So does anything make this latest eruption of optimism rise above all the others?
"Actually, yes."
February 7, 2016: "Sizing Up the Next Penn Station(s)," by Justin Davidson
"The name Moynihan Station refers to the planned conversion of the Farley Post Office Building, a neoclassical landmark designed by McKim, Mead and White, into a new passenger and baggage facility. That work could be completed even without touching the current Penn Station. Cuomo's is a new name for the whole shebang … The design work on Moynihan Station is almost complete. (Again: Plans for it have been drawn up, then left on the shelf, a couple of times since the mid-nineties.) Construction could theoretically begin later this year and last two years, which means we could be meeting under the clock there by 2018. That's the theory, anyway. The governor has issued a new request for proposals to renovate the entire Penn Station complex — and the winner is free to throw out SOM's existing design, which has been years in the making. As for the rest of the complex, the governor has promised to get everything done in three years, which, translated to non-politico English, means that it might be finished by the time your unborn child is in college."
September 7, 2018: "See the Transformation of a NYC Landmark Into the Moynihan Train Hall," by Amy Plitt
"A large portion of the building is being gutted in preparation for its transformation into the Moynihan Train Hall. Construction on the new transit hub began a year ago, and during a press conference-cum-campaign event about a new entrance to Penn Station, Gov. Andrew Cuomo announced several milestones for the project—namely, the fact that the structure for its enormous skylight has been installed, and the first glass panel for that architectural feature has been placed."
January 30, 2020: "Every Plan to Fix Penn Station, Ranked," by Justin Davidson
"Casting himself as the infrastructure closer, Governor Andrew Cuomo announced four years ago that Moynihan Station was finally chugging toward reality … The Moynihan design has evolved over the years, passing back and forth between architectural firms, each time becoming less exciting and more pragmatic … The final iteration — which opens later this year — reaches for a modest kind of grandeur. Instead of placing the court under a giant bubble, the design reuses the original trusses to support a new set of glass vaults that arc across the opening like jets of water. The space beneath it will be expansive — almost as big as Grand Central Terminal's main concourse — but with only a muffled echo of the original station's imperial majesty. The blowback from the billions spent on Santiago Calatrava's World Trade Center Oculus has jolted the state into architectural prudence."