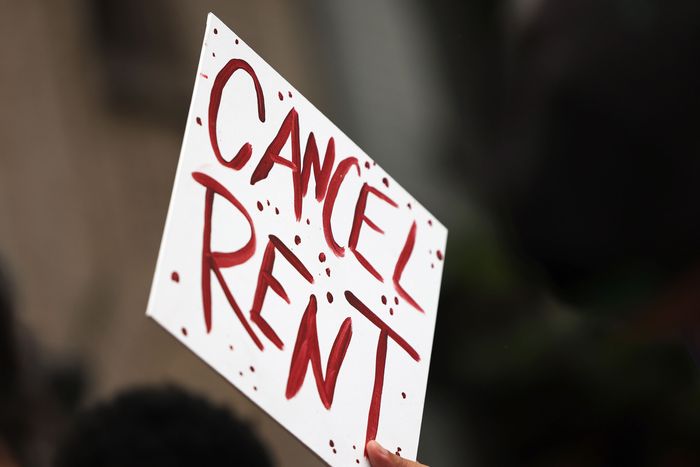 Photo: Michael M. Santiago/Getty Images
The New York Legislature has passed one of the strongest residential eviction protections in the country, and that, at least, is a relief. The bill, known as the COVID-19 Emergency Eviction and Foreclosure Prevention Act, gives desperate renters a break by blocking landlords from booting tenants for the next 60 days. Even getting to this stopgap was a hard fight for tenant advocates, who say the legislation will stave off a surge of evictions and keep New Yorkers from being turned out on the streets as the state's coronavirus infection rate continues rising.
And as helpful as it is, this legislation is only a temporary solution; it does nothing to address the months of crippling back rent that has piled up on the backs of renters who are struggling to make ends meet, which could now total as much as $3.4 billion statewide, according to a study from the National Council of State Housing Agencies. Federal aid is finally on the way, including $1.3 billion in rental assistance, but it won't be enough, and without greater relief to address the state's looming rent-debt crisis, a new eviction ban is merely postponing the due date.
What Monday's legislation does do is buy renters and mom-and-pop landlords more time as New York lawmakers fight for a larger piece of the fiscal pie. For a tenant to qualify for protection, a renter must sign a "hardship declaration" that they've suffered a financial blow related to COVID-19 or are at an increased health risk due to the virus. Once that form is submitted (presumably during the 60 days covered by this new bill), it prevents a landlord from filing an eviction in court and pauses cases already underway until May 1. As you'd expect, several landlord groups have scorned the bill, but it doesn't leave property owners completely in the lurch. The legislation also makes it harder for banks to foreclose on homeowners and landlords who own ten or fewer units. Governor Andrew Cuomo promptly signed the bill into law Monday night.
The 11th-hour legislation passed during a rare special session called by the State Legislature, just four days before the latest in a winding series of eviction protections issued by Cuomo had been set to expire. The new law is significantly stronger than what Cuomo put in place last time around, because it effectively blocks all eviction proceedings — regardless of whether they were filed before or during the pandemic, and whether tenants were being put out because they owed rent or because their leases expired. The only reason someone might still be evicted who signs a hardship form is over causing a safety hazard or creating a nuisance for neighbors, like persistently blasting music in the middle of the night. The new law stops well short of indefinitely suspending all residential and commercial evictions and foreclosures, and doesn't go anywhere near a separate proposal that would cancel accrued rent payments since March 7. It's more or less upholding the status quo, and that'll do for now — if Washington steps up.