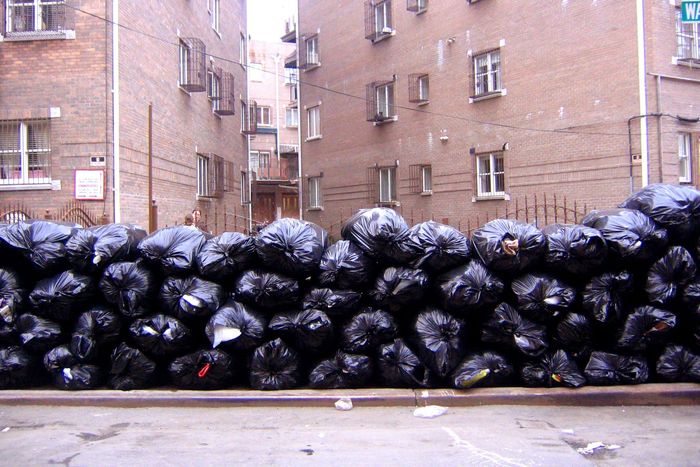 Trash City, USA
Photo: Getty Images
For a moment last week, the city felt almost like itself again as pedestrians were blessed with one normalcy of a New York winter: the competing — and usually conflicting — interests of snow removal and trash pickup. But a clearer path may be on the way, whatever the season. A new citywide pilot program is aiming to get those enormous, oozing, rat-luring piles of trash bags off your sidewalk and into a receptacle. You know, like every other major city in the U.S. has already managed to do.
The Clean Curbs program was first announced in March, just days before the city's earliest shutdown, as the first big collaboration between New York's Sanitation and Transportation Departments. Its rollout has been delayed for a few months because of the pandemic, but city residents now have a better frame of reference for how the program will work. It's a bit like streeteries, but for trash. Any neighborhood group — the application says a "Business Improvement District, Non-Profit Organization, or LLC" is eligible — can apply to turn a parking spot into a garbage spot as long as it can fulfill the agreement. And it's quite the commitment! Applicants must design and install a decked platform with sealed containers, which can be up to eight feet wide, five feet tall, and 20 feet long — there's a zero-waste calculator to help applicants figure out what size bins they may require — and it must include an array of features for safety and visibility. Planters, bike parking, and seating can even be incorporated into the design (although who will want to sit next to the trash in July?), and the group must sign a maintenance contract to keep the whole operation clean, snow free, and insured.
The program was welcome news for BIDs, which have consistently cited the city budget cuts that slashed pickup schedules as one of the major "quality of life" issues in their neighborhoods during the pandemic, even claiming that uncollected trash is decreasing foot traffic to small businesses. In Harlem, the 125th Street BID has been paying cleaning crews overtime and recruiting additional volunteers just to keep up. "It seems like we are not doing anything. Then when the bags sit there a long time, people at night go through them, so when we come back in the morning it is all spread out on the street like we started all over again," said Barbara Askin, 125th Street BID president, at an August press conference. With the power to implement tangible change in their districts, BIDs may view the closed containers as an amenity that's as desirable as a strip of streeteries — customized to meet specific refuse needs and even branded to match adjacent businesses.
But this points to one potential hitch. During a time when curb space is at a premium, applicants on some streets may have trouble locating a vacant, eligible stretch of New York City pavement on which to install the bins. The area must be a dedicated parking space more than 15 feet away from other street furniture and not obstruct access to "bicycle facilities, bike share stations, car share spaces, taxi stands, hotel loading zones, subway facilities, utility access points, property access points (curb cuts), hydrants, fire alarms, traffic signals, street signs, bus stops or bus shelters, water main valves or gas shut-off valves." With streeteries lining both sides of corridors that would be expected to have high trash output, it's possible that current conditions may spark a few turf wars. (If there are no other options, the application says, a sidewalk can be used as long as it's wide enough and not designated a "no stopping" or "no standing" zone, but that seems to go against the program's stated goal of keeping sidewalks trash free.)
Paired with other reforms that will soon change the way trash is collected and similar requirements put in place for larger residential buildings, a network of Clean Curbs may start to chip away at the foothills of trash, block by block. But at the same time, it sets a bad precedent to put an essential service like trash collection onto local groups, who must now use their limited time, staff, and resources to spec, build, and maintain what should clearly be a city responsibility. It also all but ensures that only those groups will apply, meaning many neighborhoods that have the greatest need for such solutions may not get any. Instead of forcing every applicant to start from scratch, why not simply recommend one standardized, off-the-shelf model to choose from? The city could have called up literally any European city, picked one of the systems located on every corner, and asked neighborhoods to help figure out where to set them up. (Or perhaps New York City is simply too prideful when it comes to its own garbage; a competition to design a "better bin" for pedestrian litter was held earlier this year, even though we all have perfectly serviceable trash cans.) Still, it's good to see New York finally addressing this issue, even if it's several generations behind its economic peers. And with the city's former sanitation chief Kathryn Garcia, who launched the Clean Curbs program before she resigned in September, among the many, many mayoral candidates, maybe someday the "Trash City" epithet will become a term of endearment.