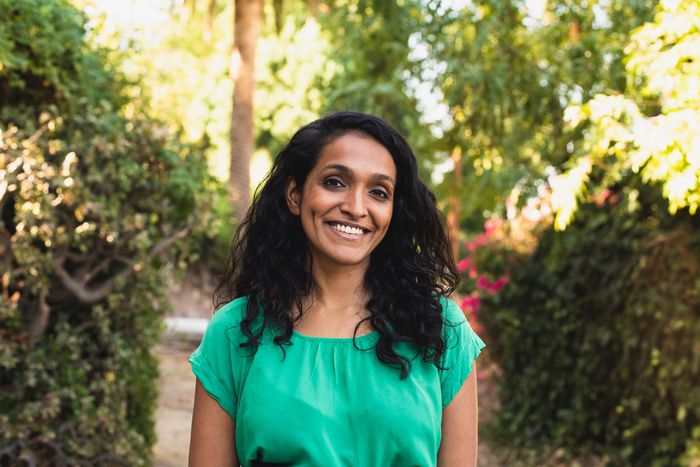 Photo: Courtesy of Nithya Raman
Nithya Raman hasn't even been sworn in as a Los Angeles city councilmember, but her election earlier this month has already had ripple effects. L.A.'s council districts are gargantuan — just 15 people represent almost 4 million residents — and Raman's Fourth District splays back and forth over the Hollywood Hills, a series of irregular polygons delineating a handful of L.A.'s wealthiest neighborhoods. Winning the district has traditionally meant pandering to some of the city's most vocal NIMBYs, who have slowed or stopped the construction of homeless shelters, apartment buildings, and transit projects. And when the race was called for Raman, one of those lawsuit-happy obstructionists, a longtime president of a neighborhood group in the city's Miracle Mile neighborhood — the person who may be solely responsible for delaying the implementation of a citywide bike-lane network — promptly resigned, noting in an email that Raman's victory "signals to me that there will be tough times ahead."
For a city that has struggled to manifest even the most basic elements of urban infrastructure — smooth and useful sidewalks, a thriving tree canopy, new housing developments — it's promising and beguiling that Raman, an urban planner with degrees from Harvard and MIT, might ascend to office at this moment. But what Raman, who has worked as a consultant and started multiple nonprofits, thinks she brings to the table is actually a realistic assessment of how bureaucrats can work effectively with city departments. "As someone who has dealt with the machinery of urban government for so long, in so many roles, I have a deep understanding of their restrictions," she says.
Although she's familiar with the machinery, she's never been part of the machine until now. In November, Raman, who is 39, pulled off something virtually unheard of in L.A. politics: Having never held office, she beat a well-funded incumbent, in part by staging a grassroots get-out-the-vote movement despite a pandemic. "We went from having 24,000 people vote in a City Council race to having, so far at least, 130,000 people vote — which is just a staggering increase in turnout, and one that we didn't see in District Ten, which voted at the same time," she says, less with self-aggrandizement than in astonishment. She received the most votes of any L.A. councilmember ever.
Raman is warm and thoughtful over a Zoom call from a well-lit corner of her bedroom closet — one of the only rooms she's able to make inaccessible to her 5-year-old twins — where she laughs at the thought of making major policy decisions while staring at her winter wardrobe. But where Raman is demure and deferential, her vision for L.A. — "make City Hall work for us" — is urgent and assertive, and although it was crafted long before the pandemic, it's even more relevant for a city in crisis. She plans to dive in right away, once she's seated, with a rent forgiveness proposal she believes is feasible at the city's scale. She's also promised to share her office with Angelenos overlooked in city governance — renters, bus riders, workers — which, due to the way L.A. is structured, will require nothing less than a major redistribution of power. Take her own immense, gerrymandered district, for example: While her colleagues are pushing for more equitable redistricting — which is a priority of hers, too — Raman wants to go a step further, calling for charter reform to divvy up the city into more districts in an effort to better represent the communities that have traditionally been left behind.
In some ways, Raman's push for systemic changes in how L.A. functions began in 2014, a year after she'd moved here permanently. While working at the city's administrative office, she was charged with assembling a report on how L.A. was spending $100 million in homelessness funds and remembers the galvanizing realization that much of the money was being spent not on services but on criminalization and incarceration (and that didn't even include the policing salary costs). Seeing firsthand how that disparity was impacting her own unhoused neighbors — Raman lives in Silver Lake with her husband, who is a TV producer, and their twins — she co-founded a neighborhood homelessness nonprofit that could provide showers and meals, while she advocated for a wider range of permanent housing models that could be created faster and more affordably. That same approach to solving urban problems — a sweeping pragmatic vision paired with swift on-the-ground action — became the foundation of her campaign. Raman wrote up detailed policy platforms for issues like public broadband internet, transportation, and immigration (Raman moved to the U.S. from Kerala, India, with her parents as a child and later started an advocacy organization to combat urban poverty in Chennai), sharing them publicly through voluminous Twitter threads that educated constituents on how local government worked — or, more often, didn't work — and simultaneously walked her followers through her solutions, step-by-step. At times, her campaign, handsomely branded as "Nithya for the City," felt less like political messaging and more like a 16-month civics lesson.
Her bold ideas positioned her firmly to the left of incumbent David Ryu, who had run as a reformer five years before but now came to the table with deep-pocketed donors, early endorsements from fellow city councilmembers, and the almost unilateral backing of L.A.'s political establishment (when L.A. mayor Eric Garcetti, who is a District Four constituent, made a video showing how easy it was to vote by mail, at one point his ballot is clearly visible, with Ryu marked). But progressive momentum built in Raman's favor: an endorsement from Bernie Sanders, accolades from the Sunrise Movement for her plan to get the city to 100 percent clean energy by 2030, and a citywide awakening around racial justice, which Raman incorporated into a proposal to reimagine public safety that amplified local Black Lives Matter leaders' demands. "I think the stakes were high," says Raman. "People had been activated by the protests, by the largest civil-rights movement in recent history. People felt very motivated to vote." For all the concerns about being outspent, Raman outraised Ryu in one jaw-dropping and very Sanders-esque aspect: According to campaign filings, she brought in over $200,000 in small-dollar donations.
Raman will become the third woman on the current 15-member council; the three other citywide elected officials are also all men. "It's really absurd — the representation of women is so bad here," she says. That disparity, and how it affects the way women are treated, is something Raman has been acutely aware of since serving as director of Time's Up Entertainment, a gender-equity nonprofit formed in the wake of the Me Too movement. (A September Los Angeles Times endorsement noted how well-articulated her policy proposals were — but still recommended voting for Ryu, the man, so he could implement them.) Much of the problem is structural; when meetings are being held in the evenings, without access to child care, says Raman, it effectively shuts people who are primary caregivers out of running for office. "It's very hard for people to bring their families along to these meetings or to make it possible for people to really robustly participate in L.A.'s political life," she says, noting that her own parents temporarily relocated to L.A. during the campaign just to help with her kids. "I think, weirdly, while COVID has had so many negative impacts, the movement of these meetings to a digital space has actually increased participation from people who weren't able to participate before. I want to make sure that we don't lose sight of these lessons."
When she starts work on December 12, L.A. will likely still be locked down under a second stay-at-home order, but Raman isn't holding out for federal assistance. In addition to that rent forgiveness plan, she has ideas for how to better help families confronting food insecurity and bankruptcy. "I do think that there is a lot more work to be done to just identify people who are facing need and connect them to resources that exist already," she says. "And I think that work, regardless of what the fiscal situation is, we will be able to take on in a more thoughtful and precise way." True to her campaign slogan, "It's our time to lead," Raman almost always says "we," even when she probably means "me," creating the sense that she's bringing the rest of L.A. along with her for the journey — and in a way, she is. "I obviously ran for the seat because I was frustrated with our city in many ways. And maybe this is just because I was in this election, and so deeply engaged with the voters in our district, but it does feel like there is a new feeling in L.A.," she says. "I certainly feel it. I feel very hopeful — despite the fact that things are so bleak right now."