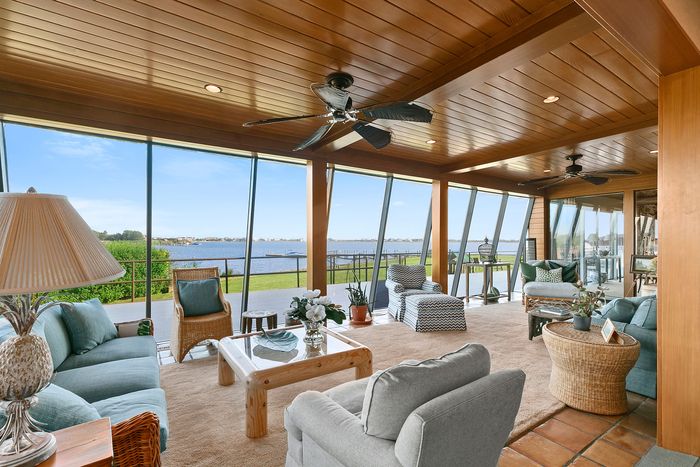 After studying at UC Berkeley's design school in the '50s, architect Norman Jaffe worked for several years for Bay Area architect Joseph Esherick, who'd later go on to build some of the best-known sloped-roof cabins at the Sea Ranch.
In 1967, Jaffe opened an architectural office in Bridgehampton and would eventually design more than 50 houses and other buildings on Long Island, including the Gates of the Grove synagogue in East Hampton. Most Jaffe designs, like this five-bedroom home on Quantuck Bay, feature clear Sea Ranch influences, including a surplus of neutral wood, geometric lines, and, of course, a sculptural roof.
The current (and third) owner, medical-technology company founder John Miller, bought the 5.3-acre property in November 2001. "There are a lot of McMansions on Long Island," Miller says. "But this home is not at all offensive to the environment."
Inside, the living room has 30-foot wooden cathedral ceilings (which were sanded down and refinished ten years ago), multiple skylights, built-in bookshelves and cabinets, and a dual-sided stone fireplace. Miller also added a screened-in patio (with a TV that drops down from the ceiling) and sliding glass doors that open to a 13,000-square-foot wraparound wooden deck.
The whole area around the giant 50-by-20-foot pool has also been updated, including the decking and two cabana-style changing rooms, plus a single bathroom, which are housed under a stilted section that protects the house from floods. The two-lot property also includes 700 feet of bulkhead frontage, two docks (a 100-foot stationary pier and a 30-foot floating dock), a tennis court, and a putting green.
Miller, who used to live in Garden City and could escape to Quogue in just over an hour, now lives full time in Naples, Florida, yet is still reluctant to sell. "In my GPS, I made this home's setting Paradise," he says.