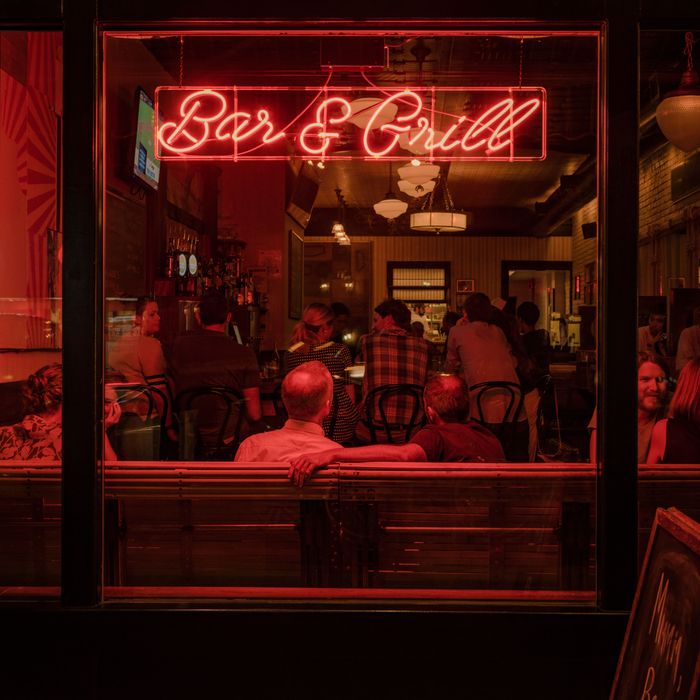 Rose's Brooklyn.
Photo: Sasha Maslov
This year, we have devoted New York's annual "Reasons to Love New York" issue to a celebration of the go-tos that have closed since the pandemic struck. A wake for the places that defined our lives here — that gave us community and let us try on new identities in return for our money. The bars where we came together for after-work drinks, the boxing gym where everybody thinks they're in an action movie, the gallery that trusted you to build a cloud, the coffee shop where you were left alone to read, the restaurant with the full bar where you'd find yourself trying to eat after an all-night bender, the place that was so of its moment that it became a relic and then (deservedly) an icon. All gone. And sadly, probably, more to come before the city returns to its purpose: a place of gathering. We'll be sharing these tributes all week on Curbed.
Restaurant
East Village, first opened in 2003 (the Upper West Side location is still open)
When I moved to Manhattan at 21, my favorite after-work hobby was to go to gallery openings and drink free wine, hoping someone interesting would talk to me. At one of these, a 60-something photographer asked me out on a date. Before I could say no, he asked, "How about the Mermaid Inn?" At the time, I would pass the restaurant on my walk home each evening just to stare at the pretty people sitting behind that white picket fence on Second Avenue eating seafood that I was still not making enough money to afford. So yes, the Mermaid Inn on someone else's dime sounded like a dream.
The date was bad from the moment I sidled into the dim, black-lacquered-wood dining room. He talked about how tough the photography business had gotten thanks to iPhones and Instagram, and I tried to sip, not slurp, my glass of wine and the raw oysters on the half-shell. I felt more like a kid out to eat with a distant relative than an empowered New York woman on a date with a suave older man. I'm fairly certain even the red plastic fortune-teller fish they gave out at the end of the meal curled up in the palm of my hand and told me to say "Thank you," then run the two blocks home. —Maxine Builder
Bar
Soho, first opened in 2005
By 2010, Pegu Club had already begun to settle into a charmingly frumpy version of its former self. When it opened, the New York Times noted that "the long, long rectangle of a room has a glow, and so does everyone in it," but by the dawn of the following decade, the talent of the bar's owner, Audrey Saunders, was simply understood — so it's possible we all took it for granted. It was no longer the coolest bar in New York City, and that is why it was great. Pegu was an equally lovely place for a first date or a couple of weeknight work drinks. It wouldn't be empty, but it also wouldn't be full. It was dark, and it was comfortable.
This is probably why Erin and I decided to meet there on a warm Wednesday evening in October. We would learn, later, that both of us wanted it to be a date, but neither of us was entirely sure, and we didn't want to force it. (We didn't know then that we'd end up getting married five years later.)
Pegu Club's sleeper-hit drink was the Kill Devil, a strange mix of high-octane French rum and the enigmatic herbal liqueur Chartreuse. The drink was dark and strong and mysterious, and the garnish was a little round of lime peel that was doused with more liquor and set on fire, emitting a tiny blue flame that was the closest Pegu ever got to tiki. It was somehow both fun and a bit austere.
That night at Pegu was special partly because of how easy it all felt. There was the standard first-date butterflies feeling and the anxiety of wondering whether the other person even thought it was a date at all. But after a Kill Devil (and a gin martini for her), the nerves relaxed, and it became clear that we didn't really want to discuss anything work related at all. We left and got dinner together at an Italian place down the street.
Kenta Goto had been our bartender that first night. The next time we met up at Pegu, some weeks later, I got there a few minutes early and grabbed one of the curved wooden stools at the bar. Kenta saw Erin walk in and pointed her in my direction. "He's down here!" Kenta said, and she glided onto the seat next to mine. —Alan Sytsma
Restaurant
Nolita, first opened in 2013
Padma Lakshmi:
There's this photo of me and Ahmir, a.k.a. Questlove, floating around, where we're both wearing bibs the restaurant gave us and we both had one other person with us. It was from our first dinner together as friends. I'd known him forever, and we'd always had an affinity for each other from afar but hadn't met. So we decided, "Let's go to dinner. Let's get to know each other as friends." We got there, and I just remember thinking, These tables are really small. Is it going to fit all the food we want to eat?
I remember that dinner as being very long, very delicious, and very funny. I'm from South India, and a lot of the ingredients I use in South Indian cooking Uncle Boons also used. Like the banana-flower salad. I also love the betel leaf — I've just never had it the way they make it. They had this whole cabbage. There's a very famous vegetable curry called poriyal. Again, I've just never had it the way they make it. Honestly, I don't remember if we drank, which means the cocktails were either really good or nonexistent. I just remember ordering a lot of shellfish and just getting really messy and coming home from smelling those beautiful spices and flavors — and having to really take a shower and almost wash my hair because I had made such a mess.
I love when you leave a restaurant feeling stuffed to the gills. You have all these pleasurable flavors and tastes on your palette. I felt the same way about my friendship with Ahmir: I enjoyed the visceral pleasure of eating so much and licking our fingers and getting to know each other and finishing each other's sentences. It was the perfect confluence of the beginning of a friendship as well as the beginning of a love for a local spot. —As told to Chris Crowley
dessert shop
East Village, first opened in 2014
Kwame Onwuachi:
You couldn't go to every single restaurant in New York City if you tried to. But bopping around and stumbling onto new spots is what makes for really fun nights in New York. Snowdays was one of those places for me. I was out on a "It might be a date, it might not be a date" date, but either way, I was trying to impress this woman. I had arranged for a really great dim sum tasting menu at the restaurant where my friend was the chef. After dinner, we were walking around the city, and I was like, "Ohhh shit, shaved ice! Do you like shaved ice?" And she's all, "Of course I like shaved ice!" We had two giant bowls of splintered ice: mine covered in Cap'n Crunch and condensed milk; hers with jelly. We ended up just becoming friends — getting friend-zoned, happens to the best of us — but I added a new restaurant to my repertoire. —As told to Jane Starr Drinkard
bar
Union Square, Hell's Kitchen, first opened in 2014
My friends and I were the regulars known for requesting only the Star Is Born soundtrack and being the loud table of white-wine-drinking women who knew every word to "Hair Body Face."  —Kerensa Cadenas
Restaurant
Prospect Heights, first opened in 2015
The first and only place I've been a regular was Rose's on Flatbush Avenue, a refined version of the upscale bar-restaurants that popped up all over New York in the 2010s. Beers cost $9 a pint, but you could get a deal on a pitcher from Jimmy the bartender if you came with a group, which I did pretty much every Thursday night for more than three years. I spent my 20s living on the belief that the joy of New York City is its variety — new restaurants, new neighborhoods, new people. The spontaneity was what I loved most of all. But rounding into my 30s, I craved consistency. Who wants to come up with new plans every night?
In 2017, three friends I used to work with realized that, though our lives were moving in different directions, we wanted to see more of one another. After a few false starts — a bar with no food, another that was too loud — we settled on Rose's, largely out of convenience. If you drew lines between our four Brooklyn apartments, Rose's was at the heart of the trapezoid. It was cozy but big enough to almost always get a table. Jimmy and the staff were unusually friendly. We met there one Thursday, and then the next and then the one after that, until someone asked: What if we just met at Rose's every Thursday?
More often than not, we did. Eventually, the wait staff knew Rob liked his burger without mayo or pickles; that we usually (but not always) wanted the pilsner; and that Jessica, and later Katia, wouldn't be drinking for a few months. Babies were born — Katia's was given the middle name Rose — Jessica published a book, innumerable personal and professional decisions were made, gossip was shared.
I miss the burger, I miss Jimmy, and I miss huddling close in the front booth and choosing, after a second's hesitation, to order another pitcher. Most of all, I miss my friends. These days, we mostly talk on a group text. The name: 🌹Thursday Crew 🌹. —Reeves Wiedeman
*A version of this article appears in the December 7, 2020, issue of New York Magazine. Subscribe Now!
More Reasons We've Loved New York
See All