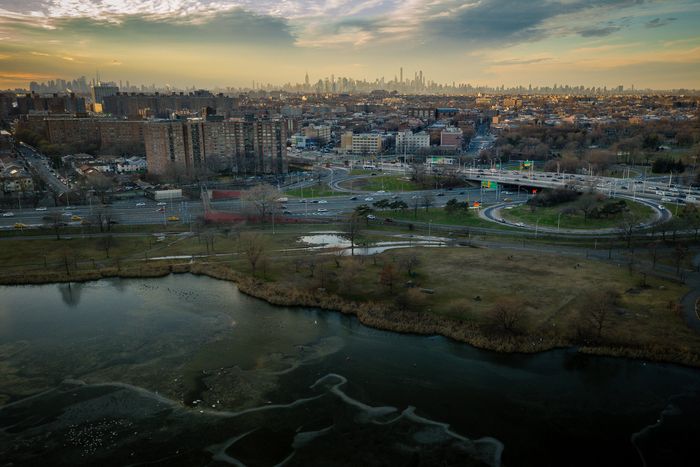 Flushing, Queens.
Photo: FotosForTheFuture/Shutterstock
After months of pushback and delays to a key vote, the City Council has approved plans to remake the Flushing waterfront with a 13-tower luxury complex. While the agreement comes with improved labor standards, there are still pathetically few affordable units (just 90 across the entire campus) making it a disappointing deal. The 29-acre project — set to include 1,725 apartments and roughly 900 hotel rooms — teetered on the edge of failure this fall with several City Council members opposing the deal without higher-wage jobs and more affordable housing, despite the support of local Councilmember Peter Koo. The proverbial dam broke this week with a deal between the developers, elected officials, and labor unions for a spate of new commitments, and on Thursday, the Council clinched the project with a 39-to-5 vote and one abstention.
Key to securing the plan was a pledge from the developers — a consortium known as FWRA LLC — to pay building and hotel workers union-scale wages. The Council also solidified commitments to hire locally and double the amount of public waterfront access to Flushing Creek. But the project notably lacks a firm commitment for additional below-market-rate apartments (a major source of ire for opponents). City requirements mean the developers only have to include 90 affordable units. That amount hasn't gone up under this week's deal. Instead, the developers have agreed to "engage in good faith discussions over a three-year period" about building more than the required affordable apartments, according to a Council outline of the deal. It's a vague promise that comes after Queens Councilmember Francisco Moya, who chairs the zoning subcommittee, said in a statement last month that it would be "irresponsible" to approve the plan without "real affordable housing" in addition to local jobs.
The plan's passage is a big win for the city's development community, fresh off of Industry City's flopped redevelopment, and signals to builders that there is indeed a way forward for controversial large-scale development to reach a middle ground as the city seeks to recover from the pandemic. "We have all struggled in this pandemic and this isn't perfect," Koo conceded during Thursday's vote. "This is a good compromise that will [bring] many good paying jobs, affordable housing, and a host of other community benefits. We cannot not simply allow our demands for the perfect to win over the good."