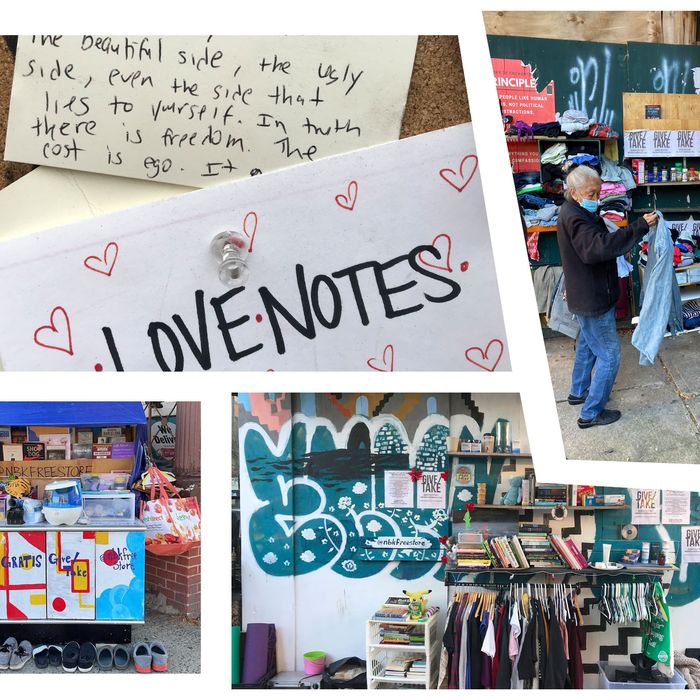 In late October, Myles Smutney drilled makeshift shelves outside of a boarded-up storefront in Williamsburg. She strung up a rope for a clothesline and fastened plastic milk crates to the wall as ad hoc bins. Smutney, who partnered with North Brooklyn Mutual Aid on the effort, loaded the shelves with bags of rice and hardcover books, winter parkas and hair-care products, ceramic bowls and sneakers. A crowd of curious neighbors soon amassed. Instead of pointing to price tags, Smutney encouraged locals to take what they needed. Everything was free.
Today, that pop-up shop on South Second Street and Havemeyer Street is one of four guerrilla-style outposts (on Thursday, the Richardson location is moving to P.S. 18) of the North Brooklyn Free Store, where everything is up for grabs. The items range from the practical (warm winter clothes and groceries) to the odd and random (giant gummy bears and hot-pink roller skates). Whereas community fridges have popped up across the city specifically to feed New Yorkers, these free stores nourish nearly every other need. The items are mostly gifted by residents — most of whom discovered the project by strolling past a free store or finding out about the effort on Instagram — along with a mix of business and church donations. They're a hodgepodge of secondhand items and brand-new things purchased, in some cases, specifically for the free stores. And they're picked up by all sorts: young families, the elderly, people who live down the block, and people who've schlepped from a couple neighborhoods over.
The project is the brainchild of Smutney, a 32-year-old tattoo artist and tarot-card reader, who drew inspiration from a similar effort in Chicago she discovered on Instagram, but the concept is much older, and in New York dates back to the 1960s with a free store in the West Village. At first, she hoped to partner with landlords to build semi-permanent shops outside of businesses, but after hearing crickets in response to her messages, she began targeting long-vacant storefronts to transform into these mini community centers, with a revolving door of donations and pickups throughout the day. Whether they're up for two days or two weeks, Smutney says the free stores fulfill the purpose of giving New Yorkers an approachable platform to support one another.
Here's what Smutney says New Yorkers are donating, and rediscovering, at the free stores:
New York City is like a giant free box. People leave stuff on their stoops and in front of their buildings all the time, so I knew I could make this work. The beauty of it is how weird the offerings are. There are times I'd go to the free store we set up on Marcy Avenue, which is now gone, and there'd be cuckoo clocks and ceramics and DVDs. You could see people's personality in the items they left.
There's no parameters of what can be donated. Today, there were a lot of houseware — people had donated matching sets of bowls and plates and things like that. Ideally, when we started, we wanted toys for kids, books, school supplies, and food. The No. 1 thing we get is clothing, running the gamut from Birkenstocks to Prada. I've put Prada out there! Black pumps. At first we had a lot of swimsuits, a lot of tank tops, and T-shirts. Now we have boatloads of winter coats and they're snapped up immediately. What's really beautiful about them is that it's not just old stuff — there are still price tags on things. People have gone to the store and purchased hats and gloves and scarves specifically for this project.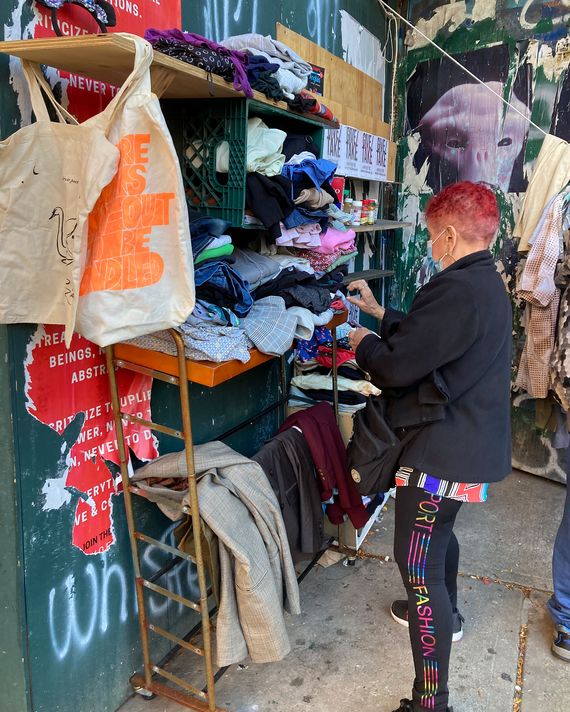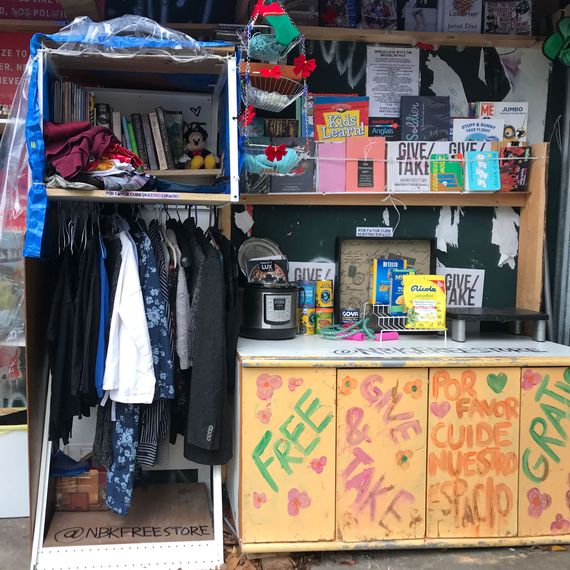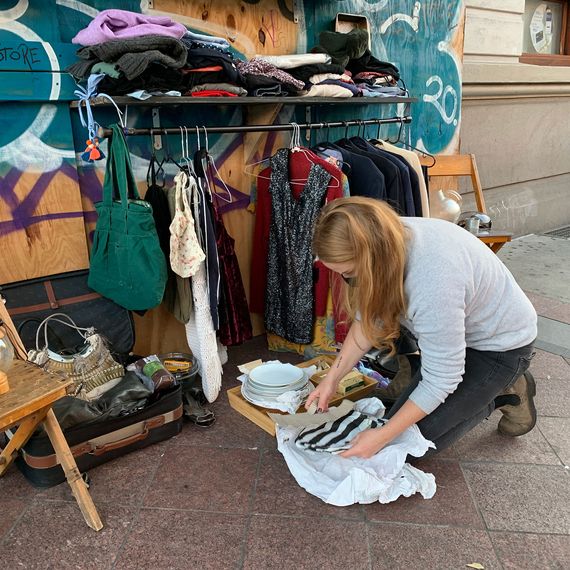 One bag of clothing from today was definitely from a hipster. Lots of Nike running shoes, lots of Air Force 1s, really cool vintage throwback Starter jackets, leather jackets. We had Western-as-fuck cowboy boots a couple of times. One time I was taking out all these very Urban Outfitters and Free People–style clothes from a bag and putting them on hangers, and this lady walks by and I said, "Mami, yo, it's free — do you want?" and she said, "I put that there!" I was floored. I love that it's unpredictable. I love that it challenges my perception. Another bag was a mix of professional women's blazers.
People really are bringing all sorts of things. We've had TVs donated; someone brought a microwave. A lot of books. So much Mindy Kaling. I have, like, 17 copies of Girl Boss. A lot of George R.R. Martin. John Grisham books, but I think they're still there — don't tell him that. The cuckoo clock was definitely my favorite though. It was wooden and had a flowery sun painted on the hole where the bird comes out. It was adorable. The most unexpected thing had to be the four BDSM harnesses that just showed up one day. We had a shelf of cereal, and then four black leather harnesses, and they were in great condition, too. It made my day.
Someone donated four GoPros. You know how many projects are going to be made because of those? There was also a donation of Styrofoam balls and I was like, man, there's going to be so many solar system models that are built because of this. I love seeing art supplies and things that can be turned into something. We're trying to promote good times. It's a really beautiful way for people to take care of each other, and I love that it's anonymous and there's no ego in it. Especially with the state of the world and thinking everything is bad, these are just people being good, so good and so generous and caring. That's the beauty of mutual aid.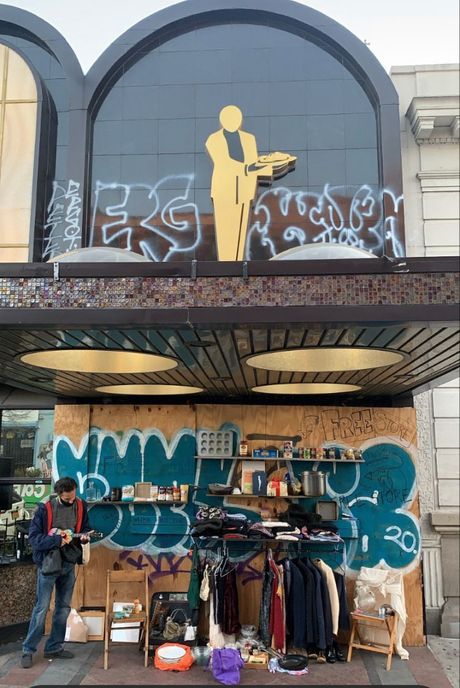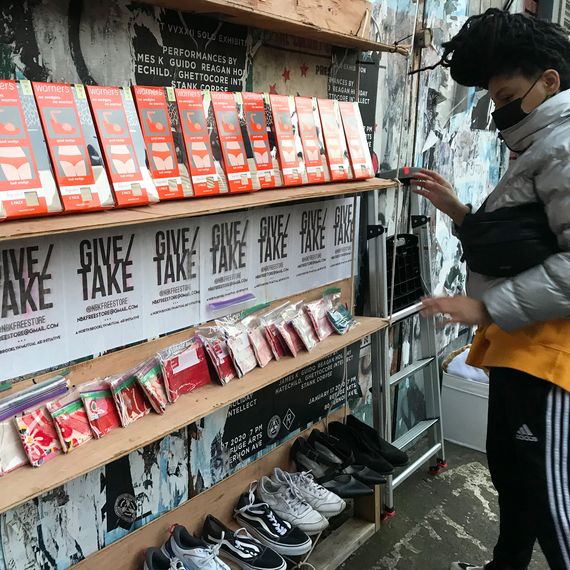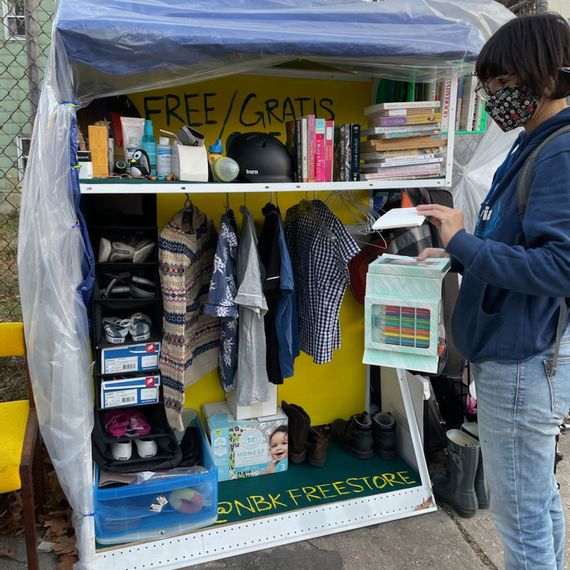 A friend had done a clothing drive years ago and they were cleaning out their basement and they found 13 packs of three-pack underwear for women. They all had some sort of irregular stitching where they couldn't be sold but they could be given away. We got those and put those out on a shelf. It's kind of nice to have fresh packaged things for people. My friend Nataile, she got a donation of 150 PPE fabric masks that were hand-sewed and autographed by a designer, and Natalie took the time to take three of these and put them in little Ziploc bags and then put them all in a Tupperware for people to sort through and grab. That was a really cool addition. We get masks sometimes, but they're usually a pack of blank ones. It was cool to have these handcrafted, signed and numbered, really beautiful masks.
A lot of people have not felt like they're being taken care of during COVID. There's a lot of helplessness. Now, people can walk down the street maybe worrying about something or maybe not and stumble upon these free things. I hope they understand that it was given to them by their neighbors, and somebody is looking out for them and somebody does care about them.
Asking for help is hard for some people, or admitting that you need it. There's this one guy who comes by every day and does this whole song and dance that this can of food he's taking isn't for him, it's for his brother's cousin's friend's neighbor. I just say all right. There's no shame in the game. People have reached out and said, "We help women transition from shelters into life, if you get any business clothes can you please set them aside for us?" One night when I was cleaning up the free stores, this lady came up to me and said, "Did they get my bread?" I said, "Yes, if it's not here, they took it, they loved it, thank you." And she said, "Good, I get my food stamps on the fourth, so on the fifth I'm going to bring some more." That stayed with me. It's her block, it's her neighbors, she knows it's going to somebody that she's going to see the next day, and the next day, and the next.