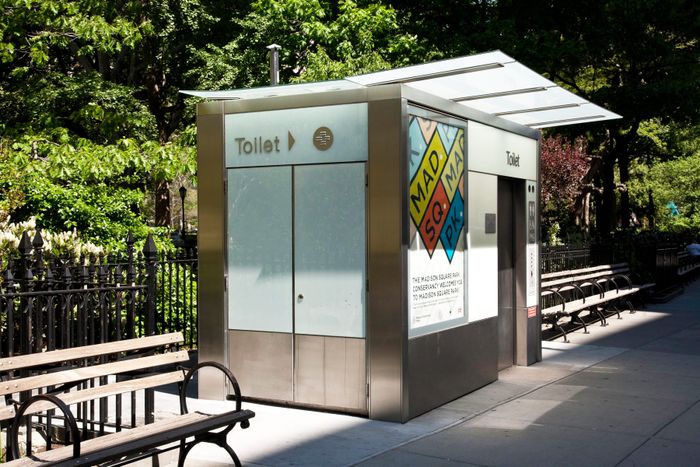 Photo: Patti McConville/Alamy Stock Photo
For 30 years, New York mayors have tried to make one straightforward thing happen: Put some public bathrooms on the streets. You know we need them. Everyone does! We have 1,100 public restrooms for 8.5 million people, which is not nothing, but is still vastly inadequate. Exactly four of them, according to a 2018 survey published by the Urban Design Forum, are open 24/7. Four! And we all continue to tolerate this ridiculous, inhuman, inhumane situation, legs crossed, searching for a Starbucks — back when we could do that — or a hotel lobby, or just hoping to get home in time. That goes double if you're pregnant or elderly.
Last week Scott Stringer, who wants to be mayor and is now regularly using his role as city comptroller to put Bill de Blasio on blast, became the latest official to jump on this issue, noting that unsheltered homeless New Yorkers, in particular, need a place to go. Toilets aside, he noted in a letter to de Blasio, "the need is heightened due to public health guidance that frequent hand washing is critical to reduce the spread of COVID-19." Certainly that is true — and honestly, a clean public bathroom should be a no-brainer in a world-class city. Paris has them. Shanghai has them. Why does New York fall so short?
We Almost Got State-of-the-Art Toilets
Perhaps one of the most infamous examples of past (failed) efforts to solve the shortage was Mayor Bloomberg's 2006 plan to install 20 automated public toilets across the five boroughs. They were — are — stand-alone kiosks, made by the French company JCDecaux , and they not only flush but also completely wash themselves down between uses, a cycle that serves to keep them clean and also stops them from becoming studio apartments. Fourteen years later, only five have been installed. The rest are still sitting in a Queens warehouse.
They do require a certain amount of space and plumbing and power access, but the bigger obstacle to getting them out there is NIMBYism: To install one, the city requires authorization from an area's community board, and that inevitably brings out cranky residents who are concerned about unhoused people who might congregate nearby. For locations that involve a landmark, the process also requires the Public Design Commission to sign off, complicating things further. But really, it shouldn't be this hard: "It would be free for the city, so there's every incentive for community boards and the city to work together to get these installed," says Julie Chou, one of the architects who co-authored the Urban Design Forum survey and report. The city has a contract in place with JCDecaux until 2026, which means that the APTs sitting in the Queens warehouse would need to be installed by then.
The five that actually got out into the streets are in Madison Square Park and Plaza de las Americas in Manhattan, Grand Army Plaza in Brooklyn, Corona Plaza in Queens, and Fordham Plaza in the Bronx. It costs you a quarter to go, and they're locked after 8 p.m.
And a Lot of the Restrooms We Do Have Are Closed
The Parks Department maintains 670 bathrooms citywide, 600 of which are currently open to the public — but only during the day. There are also some in recreation centers and park houses, a lot of which remain inaccessible because the buildings have been repurposed for hybrid learning for schools or COVID testing. A spokesperson explains that many of those centers also haven't reopened because the staff has been redeployed.
As for the subway: The MTA has public bathrooms in 78 subway stations, but they've been closed since April because of COVID. (They're also not exactly public, in that you have to be in the subway system to use them.) Most of them are also — let's not mince words here — disgusting.
And there are 14 public restrooms within Privately Owned Public Spaces, all of which are in Manhattan. But the private part of that name looms large: These bathrooms have limited hours, and may require a security guard to unlock them, per the league's report. And 200 public libraries have public toilets, making up most of the remainder of the count. They're all closed now, too.
Unhoused New Yorkers Suffer the Most
Inevitably, this is hardest on the more than 3,000 unsheltered homeless New Yorkers sleeping on the streets every night. Many of them depended on those places — libraries, recreation centers — before the pandemic. Five drop-in centers with restrooms, showers, and the like in Manhattan, the Bronx, Staten Island, and Brooklyn help some, but obviously you have to be close at the right time. "You run around desperately looking for a restroom, but find nobody empathetic or sympathetic to your situation," Denis Dugan, an unhoused New Yorker, tells me. "You begin to panic. You are full of shame but have no choice; you are going to have to find a secluded place, [often] in public." Their last resort, before finding a doorway, is often the bathrooms inside places like the Port Authority Bus Terminal or Penn Station. The Department of Homeless Services told us that, in the spring, at the height of the pandemic, the agency installed portable toilets and handwashing stations in 12 locations across the five boroughs, but they were almost immediately vandalized and have been removed. "It's already stressful enough that you are living on the streets and being demonized," says Marcus Moore, a board member at Picture the Homeless, one of the first organizations to raise the alarm about the lack of restrooms issue, through the "Free to Pee" campaign. "People [should] have access to relieve themselves like human beings."
*An earlier version stated that MTA public bathrooms were closed because of the overnight shutdown, but they're actually closed because of COVID-19 safety protocols. Curbed regrets the error.